Designer Agnès B.'s Gargantuan Art Collection Started with a Very Young Jean-Michel Basquiat
Four hundred of the designer's artworks are now on display in Avignon, much to her delight.
---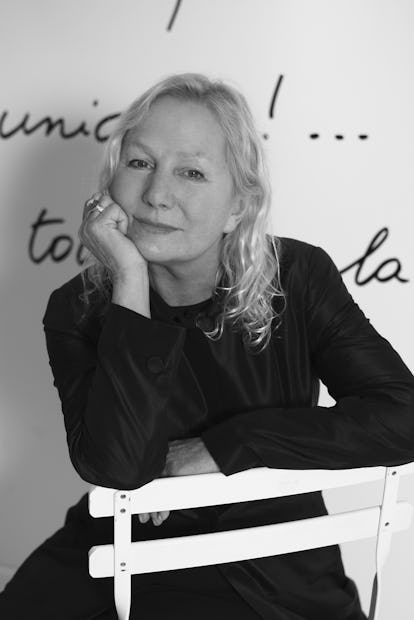 Kazou Ohishi
Agnès B., who's still designing clothes for her namesake brand at age 75, is still so prolific that it's becoming something of a problem: The designer, who has also run an art gallery since 1983, has collected so much art since the '80s, she's been feeling unconscionable keeping it all to herself. "I think rich people have to share; I always say that," she said with a laugh from Paris—hence her now somewhat empty walls at home, and her new exhibition, On aime l'Art!, now on view at the Lambert Collection in Avignon.
Just a chunk of her personal art collection, the show consists of no less than 400 works by an almost absurd roster of blue chip artists as varied as Andy Warhol, Victor Hugo, Tracey Emin, Patti Smith, David Lynch, Damien Hirst, and Jean-Michel Basquiat. The designer has always had a knack for discovering talent: Basquiat was in fact the first artist she collected, when he was just starting in the early '80s; she was also one of the first to exhibit photographers like Nan Goldin and Martin Parr. These days, Agnès is still discovering new names and hanging around Café de Flore—her haunt since the '60s, when she was keeping company with Simone de Beauvoir and Jean-Paul Sartre. She shares what else she's been up to lately with her culture diet, here.
What's the first thing you read in the morning? I read Le Monde every day. I'm very interested in politics and history, so reading Le Monde is like watching history being made. I read the paper—I love paper.
What books are on your bedside table right now? I love to read, but I don't have much time to. I'm going to read when I'm on vacation next week, a few different things—Agatha Christie, and then Les mémoires de Saint-Simon [by Louis de Rouvroy], more historic books.
Which TV shows have been keeping you up at night? I love Les experts—how do you call that? CSI. Sometimes when I come back from the office I go back and watch it. I love it because it clears my head, but it's well done. But I love cinema, you know. I love films.
What's the last movie you saw in theaters? Well, it was a screening on a wall at a friend's house outside Paris, but we watched Divorce Italian Style [1961] with Marcello Mastroianni. Italian cinema was so great at that moment, like [Pier Paolo] Pasolini.
What's the last thing you saw at the theater? I saw the opera in Versailles—a Vivaldi play that was beautiful. I'm from Versailles and [growing up], my parents loved classical music so I've been listening to it since I was very young, as have my brothers and sisters. They call my brother "Big Trouble" in New York jazz club, but he's Bruno Troublé from the America's Cup, a very famous sailor man. I have two sisters, too—one is a lawyer, and the other doesn't work.
What's the last piece of art you bought? A piece from a young American guy named Pat McCarthy. He's doing a trip I wanted to support, so I bought it for him to be able to travel through America.
What's the last museum exhibition that you loved? I went to the Tate in London and saw [Francis] Picabia. It was great.
What's the last song you had on repeat? Yesterday I was listening to Jefferson Airplane, a song from '71, I think. I found it on the internet. Grace Slick was a great singer. I saw Jefferson Airplane in Central Park in the '70s and it was great. I've always been into music and I went to many concerts—Bob Dylan, and my great friend Patti Smith. I saw her at a benefit concert at Carnegie Hall this year with Iggy Pop and Ben Harper and his daughter earlier this year.
What was the last concert you went to? My friend in Paris, Nicholas Ker, sings for [the French electronic group] Poni Hoax. He also makes very good music with Arielle Dombasle.
Do you ever look at social media? Do you have any favorite accounts to follow? No, I don't have time for that. I prefer reading and talking with my friends, drinking a glass and listening to music. We listen to music, we joke, we have fun. I have a great life, thank god.
Where do you like to hang out with them in Paris? We go to [Café] de Flore in the evening, which is nice, because during the day, there are so many people shopping. I've been going there since I was 16. I would wait there for my fiancé, Christian Bourgois, who was a publisher, and de Flore was very intellectual at that time, very agréable. I want de Flore in the evening to become the way it was before—I said to the owner, it's too expensive for artists and writers! Maybe some day we can renew those evenings, which were quite great—I'd sit always at the same table with Simone de Beauvoir and Jean-Paul Sartre and [Alberto] Giacometti. So many people were coming there.
Last thing: What's the last thing you do before you go to bed? I close my shutters. [Laughs.] I always leave the window open. I'm not an early morning woman—I love night. I love to be alone in the morning for a while before I go to the office and design. But I do also love to go to bed.
Related: Agnès B. Looks Back on 40 Years of Palling Around Paris with Madonna, David Bowie, and Basquiat
See W's most popular videos: