Aleali May, Air Jordan Collaborator, On the Perfect Fashion Week Instagrams and Sliding Into the DMs
"Women being celebrated in the sneaker world is something a lot of us have waited for."
---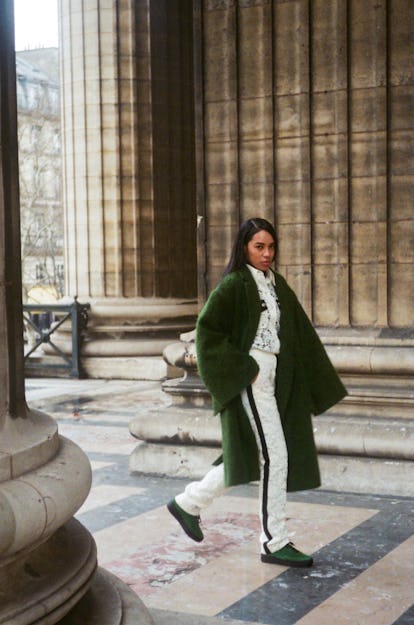 Though Aleali May got into fashion in a fairly traditional way, by working in stores like Louis Vuitton and then Chicago's RSVP Gallery, the L.A. native's personal style, documented through Instagram and her own eponymous blog, has won over hundreds of fans who logon to see how the stylist and fashion consultant will pull off pairing a simple basketball jersey with a luxury handbag with ease. This week, May is in Paris for [Fashion Week]https://www.wmagazine.com/gallery/paris-fashion-week-best-backstage-photos), attending a slew of events and parties, including the Louis Vuitton and Chanel shows as well as the seasonal dinner that Los Angeles retailer FWRD hosts at famed Left Bank restaurant Laperouse, which is often a who's who of the fashion blogging world.
While May may not consider herself an 'influencer' in the newer sense of the word, she is indeed very influential to those around her. Sure, her Instagram account boasts 237K followers, but she prefers to usher in the change she wants to see in the sneaker world, one of her true loves, in a way more direct that just social media posting. After the success of her collaboration last fall with Nike Air Jordan, May has continued to work with the Nike design team on the Jordan brand's women's line, which launched earlier this year, with none other than SZA as its face. "Women being celebrated in the sneaker world is something a lot of us have waited for," she explained, "It's fresh, it's new, and it's a way for us to tell our story through the love for sneakers."
When she's not wearing sneakers she's eyeing up the shoes at Chanel. It will be May's second season attending the Chanel show, and she counts Tuesday's show as the one she is most looking forward to. "I can't wait to see what's in store from the garments and accessories to the set design," she added.
Now that the sun is shining over Paris, it is a bit easier to get dressed, but the first few days were touch-and-go with the [freezing temperatures] https://www.wmagazine.com/gallery/karl-lagerfeld-chanel-most-over-the-top-shows), snow, and utter sense of despair over the dropping temperatures plaguing show-goers. Being prepared and packing for the weather "is crucial!" May warns. "I've packed this amazing military bomber jacket and bomber skirt by Helmut Lang from FWRD by Elyse Walker. Underneath I'll wear a bodysuit and Ann Demeulemeester bra. The bomber jacket and skirt materials are very much like the real army supplies, promise to keep me warm. The skirt even has bomber jacket sleeves made by Shayne Oliver!" she exclaimed. In addition to bundling when the weather wreaks havoc, May relies on The Wild & The Moon's juices and Moon Porridge to keep her going. Thanks to a collaboration with none other than Off-White's Virgil Abloh, The Wild & The Moon has gained a cult following, helped by this week's pop up in Le Bon Marche as part of the storied shop's Logomania exhibit.
With three full days of shows still yet to come, we're expecting many more colorful outfit Instagrams from May. Here are her tips for getting that perfect Paris Fashion Week post.
What makes for a good Paris Fashion Week Instagram post? Let the people see your (out)fit! Personal style is what it's about. Trends follow the culture, so do you and post it!
Do you remember your first post on Instagram? My first post on Instagram was me wearing an Ice Cream Skateboard t-shirt by Pharrell Williams, just a close up of the Running Dog on the tee that was super rare. I loved that shirt and still have it – faded and all.
You have the pronunciation of your name in the bio section of your IG profile. Why? How many people get it wrong? I feel like ever since I can remember, my name has always been pronounced wrong. It surprises me when someone says it correctly. Ideally, 99.9% of people get it wrong even when it's in my bio. Or they'll ask "Is May your real last name?" Yes it is. At this point I'm pretty used to it, lol. My dad loves Hawaiian names although I'm Filipino and African American. I think it's really cool, my dad looked out for me, ahaha!
Are you more into IG Stories these days or the main feed? I'm more into the main feed, I'm always on the go and never go through stories.
Describe yourself using three emojis: Black heart, vampire, crying/laughing one.
How many times a day should you post? I feel you shouldn't care too much on how much you post or don't post a day. Whatever you're comfortable with should matter.
What accounts do you follow? I love following accounts equivalent to my Tumblr, just loads of fashion, art, architecture, weird psychedelic looking videos and throwback Instagrams.
What are your favorite accounts? @The.pinklemonade
What's the best way to slide into someone's DMs? Shoot your shot, it's 2018…. politely.
How many unread DMs do you have? Definitely lots of unread DMs.
Are you on Vero yet? Wow, I've never heard of this app before.
And most importantly, how do you unplug? I practice Nichiren Buddhism with the Soka Gakkai International. While we chant a mantra and study the history of Buddhism, I use this to unplug and have some me time. Aside from this, hanging with friends and family is my comfort zone. I feel it's important for each person to find their niche on how to unplug – whether it's hanging with friends, going outside with your dogs, movie night in your crib, writing down your goals and intentions, reading – just take some time for yourself. I've learned that everything starts with you first.
Related: The Fashion Blogger Who Loves Vetements, Mixing Cartier With Sneakers
Paris Fashion Week's Street Style Stars Are Politely Ignoring the City's Freezing Temperatures
Street style during Paris Fashion Week on Tuesday, February 27th in Paris, France. Photo by Adam Katz Sinding for W Magazine.

2017 Adam Katz Sinding
Street style during Paris Fashion Week on Tuesday, February 27th in Paris, France. Photo by Adam Katz Sinding for W Magazine.

2017 Adam Katz Sinding
Street style during Paris Fashion Week on Tuesday, February 27th in Paris, France. Photo by Adam Katz Sinding for W Magazine.

2017 Adam Katz Sinding
Street style during Paris Fashion Week on Tuesday, February 27th in Paris, France. Photo by Adam Katz Sinding for W Magazine.

2017 Adam Katz Sinding
Street style during Paris Fashion Week on Tuesday, February 27th in Paris, France. Photo by Adam Katz Sinding for W Magazine.

2017 Adam Katz Sinding
Street style during Paris Fashion Week on Tuesday, February 27th in Paris, France. Photo by Adam Katz Sinding for W Magazine.

2017 Adam Katz Sinding
Street style during Paris Fashion Week on Tuesday, February 27th in Paris, France. Photo by Adam Katz Sinding for W Magazine.

2017 Adam Katz Sinding
Street style during Paris Fashion Week on Tuesday, February 27th in Paris, France. Photo by Adam Katz Sinding for W Magazine.

2017 Adam Katz Sinding
Street style during Paris Fashion Week on Tuesday, February 27th in Paris, France. Photo by Adam Katz Sinding for W Magazine.

2017 Adam Katz Sinding
Street style during Paris Fashion Week on Tuesday, February 27th in Paris, France. Photo by Adam Katz Sinding for W Magazine.

2017 Adam Katz Sinding
Street style during Paris Fashion Week on Tuesday, February 27th in Paris, France. Photo by Adam Katz Sinding for W Magazine.

2017 Adam Katz Sinding
Street style during Paris Fashion Week on Tuesday, February 27th in Paris, France. Photo by Adam Katz Sinding for W Magazine.

2017 Adam Katz Sinding
Street style during Paris Fashion Week on Tuesday, February 27th in Paris, France. Photo by Adam Katz Sinding for W Magazine.

2017 Adam Katz Sinding
Street style during Paris Fashion Week on Tuesday, February 27th in Paris, France. Photo by Adam Katz Sinding for W Magazine.

2017 Adam Katz Sinding
Street style during Paris Fashion Week on Tuesday, February 27th in Paris, France. Photo by Adam Katz Sinding for W Magazine.

2017 Adam Katz Sinding
Street style during Paris Fashion Week on Tuesday, February 27th in Paris, France. Photo by Adam Katz Sinding for W Magazine.

2017 Adam Katz Sinding
Street style during Paris Fashion Week on Tuesday, February 27th in Paris, France. Photo by Adam Katz Sinding for W Magazine.

2017 Adam Katz Sinding
Street style during Paris Fashion Week on Tuesday, February 27th in Paris, France. Photo by Adam Katz Sinding for W Magazine.

2017 Adam Katz Sinding
Street style during Paris Fashion Week on Wednesday, February 28th in Paris, France. Photo by Adam Katz Sinding for W Magazine.

2017 Adam Katz Sinding
Street style during Paris Fashion Week on Wednesday, February 28th in Paris, France. Photo by Adam Katz Sinding for W Magazine.

2017 Adam Katz Sinding
Street style during Paris Fashion Week on Wednesday, February 28th in Paris, France. Photo by Adam Katz Sinding for W Magazine.

2017 Adam Katz Sinding
Street style during Paris Fashion Week on Wednesday, February 28th in Paris, France. Photo by Adam Katz Sinding for W Magazine.

2017 Adam Katz Sinding
Street style during Paris Fashion Week on Wednesday, February 28th in Paris, France. Photo by Adam Katz Sinding for W Magazine.

2017 Adam Katz Sinding
Street style during Paris Fashion Week on Wednesday, February 28th in Paris, France. Photo by Adam Katz Sinding for W Magazine.

2017 Adam Katz Sinding
Street style during Paris Fashion Week on Wednesday, February 28th in Paris, France. Photo by Adam Katz Sinding for W Magazine.

2017 Adam Katz Sinding
Street style during Paris Fashion Week on Wednesday, February 28th in Paris, France. Photo by Adam Katz Sinding for W Magazine.

2017 Adam Katz Sinding
Street style during Paris Fashion Week on Wednesday, February 28th in Paris, France. Photo by Adam Katz Sinding for W Magazine.

2017 Adam Katz Sinding
Street style during Paris Fashion Week on Wednesday, February 28th in Paris, France. Photo by Adam Katz Sinding for W Magazine.

2017 Adam Katz Sinding
Street style during Paris Fashion Week on Wednesday, February 28th in Paris, France. Photo by Adam Katz Sinding for W Magazine.

2017 Adam Katz Sinding
Street style during Paris Fashion Week on Wednesday, February 28th in Paris, France. Photo by Adam Katz Sinding for W Magazine.

2017 Adam Katz Sinding