How Model Alessandra Garcia-Lorido, Andy Garcia's Daughter, Plans to Diversify the Runway
The curve model has big plans to break fashion boundaries.
---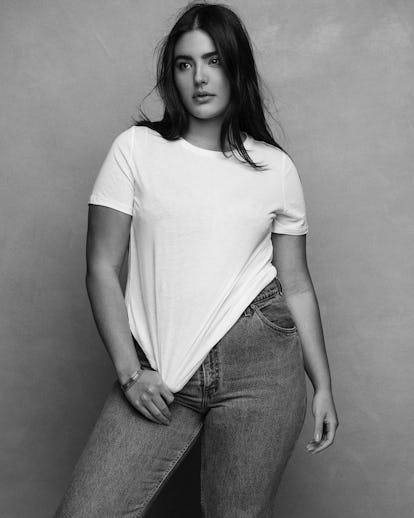 @alessandragl
With another New York Fashion Week just around the corner, Alessandra Garcia-Lorido, the daughter of the actor Andy Garcia, is currently steeling herself for the grueling castings as a curve model. "Casting is always really crazy because for me and other curve models, we're in this new world that we're trying to break through and create more diversity in fashion," she said. "But it's also a really stressful time."
"Do they even want us here? Are we wasting our time?" the 26-year-old, who has walked in Cristian Siriano's shows in years past, went on. "It's a weird conversation that I have a lot with my fellow models." And Garcia-Lorido and her fellow curve models are also wary of casting tokenism. "It all sounds really great to diversify the runway and I think that is what the future will be, but it's tiring. It's hard work to persevere through the judgments and the eyes. I've been on castings before where people are looking at you, and you're like, 'Okay, am I a spectacle here?'"
Garcia-Lorido grew up in Los Angeles, spent some of her youth in Miami (where both of her Cuba-born parents grew up), and moved to New York for college to pursue a career in film producing. There, she pivoted into modeling, signing with IMG and working on catalog gigs with brands like Lane Bryant and Target. When it comes to the runway and its aura of exclusivity, Garcia-Lorido still remains optimistic for its future. "There's a movement going on for sure, but I think it's still not at that point yet where we feel totally comfortable in the industry, especially on the runway," she said, insisting that fashion week is in some ways the "last frontier" of accepting diverse talent.
"[The runway] may actually be the most important because it's where we see clothes first, it's where we see styles and trends first, and it should be the first and foremost moment of, 'Oh, okay, there are girls of all different colors, all different heights, sizes, ages, that are cool and fashionable and trendy, and shaping our image of beauty and fashion,'" she said.
Growing up with two older sisters (both actors) and a younger brother, Garcia-Lorido carved out her own interest in fashion. Her mother, Marivi Lorido Garcia, works as a producer with her father on movies. Having a dad who starred in the Ocean's trilogy, The Untouchables, The Godfather Part III, and now the upcoming Mamma Mia! Here We Go Again, Garcia-Lorido confessed there were many of her fathers films she still hasn't seen because she was too young when they were released. Asked if she might ever consider going into filmmaking again, she replied, "I never say never. I was always the type of girl who didn't know what I wanted to do in school or in life. So even to this day I don't like to close myself off to one path."
Garcia-Lorido also loves to cook, and has been a passionate at-home amateur since the age of 12. "I cook a lot for my friends, I like to entertain. I have my friends over, do a whole themed dinner usually, Mediterranean night or whatever," she said. "We all moved to New York, so we get to see each other a lot even in our busy schedules. I'll cook for everyone, I try to make a point to see my friends because it could be really easy to just forget about people, you know what I mean? Your life gets in the way and you have to be proactive with your friendships." One of those pals is Dakota Fanning, a best friend of Garcia-Lorido's since high school. "We have a nice group of girls from high school still, a tight knit group," she said.
Related: Paris Brosnan, Pierce Brosnan's Stylish Son, Is Now A Runway Model