Alex Israel Lends His L.A. Sunset Aesthetic to Louis Vuitton's Newest Fragrance
The artist designed a cotton candy-colored bottle for the latest addition to the summer-inspired Les Colognes collection.
---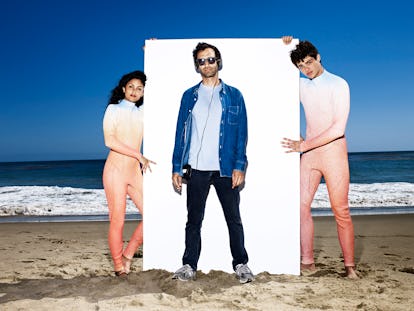 Photographer: Matthias Vriens-McGrath
Louis Vuitton's history of artist collaborations goes back 20 years, ever since then-artistic director Marc Jacobs called on Stephen Sprouse to transform the house's monogrammed logo with his neon handwriting. The collaborations are often rooted in contrast, setting pop-oriented aesthetics against the traditional look of their chocolate brown leather goods—think Takashi Murakami's cartoonish cherry blossoms, or Yayoi Kusama's pulsating circles.
Now, for the first time, that collaborative spirit has been extended into the realm of fragrance. For California Dream, a new sunset-inspired perfume, multimedia artist Alex Israel has applied his signature cotton candy color palette to a sleek bottle and carrying case. The L.A. native has long looked upward for inspiration in his "Sky Backdrops" series, splashing dreamy swaths of pink and blue clouds onto massive canvases, entire gallery walls, and even Rimowa suitcases in a nod to the Hollywood sound stages of the Technicolor era.
Master perfumer Jacques Cavallier Belletrud sought to transpose the emotions brought up by a California sunset into a fragrance, combining contrasting elements of warmth and coolness, freshness and softness that evoke the transitional. "A sunset is at once ephemeral and perpetual, a moment that's unique and yet eternally renewed," Belletrud said. "The same goes for perfume, which is at once elusive and always true." The result: a floral, citrusy concoction mellowed out with ambrette and benzoin, a resin with an aroma reminiscent of vanilla.
California Dream joins the Les Colognes collection, a trio of summery scents with summery names: the earthy, tangy Cactus Garden; the bergamot-centric Afternoon Swim; and Sun Song, a soft, musky orange blossom. All four can be stashed in a leather carrying case emblazoned with one of Israel's cresting waves, a motif that first appeared in his conceptual surf film SPF-18. Even in a summer like this one, it's a reminder of optimism and endless capacity for renewal.
Related: Spring's Most Cheerful Pieces Are Bound to Make You Smile