Alexandria Ocasio-Cortez Trolls Fox News in Spanish for Being Obsessed With Her Shoes
She tweeted the Spanish equivalent of Regina George's "Why are you so obsessed with me?"
---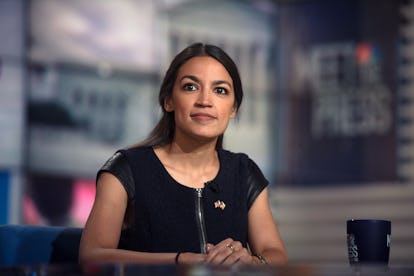 NBC NewsWire
In these turbulent and divided times, it's gratifying to know that Americans on both ends of the political spectrum can agree on the fact that Alexandria Ocasio-Cortez's white campaign sneakers are iconic. Because, after all, you can't run (for office) until you walk (door to door, talking to voters).
Fox News, which routinely makes Ocasio-Cortez the subject of intense scrutiny and criticism, recently aired a segment that included a discussion of the inclusion of Ocasio-Cortez's campaign sneakers (see viral tweet below) in an upcoming exhibit at Cornell on women, fashion, and politics. On Friday night, Ed Henry's The Story brought on three panelists to talk about the exhibit, prompting Twitter users to question why Fox was devoting so much airtime to every little story about the 29-year-old representative-elect.
In response, Ocasio-Cortez, soon to be the youngest member of Congress, tweeted out an Aventura lyric, "No, no es amor/ Lo que tú sientes, se llama obsesión." This is the Spanish-language equivalent of Regina George's "why are you so obsessed with me?" In another tweet, she reminded Fox News that after belittling her intelligence so much, they should have no problem understanding her español, right?
To be clear, the recent segment wasn't necessarily attacking Ocasio-Cortez. Though the panelists criticized her platform, the general consensus was that her shoes (and, by extension, she herself) belonged in the exhibit for her work ethic and her hustle. As commentator Wendy Osefo explained on Twitter, "We all said @Ocasio2018 earned her place in the history books and deserves all her accolades."
But the question remains: Will there ever come a day when Fox News doesn't jump on an Alexandria Ocasio-Cortez story at every possible moment? Or, can they at least wait until she takes office before making her the centerpiece of their nightly reporting? Es interesante, sí?
See below for the full exchange:
Related: Caitlyn Jenner, Trump Apologist, Finally Denounces Donald Trump
The 14 Best Fashion Sneakers to Buy for Fall 2019