Alias Grace Is Your New Binge-Worthy Feminist Show
Netflix's adaptation of the Margaret Atwood novel is getting heaps of praise.
---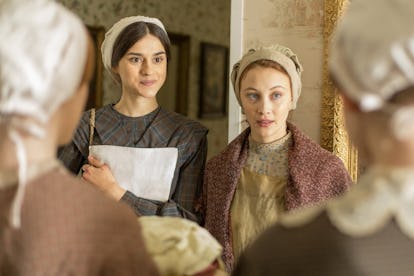 Sabrina Lantos/Netflix
Season two of Hulu's Emmy-sweeping The Handmaid's Tale won't air until 2018, but until then we have Alias Grace, another high-production-value adaptation of a feminist Margaret Atwood novel. Alias Grace, the show, is written by child-actress-turned-writer-director-who-should-be-a-household-name Sarah Polley, who has been interested in bringing the story to the screen "literally her entire adult life," according to a piece in Vanity Fair on Polley and the series premiere's director Mary Harron, who also directed, among other projects, American Psycho.
Starring Sarah Gadon, Zachary Levi and Anna Paquin, the 6-part series takes place in 19th-century Canada, where "a psychiatrist weighs whether a murderess should be pardoned due to insanity," according to Netflix's synopsis. It's based on a true story, too. And if that juicy log line's not enough to whet your appetite, consider that the series has been getting paeans of praise on Twitter, with many noting the performances of the leading cast as a highlight.
As one Twitter fan asked, "WHERE'S THE ALIAS GRACE HYPE THE WAY THERE WAS FOR MINDHUNTER THIS IS SUCH A GOOD SHOW YOU HEATHENS!!!!!!" (Though to be fair, Alias Grace did just drop on Netflix on Friday.)
Critics, too, are lining up to crown Alias Grace the new ruler of our prestige television moment. In rave after rave, writers are finding depth, nuance, and an (unfortunately) timely subject matter.
After weeks of stories about men abusing women (and other men) in Hollywood (and beyond), especially in light of the circumstances surrounding Netflix ending its first prestige drama, House of Cards, Sarah Polley and Mary Harron adapting a Margaret Atwood novel all about the desperation caused by female oppression and harassment is a tonic all too sweet. The medicine your binge-watching schedule needs.
Related: Margaret Atwood, Elisabeth Moss, and the Women Behind the Disquietingly Vital The Handmaid's Tale
The Stranger Things Cast Celebrated Season 2 with a Spooky Halloween Party
Gaten Matarazzo, Finn Wolfhard, Caleb McLaughlin and Noah Schnapp attends the premiere of Stranger Things season two.

Eric Charbonneau
Millie Bobby Brown and Sadie Sink attend the season two premiere of Stranger Things.

Eric Charbonneau
Finn Wolfhard and Joe Keery attends the season two premiere of Stranger Things.

Eric Charbonneau
Dylan Sprouse attends American Eagle Celebrates 40 Years at New AE Studio in NYC.

Sean Zanni
Billie Lourd attends American Eagle Celebrates 40 Years at New AE Studio in NYC.

Sean Zanni
Miles Teller attends The Cinema Society & Avion host a reception for DreamWorks and Universal Pictures' Thank You for Your Service held at The Landmark at 57 West, NYC.

Jared Siskin
Margaret Qualley, Morgan Saylor, Dianna Agron, Rebecca Dayan attend Miu Miu & The Cinema Society host the after party for Sony Pictures Classics' "Novitiate" held at The Lambs Club, NYC.

Jared Siskin
Zachary Quinto and Olivia Wilde attend Uniqlo's Art and Science Lifewear party at Spring Studios in NYC.

Hagop Kalaidjian/BFA.com
Karolina Kurkova and Archie Drury attend Gabrielle's Angel Foundation's Angel Ball 2017 at Cipriani Wall Street on October 23, 2017 in New York City.

Dimitrios Kambouris
Miles McMillan and Zachary Quinto attends the New York Magazine 50th Anniversary Party at Katz's Delicatessen on October 24, 2017 in New York City.

Ben Gabbe
Julianne Moore attends John Hardy And Vanity Fair Celebrate Legends at Le Coucou on October 24, 2017 in New York City.

Dimitrios Kambouris
Debbie Harry performs onstage as Journal Hotels celebrate Mondrian Park Avenue's grand opening hosted by The Butter Group with special guest Debbie Harry on October 24, 2017 in New York City.

Dave Kotinsky
Harley Viera Newton attends a pop-up cocktail celebrating the Valentino Resort 2018 collection.

Angela Pham/BFA.com
Andra Day attends the 2017 National Arts Awards by non-profit Americans for the Arts, held at Cipriani 42nd St.

Hagop Kalaidjian/BFA.com
Mario Sorrenti, Angela Missoni, and Mary Frey attend a cocktail celebrating "Blue, Yellow, Red, Purple," a project by poet and filmmaker Jonas Mekas.

Griffin Lipson/BFA.com