Blake Lively And the Rest of the Sisterhood of the Traveling Pants Reunited for Amber Tamblyn's Directorial Debut
Alexis Bledel, Blake Lively, and America Ferrera all turned up to celebrate Amber Tamblyn's brutally dark directorial debut.
---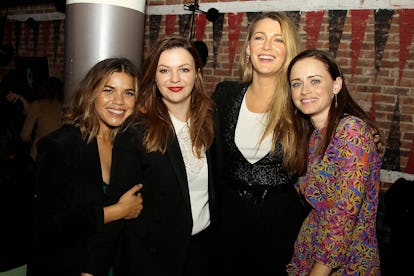 Marion Curtis
It's been nine years since Alexis Bledel, Blake Lively, Amber Tamblyn, and America Ferrera have appeared together on-screen, but clearly the sisterhood is still going strong: All four actresses reconvened on Monday night in New York to celebrate the New York premiere of an indie movie called Paint It Black, a film that was shot over the course of just 21 days—and happened to be Tamblyn's directorial debut.
Ferrera admittedly didn't join in until the after-party, which, like the premiere, was hosted by Svedka, but Tamblyn was quick to note that the actress and activist been her "biggest champion," and had already seen the film at least four times. Bledel and Lively, however, were first-time viewers, and therefore dutifully reported to Monday's screening where they joined the rest of Tamblyn's crew, which included Amy Schumer, who flipped her hair and yelled "Hell no" when approached by reporters on the press line. Also there was Steve Buscemi, who co-produced the film, joined when his eagerness led him to sneak up on the red carpet to greet Tamblyn.
Celebration, after all, was definitely in order, and not just because Tamblyn wrote and directed the film herself, adopting the latter role unexpectedly when another director dropped out last minute. As became clear as soon as the lights went down, the story is brutally dark, following the aftermath of a boy named David's suicide, and graphically illustrating how his girlfriend, played by Alia Shawkat, and his "venomous" mother, played by Janet McTeer, flail around attempting to come to terms with their grief. (It's a process that starts with McTeer's character strangling Shawkat's and physically dragging her across the floor in front of guests at David's funeral, and nonetheless leads to the pair moving in together to the family's eerie, over the top mansion in Echo Park.)
Still, Tamblyn ended up finding a bit of a family once again in the cast of the film (which will be released on Friday, and is based on a novel by Janet Finch). She immediately hit it off with McTeer—after an hours-long "good old gossip," as the actor recalled—and in fact already knew Shawkat thanks to the fact that she starred in Arrested Development alongside Tamblyn's husband, David Cross. Their relationship, of course, only got closer once filming started—a process that was intensely intimate from the very beginning, before Shawkat had even auditioned.
"I was in my safe place, stripped down, naked, at a Korean spa in Los Angeles, like, 'Ah, I finally get to relax.' And then there's Amber in the mugwort pool being like, 'Hey bitch,'" Shawkat recalled. "So we kind of had a general meeting in the hot tub, but what better place, you know? You're just relaxing, and you can't hide behind clothes or funny hats."
Thankfully, Shawkat was quickly on board, and comfortable keeping a breakneck speed; just three weeks of shooting meant that many of the scenes that ended up in the film are in fact first takes, or else came from somewhat unexpected places: The first scene featuring McTeer was actually extra, nearly accidental footage taken of her in lying around in-between takes, and later scenes of McTeer stumbling down a hallway, underlining the omnipresence of alcohol in the film, was actually filmed the only day the crew ended 15 minutes early, and McTeer suggested Tamblyn film her simply being drunk.
Tamblyn, after all, was the first in the crew to admit that she was a first-time filmmaker, though her initial hesitations quickly faded the more time she spent on set. "At first I was like, Oh my god, I don't deserve this responsibility when everyone was looking at me to make a decision. But then you realize, no, you absolutely deserve this responsibility, you're the s–t," she said.
Her father, the actor Russ Tamblyn, who makes a brief appearance in the film, was also on hand to confirm that Tamblyn actually used to direct her friends in movies she made as a kid—and was always more than eager to learn from directors like David Lynch. "He influenced her with a lot of the ways she shot," he said.
Russ should know: He plays Dr. Lawrence Jacoby on Twin Peaks—both the '90s version, and, he revealed, the revival that premieres this Sunday, too. And while—surprise, surprise—he couldn't say much about the series, other than that he only shot for a couple of days out of the four or five months that filming took place, he did note another similarity between Lynch's latest and his daughter's debut. "It's pretty far-out," he said with a laugh. "Pretty intense."
See Laura Dern, Naomi Watts, Patricia Arquette, and Hailey Gates Open Up About Working with Legendary Director David Lynch: