Exclusive: Amelia Gray Hamlin, Lisa Rinna and Harry Hamlin's Youngest Daughter, Is the Newest Real Housewives Scion to Become a Model
Are Amelia Gray and Delilah Belle Hamlin the second coming of Gigi and Bella Hadid? All signs point to yes.
---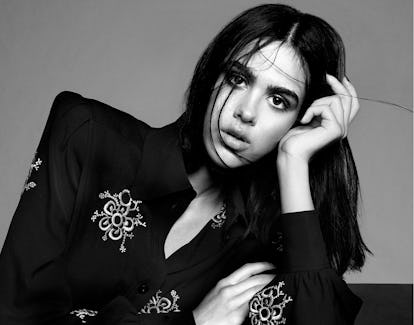 Delilah Belle and Amelia Gray Hamlin, Lisa Rinna and Harry Hamlin's teenage daughters, have a lot in common with Gigi and Bella Hadid. To start, both sister sets were thrust into the spotlight as teenagers, when their mothers were cast members on the Real Housewives of Beverly Hills. But that's not all–in April, 19-year-old Delilah landed a modeling contract, and today, Amelia, the youngest sister, signed with IMG Models (yes, the same agency that represents the Hadids). In an exclusive interview, Amelia opens up about everything from her relationship to her sister, and the models she most admires.
Happy Sweet 16! What are you up to for your birthday?
Thank you! My family is taking me to Disneyland Paris for my birthday, so we've stopped in London today. We did some shopping and hardcore eating so far. Not done yet!
You just celebrated your older sister Delilah's birthday…at Delilah's in West Hollywood. How was it?
I love Delilah's! It's me and my sis' favorite place, and we go all the time so it was fun like always but extra fun because I got to celebrate my best friend.
That was just three days ago. How is it being so close in age with your sister?
It's kind of weird, actually. When we were little we used to fight over each other's birthdays. On her birthday, I'd always throw a fit cause I wasn't getting any attention at all of course. And on my birthday she'd do the same. Since we're older it's kind of different, because we don't mind the issue of attention anymore…well that's not completely true! It gets kind of difficult when we're arranging our parties and sometimes we fight over that.
Some people have a hard time figuring out who's older of you two. What's that been like?
That's been the funniest part actually. And our favorite part about looking so alike. We always love tricking people every time they ask us who's older. Usually we get "twins" or I'm the older one. Nobody ever seems to get it right! That for sure bothers Delilah more than it bothers me.
How was it watching your sister get signed? Did you already know by then that modeling was an interest of yours as well?
It was kind of tough, actually, because I didn't know what I wanted to do, all I knew was that my older sister was doing stuff and I wasn't. I kind of just felt lost until I finally figured out that I wouldn't want to be doing anything else in the whole world other than model.
What have you learned from watching your sister model?
I've learned how important it is to let your personality shine and always have manners and respect every single person on set. I've also learned how difficult it can be, and I've developed a very different kind of respect for supermodels.
Has she given you any advice?
Since we're very different we don't really exchange advice. I'm sure she'd give it to me if I asked, but I like to learn just from observing. We tend to take it offensively when one gives the other advice hahaha.
What is it that attracts you to the industry? What do you love about modeling?
I love the ability of self expression. I've always been someone who loves art, which is ironic as I'm not talented in drawing or painting. But this is an art form that I've found that I am good at. And I love the idea of being the canvas and allowing your emotions to paint a picture. I think it's fascinating.
So, when did you first know you were interested in modeling?
I saw my first runway show when I was I think like 12. I was with my mom in New York for fashion week, and I remember watching my first show, and I started to cry. I had no idea why I cried, it was so weird for me. I figured out I cried, because it was so beautiful and elegant, and I was passionate about something for the first time ever. Ever since then my mom would tell me "don't worry someday that will be you." Of course I never actually thought that would be the case.
Signing with IMG has always been my dream. When my mom told me that I would be signing with IMG I was in my kitchen and I actually thought my family was playing a really sick joke on me. When I found out it was true, I started to cry.
What is it about IMG that made it the right place for you?
I've always had a feeling in my heart that IMG is the place for me. The belief my whole team has in me is unreal, and I wouldn't want to be anywhere else. We're in this together.
What models in the industry do you look up to?
I look up to Cindy Crawford a lot. I grew up with her and her family. Her personality and extreme human qualities are so beautiful. I also really look up to Adriana Lima and Candice Swanepoel. They prove themselves as such strong and independent women, and I love that about both of them. And of course Gigi and Bella!
How do you see yourself balancing school and modeling?
I used to go to an all girls school, which was pretty hardcore. It didn't really coexist with my dream of modeling, so my parents decided to homeschool Delilah and I, and it has been a true blessing.
What's the biggest lesson you've learned from your mom from just watching the way she has navigated the industry?
The biggest lesson I've learned from my mom is that hard work pays off. And that the application of oneself will get you further than you could ever imagine. Also, that it's all up to you and in your hands!
What's your dream modeling job?
There are so many! Shooting editorials with W Magazine (obviously), Love Magazine, and Vogue Italia are top of my list. I've always loved the shows of Versace, Dolce & Gabbana, Alexander Wang and Moschino. Ugh, I feel like I'm cheating on everyone. I love everything about it! There are too many things I want to do to narrow it down so early in my career.
What's your health and fitness routine like?
Actually a year ago I had a crazy epiphany about food. And I decided to rewire my brain into eating food like medicine. I'm a super clean and healthy eater, and I workout every day. But, that's because I love it! I also love junk food and allow myself to cheat some of my favorite treats into my week. Sometimes maybe too many times! My goal is to feel good and be strong.
What are some of your interests outside of modeling?
Believe it or not I love sports. I played tennis for a handful of years, and then I started to box. I've been boxing now for almost four years and I love it. I'm also super interested in astronomy. I'm a total science geek hahaha. My dad and I both, actually. If I'd ever do anything other than model, I'd be an Astronaut.
What are some of your favorite brands to wear?
I love RE/DONE for streetwear, and I absolutely love a good vintage jean jacket. My absolute favorite piece in my closet is my Alpha NASA bomber jacket. Some of my favorite high fashion brands are for Gucci, Louis Vuitton and Balenciaga. I get it from my momma. She and I have such similar taste!
What have you been listening to lately? Who are some of your favorite artists or bands?
I've been obsessed with SZA's new album. And I absolutely love Khalid. That's only when I'm in a calm mood. Otherwise Drake and rap are playing all the time!
Have you found yourself star-struck at a party?
Oh for sure. I always grab Delilah, and I'm like, "Oh my God, look it's the girl from Switched at Birth or, "Oh my God, it's Joan Smalls". I was lucky to grow up with my family as actors, but I think till the day I die, I'll always get a little star-struck every time I see someone whom I have a lot of respect for.
So, what do you have going on this week?
This is a busy week! We're going to Paris and doing some shopping which I can't wait for! And of course eating at Hotel Coste and L'Avenue, my mouth is watering just thinking about it! Also I'm dragging my sister to a French workout class that I go to when I'm in Paris which should be the laugh of the week, considering it's all in French, and we don't speak French! And of course, my favorite plan, Disneyland Paris!
Meet the Celebrity Scions Class of 2017, From Paris Jackson to Hailie Scott
Anais Gallagher is the daughter of Noel Gallagher, a member of the English rock band Oasis. She is signed to Select Model Management.

Hamlin wears an Alexander Wang dress. Photo by Pier Nicola Bruno, styled by Caroline Grosso. Produced by Biel Parklee. Hair by Mirka Mysicka at Saint Luke, makeup by Grace Ahn. Model: Delilah Belle Hamlin at Elite Models. Digital Technician: Alessandra Bagnera.
Clara McGregor is the daughter of actor Ewan McGregor. She is currently signed to Wilhelmina and is studying ay NYU.
Destry Allyn is the daughter of director Steven Spielberg. She is currently signed to DT Model Management and walked Dolce & Gabbana.
Hopper Penn is the son of actor Sean Penn. He is currently signed to Wilhelmina and has only done editorials.

Getty Images
Paris Jackson is the daughter of singer Michael Jackson. She is currently signed to IMG and sat front row at Paris Fashion Week.

Getty Images
Will and Nicola Peltz are the children of investor Nelson Peltz and former-model Claudia Heffner Peltz. They are signed to IMG.

Getty Images
Anwar Hadid is the brother of Bella and Gigi Hadid, as well as they boyfriend of Nicola Peltz. He is signed to IMG.

Getty Images
Levi Dylan is the grandson of Bob Dylan. He is currently signed to Next and walked for Dolce & Gabbana.

FilmMagic/Getty Images
Hailie Scott is the daughter of the rapper Eminem. She is currently unsigned and a student at Michigan State University.

@hailiescott
Lori Harvey is the daughter of actor and TV-show host Steve Harvey. She is currently unsigned but walked Dolce & Gabbana and sat front row at Chanel.

Getty Images
Dakota "Cody" Lohan is the brother of Lindsay Lohan. He is currently signed to IMG but has done no major campaigns or shows.

Courtest IMG
Roberto Rossellini is the son of the Italian actress Isabella Rossellini. He is currently signed to Ford Models and has done no major campaigns or shows.

Photo by Biel Parklee, Model: Roberto Rossellini at Ford Models.
Nyima Ward is the son of former model Trish Goff. He is currently signed to DNA and has done presentations for Polo Ralph Lauren.

Photo courtesy Hadar Pitchon/DNA models.
Rocco Ritchie, the son of Madonna and Guy Ritchie is currently unsigned but starred in the Alexander Wang Adidas campaign.

Courtesy Alexander Wang
Blue Lindeberg is the daughter of fashion designer Johan Lindeberg. She is currently signed to IMG and also dabbles with photography.

Getty Images
Rafferty Law, the son of Jude Law, is currently signed to TESS London. He DJs and has his own art collective called "Something to Hate On."

Getty Images
Brandon Thomas Lee is the son of Pamela Anderson and Tommy Lee. He is currently signed to Next and walked Dolce & Gabbana.

Venturelli
6 Rising Male Models from Famous Families Share Their Biggest Pet Peeves