Amy Adams' Sharp Objects Will Not Be Returning for a Second Season Because the Show Is Too 'Dark'
It's too "dark" for Amy Adams to "live in the character again."
---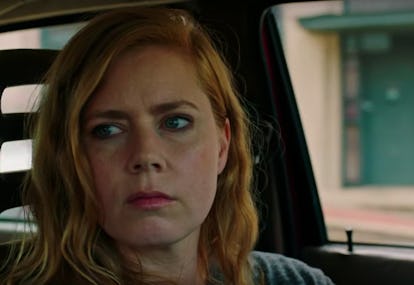 HBO
Sharp Objects and Big Little Lies may have both started as an HBO limited-series adapted from a novel — sharing director Jean-Marc Vallée — but that's where the comparisons end. Amy Adams' TV show will not be getting a second season, like Big Little Lies did. Today at the Television Critics Association that piece of news was delivered when showrunner Marti Noxon said, per Consequence of Sound, "We're not talking about a season two. This is it. Bask in it while you can."
Even though Sharp Objects was an instant success for the network, debuting to 1.5 million viewers (which was 36 percent more than the premiere of Big Little Lies, as Deadline notes), it will not be returning. The reason why? The show is simply too "dark." "Unlike Big Little Lies where all of the stars wanted to come back, Sharp Objects, it's a very dark character, very dark material. Amy doesn't want to live in this character again and I can't blame her, it's a lot to take on for an actress," HBO president of programming Casey Bloys tells Deadline. "So no plans for a second season. We are very happy with this living as a limited series."
Adams has talked about the toll playing investigative journalist Camille Preaker took on her before. "I knew of course that she was a heavy drinker," Adams said of the character, who returns to her hometown to research the disappearance of girls, on The Talk. "But I went back and watched the first episode and there's a moment where I woke up and I had a visceral feeling of a hangover. It was interesting, I've never had that much of a physical response to something I did as an actress. I felt hungover watching it. I think everybody watching it should have some water and Advil on standby."
Adams confirmed as much during the TCAs, telling the crowd at a panel, "I felt crazy,"I had really bad insomnia [during filming] and would wake up with anxiety. I had to realize that I didn't own it, it belonged to Camille. I had to decide what I had to let go of and what I could use the next day." If there is a bright side, it's that this is all the more reason for Adams to sign on to the much more light-hearted, upcoming Enchanted sequel.