Amy Schumer's Comments About Her Netflix Salary Misses the Point About the Fight for Equal Pay
The comedian, who was initially offered $11 million compared to Rock and Chappelle's $20 million, responds to critics on Instagram.
---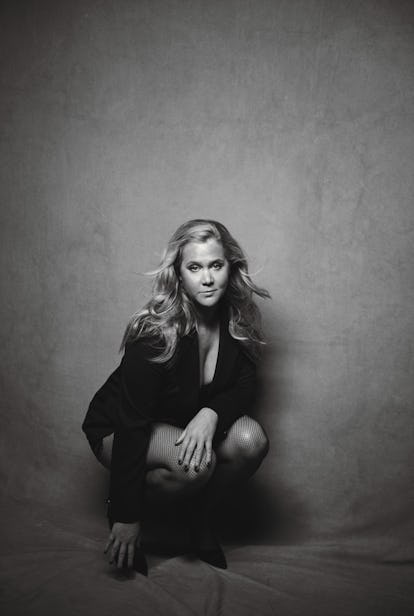 Photographer: Peter Lindbergh Stylist: Edward Enninful
On Wednesday, Variety unveiled a new cover story on the ongoing pursuit of equal pay among women and people of color in Hollywood. Among the examples cited in the story was comedian Amy Schumer's negotiation for her Netflix special, The Leather Special, for which she was first offered approximately $11 million. But when her team learned Chris Rock and Dave Chappelle had been paid around $20 million for their specials—two for Rock, three for Chappelle—they approached Netflix again to campaign for a better rate for Schumer (or, as Variety put it, "flatly asked for more money").
The anecdote was quickly disseminated, and critics (on Twitter, where critics love to gather) took issue with what they perceived to be Schumer's belief she deserves equal pay to two of the most celebrated comedians alive. The controversy gained enough traction that Schumer took to Instagram to set the record straight: "Thanks for chiming in on what you think I deserve to be paid. I believe women deserve equal pay. However I don't believe I deserve equal pay to Chris and Dave," she wrote, describing the pair of comedians as "legends" and some of the "greatest comics of all time."
"I didn't ask for the same as my friends. I did ask for more than the initial offer. I will continue to work my ass off and be the best performer I can be," she continued. "The reports of me 'demanding' or 'insisting' on equal pay to them aren't true." (The Variety story does not say Schumer asked for equal pay, but it was construed that way among many readers.)
Schumer, who became the first woman comedian to earn a place on Forbes's highest-paid comedians list last year, has previously spoken out about the gender pay gap—notably, in a Bud Light commercial that debuted last summer during an episode of The Bachelorette. "Bud Light proudly supports equal pay," Schumer says in the commercial spot, later adding, "Bud Light costs the same, no matter whether you're a dude or a lady."
"Women don't get paid as much as men, and that is wrong," adds Seth Rogen, who also appears in the ad. Unfortunately, Bud Light's parent company Anheuser-Busch has been plagued by allegations to the contrary: According to a Washington Post report at the time, a woman executive, Francine Katz, sued Anheuser-Busch in 2009 when she discovered she was making just 57 percent of her (male) predecessor's salary. In 2014, she lost the suit.
So, while Schumer has made it known that she supports equal pay, her emphasis on the specific case—her pay in relation to that of Chappelle and Rock—misses the mark. Pay parity in Hollywood transcends any individual woman's relationship with any other man; it's a systemic issue that affects women at every level and on both sides of the camera. Schumer may not believe she deserves equal compensation to her two peers—"my friends," she calls them—but the point the Variety cover emphasizes is that she leveraged, to great success, her knowledge of how her male peers were being compensated to improve her own pay.
James Corden never thought he'd have 35 people at his birthday party: