Amy Sedaris' New TV Show, At Home With Amy Sedaris, Is Essentially Martha Stewart Gone Mad
She's not your typical hostess.
---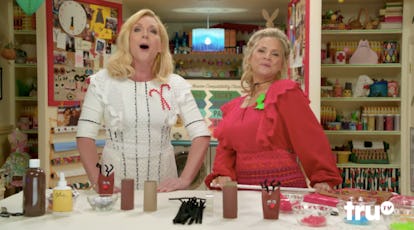 truTV
Long before Goop was organizing thousand-dollar health summits stocked with kale cookies, there was a more DIY aspect to the domesticity marketplace. We're thinking of Martha Stewart, of course, who, even in the age of wellness bloggers and YouTubers, still owns this domain. And now the arena of good old-fashioned arts and crafts on TV will feature the delightful presence of Amy Sedaris, the comedian, actress, and playwright, with her new show on truTV, At Home with Amy Sedaris, whose new trailer finds her comfortably behind a counter and ready to show off her skills. Seeing as "Amy is an art form unto herself," as the late actor Philip Seymour Hoffman put it, though, it's no surprise that from there, things get really, really weird.
The first teaser for the series, which premieres October 24, stars Sedaris and Jane Krakowski in two frilly, fitted gowns with perfectly coiffed blonde hair, preparing to make some "festive holiday crafts." All seems normal until Sedaris pulls out the toilet paper rolls she plans to use for supplies, at which point she yells the instructions, followed by her picking up a wand and bursting into song about the consistencies of adhesives, from slick to gummy to stiff to sticky. Krakowski, who resembles something of a Glinda the Good Witch of glue, eagerly joins in on the song—until Sedaris lets her know she's actually decided to stick with tape.
Other tricks up Sedaris's sleeves are set to include everything from gutting a trout to entertaining businessmen, plus whatever else she can dream up for the series's 10 episodes. After all, she's never been short on ideas. In 2010, the former girl scout published Simple Times: Crafts for Poor People, a book she followed up on on YouTube with video tutorials like how to roast hot dogs for a crowd (use a rake) and how to make a bird feeder out of a donut. That same year, she was even trained by Stewart herself when she took "Martha's Homekeeping Test" on-screen—and Stewart schooled Sedaris on how to fold a towel. If she plays her cards right, though, it's Stewart who just may end up snagging a guest star spot (alongside Stephen Colbert).
Related: What "Martha & Snoop's Potluck Dinner Party" Taught Me About Friendship
See W's most popular videos: