Angelina Jolie's Makeup Artist Reveals the Key to the Perfect Sheer, Summer Lip
Makeup artist Matin shares his secrets.
---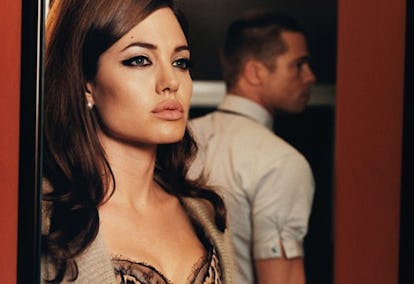 While summer is most closely associated with the "no makeup" look–think healthy, luminous skin and beachy waves–a pop of color of the lips can be the ultimate beauty statement. Angelina Jolie's makeup artist, Matin, has some suggestions, though. "When it comes to spring/summer I really like a little bit a healthier looking lip," he says.
Matin, whose A-list clientele also includes W cover stars Claire Danes and Gal Gadot, loves a natural looking lip, as it contradicts the "Instagram perfection" that has been in trend for so long, with "the contouring, high cheekbones and painted brows." "Everyone is going away from that and its almost an opposite effect, they are going completely natural," Matin says.
And while matte lips "look amazing for the fall/winter, it's not as romantic for the spring/summer. I would stay away from products that cover the skin on the lip, instead I would use products that use a hint of color."
Breaking down how to achieve the ultimate sheer lip, Matin reveals one of his favorite tricks is to skip using lipliner, and instead achieve the effect by using concealer. "I lightly go around the lips and create the contour instead of a pencil with a concealer," he says. "It makes the corners sharp and beautiful and when you put the sheer color on top, you don't have to rely on a pencil."
Recommending that "reapplication of course" is the key to maintaining the look from day to night, Matin ensures that having the right products in your bag for touchups is vital. "I always recommend to my clients who are going to a red carpet, I always send them with a moisture tint product, a concealer pen and oil blotting papers."
And for the girl who truly wants to go au natural this summer, Matin has a trick for you, too, involving fake eyelashes. "Lift the lashes a little bit and go underneath, not on the waterline, but between the lashes and dab a sharp pencil or a flat brush. You basically put color between the lashes and that makes a really thick base for your lashes, and that way you don't have to rely on mascara to make them look thick." Voila!
10 Lip Scrubs to Buy Now Because There's No Excuse for Chapped Lips This Winter
"Wonder Woman" Star Gal Gadot Was a Very Reluctant Pageant Queen