Anne Hathaway and Sandra Bullock Think the Filming of Ocean's 8 Was as Feminist as the Movie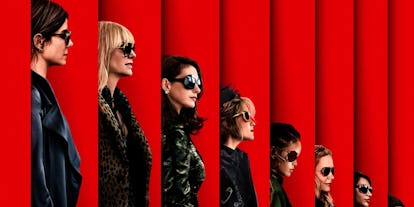 There are few films as anticipated this year as the long-awaited Ocean's 8, starring everyone from Anne Hathaway and Sandra Bullock to Rihanna and Mindy Kaling. Outside of the fact that the poster and trailer couldn't be more alluring, the world couldn't be in greater need of a female-led film that's centered around friendship and feminism. Perhaps not surprisingly, if you've watched the first look at the film, friendship was as central to the movie in real-life as well.
Hathaway confirmed as much when she spoke about Ocean's 8 at a press conference for the film, which comes out June 8. "I've been really lucky, I've been able to work with a lot of great women but there's usually just one or two of us," she said as People reports. "The idea that we could all bring all of the experiences we've ever had and bring it into this shared pool — and all then collectively become better because we're all just together."
The Oscar winner also talked about how the vibe of making a movie alongside all women has been different from other projects she's worked on, saying, "One of the first things I remember was feeling safe and feeling like I was with people that I was so proud to be amongst — while having the best time of my life, just learning, and enjoying the view. It was incredible."
As for how universal the message of friendship in Ocean's 8 is, which revolves around a heist at the Met Gala, Hathaway thinks, "To an 8-year-old girl maybe we're not saying go have a life a crime, but to go do what you want and there's space for you. There's space for you to go do it with your friends, there's room for all of you. I think that films that have an 'everybody in' mentality and message for people who have historically been excluded is a good message for people."
Bullock agrees, adding, "I think to me the most important thing was to show I didn't care about the heist as much as I cared about how they treated each other and how they lifted each other up. Also just women taking care of each other. Women being good to each other. Women stepping back and letting the more gifted step forward in the heist and recognizing talent and saying go out and shine, I got your back." It's good to know the cast has each other's backs IRL, too.