Ansel Elgort on Landing the Lead in Steven Spielberg's West Side Story: "I Was in Tears"
The actor opened up about his last-minute decision to go blond, his parents making the headlines alongside Donald Trump, and being cast in West Side Story.
---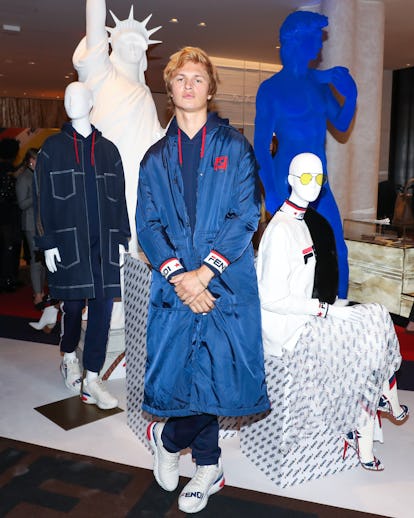 Neil Rasmus/BFA.com
It was too bright at Fendi's midtown store for Ansel Elgort, who arrived on the scene to celebrate the launch of the Italian retailer's new capsule collection. "I told them to dim the lights a little bit…make it a party, and then we'll have a little more fun. That's the vibe," Elgort announced over beats from one of his favorite DJs, Kitty Kash, while sitting next to fellow Fendi fan Chloë Sevigny.
"Sometimes, the fashion DJs, they don't know how to beat match; it's just about the look. But she's actually really good; she actually knows how to mix," Elgort said. Someone like Elgort could make such a statement with conviction—the 24-year-old has devoted a significant portion of his time developing his DJ'ing career under the moniker Ansolo, in addition to nabbing Hollywood roles left and right. Wearing a blue tracksuit from the Fendi Mania collection, which plays with the "ironic spirit" of the brand by mixing street style with the label's classic patterns, the actor opened up about dyeing his hair blond on a whim, his parents making the headlines alongside Donald Trump, and why being cast to play Tony in West Side Story has been a lifelong dream.
"I've had eclectic style since I was a kid. Life is always better when you're really comfortable in your own skin, just being however you wanna be," Elgort said. "I'm not trying to be anybody else for anybody else," he went on, before explaining the spontaneous decision to bleach his hair blond last month. True to his carefree and relaxed form, Elgort did it because he "just wanted to do it." He confessed that, for a long time, he was concerned about appearing a certain way, but had suddenly realized he did not have to remain beholden to any sort of image projected onto him by his profession as an actor (and now, as a musician as well). "Life isn't short. It's very long, and you gotta be happy during it," Elgort said. "So you gotta make sure you act how you feel."
Elgort is finally getting the chance to act in a lead role he has been dreaming of playing for years: He will star as Tony in the upcoming adaptation of West Side Story, and was hand-selected by the film's director, who happens to be none other than Steven Spielberg. "He called me," the actor sheepishly admitted when asked how he landed the role. The opportunity to play Tony in the revival of the 1961 romantic-tragedy film is bringing out a lifelong passion for performing in musicals, and though another dream role of Elgort's is to play Javert in Les Misérables, starring in West Side Story is "nuts" for the actor-DJ. Elgort's family is, of course, also supportive of his musical-theater milestones. "This is the first time I got a role in my life where I was in tears. I called my parents. They were in tears," he said. (It should be noted that he is not the only member of his family who makes headlines—it was reported last week that, back in the day, his father, Arthur Elgort, was stiffed by Donald Trump to take some unpaid photos of Melania Trump. "Oh, I don't think there's beef," the young scion said with a smile. "I don't think there's real beef.")
"West Side Story is what I've been working toward," he said, and the highly anticipated movie musical is a far cry from his other recent roles, which include the lead character of Jonathan, a film about a psychologically tormented young man with a split personality, and the upcoming adaptation of Donna Tartt's novel The Goldfinch. "Everything else I did was awesome, and I took it as I got it, and I was so happy, but it wasn't my dream when I was a kid," Elgort admitted. "My dream when I was, like, 4 or 5 years old was that I wanted to be in musicals, so it's bringing such an original passion out of me."
"The first musical I saw on Broadway was Oklahoma! when I was, like, 4, and it made me fall in love with musical theater. Ever since, it's been my first love. Musical theater, theatricality, I love the theater!" he continued. "My birthday parties used to be going to Joe Allen on 46th Street and then going to the theater after with my parents."
In between prepping for big musical roles and talking shop about his favorite musicians (he revealed that he constantly collaborates with his friends in an experimental boy band, Brockhampton), Elgort spends time feeding his inner child by playing old video games with his brother on a deserted server. "You're, like, alone in this giant mythical world that's been forgotten," he said. "Just going to visit childhood memories, virtually."
Related: Timothée Chalamet and Ansel Elgort Had a High School Reunion at the 2018 Oscars