Timothée Chalamet and Ansel Elgort Have a High School Reunion at the 2018 Oscars
Armie Hammer was there, too.
---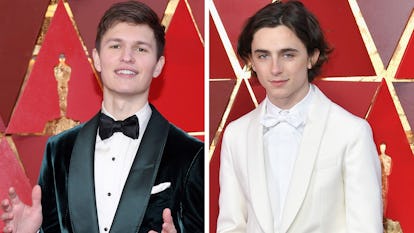 Composite. Getty Images
In Hollywood, high school reunions are a little bit more glamorous than the typical tired get-togethers in your hometown Holiday Inn ballroom — as evidenced by Timothée Chalamet and Ansel Elgort's own mini-reunion at the 2018 Academy Awards on Sunday night. Reigning internet boyfriends didn't pose together on the red carpet, but they did meet up once they were both inside Los Angeles's Dolby Theatre. Elgort shared a photo of the duo on Instagram during the ceremony, and though the enthusiastic (and slightly blurred) selfie, which was photobombed by Chalamet's Call Me By Your Name costar Armie Hammer, doesn't have a caption, its hundreds of thousands of likes and countless heart-eyes emojis in the comments pretty much say it all.
Chalamet, 22, and Elgort, 23, both attended New York City's LaGuardia High School, AKA the high school from Fame. Earlier this year, on the red carpet of the Golden Globe Awards, MTV News asked the two who was more popular in high school, igniting a playful feud between the former classmates. "Timothée. Timothée was so popular," Elgort responded, before Chalamet jumped in: "Ansel had a calendar! Are you kidding me?" he joked, referencing a calendar that Elgort's sister shot and sold for charity. Chalamet added, "I auditioned for Guys and Dolls, Hairspray — he was the lead! I didn't get into them. That's why all those rap videos are online. I was doing the talent show instead of the musicals." But let's be honest: There's no way either Chalamet or Elgort was unpopular.
Elgort, who starred in the Oscar-nominated Baby Driver, and Chalamet have continued their high school friendship beyond the 2018 Oscars red carpet. Last December, Elgort shared another photo of the pair on Instagram, this time at a New York Knicks basketball game. "Laguardia high school pride. It's really crazy, Timmy and I played on the same basketball team, we had the same drama teacher Mr.Shifman, we had the same science teacher Mr.Singh, and then in the same year, both of us are nominated for a f$&king Golden Globe!!! Living the dream sitting courtside at the Knicks game together. Life is crazy. Congrats to you Timmy ❤️" he wrote.
No word on Chalamet felt about Elgort later slipping into the movie theater next door later with his Call Me By Your Name costar Armie Hammer and a pair of hot dog cannons.