Timothée Chalamet and Ansel Elgort Argue Over Who Was Less Popular in High School
They both attended the same High School
---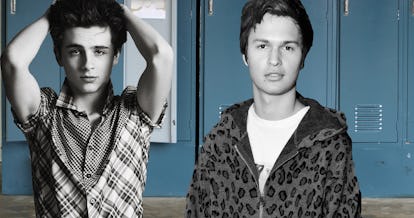 Tribeca Film/Courtesy Everett Collection
Timothée Chalamet and Ansel Elgort are both coming off of an incredible 2017, with many talk show appearances in their futures. While it's not easy to compare which young Hollywood heartthrob is faring better, it's even harder to decide which one of them had a better high school experience, as evidenced by interviews they recently gave.
While walking the red carpet at this past Sunday's Golden Globes, Chalamet and Elgort individually debated as to which teen was more loved when asked "Who was more popular in school?" by MTV News. (Both actors attended New York City's famed LaGuardia High School.) "Timothée," says Elgort, "Timothée was so popular."
"Ansel had a calendar! Are you kidding me?," Chalamet says, referencing a project shot by his sister featuring 12 portraits of Elgort that incredibly still exists online today. It wasn't for vanity's sake, though, as the calendar shot by his sister Sophie was for charity.
Elgort later confirmed that on Twitter, tweeting, "Hold up! I did not make the calendar myself! The calendar and shoot was organized by student council! To raise money! I'd pay ? to see a Timmy calendar tho ?"
Still, Elgort insists Chalamet was more popular, to which, the Call Me By Your Name and Ladybird actor replies, "I auditioned for Guys and Dolls, Hairspray — he was the lead! I didn't get into them. That's why all those rap videos are online. I was doing the talent show instead of the musicals."
But, Elgort's closing argument might be the strongest out of all of them: "No one disliked Timmy. Some people disliked me. It's true. Everyone loves Timmy."
Especially Elgort, who shouted out his classmate a couple of weeks ago on Instagram. "Laguardia high school pride," he wrote in the caption of a photo of them with friends. "It's really crazy, Timmy and I played on the same basketball team, we had the same drama teacher Mr. Shifman, we had the same science teacher Mr.Singh, and then in the same year, both of us are nominated for a f-king Golden Globes!!! Living the dream sitting courtside at the Knicks game together. Life is crazy. Congrats to you Timmy ❤️ ."
Related: Timothée Chalamet vs. Ansel Elgort: Which New York Scion Will Be The Hollywood Heartthrob of 2018?