Melania Trump Was Photographed by Arthur Elgort, and Then Donald Didn't Pay Him
He ended up stiffing the photographer—even though it was only a few hundred dollars.
---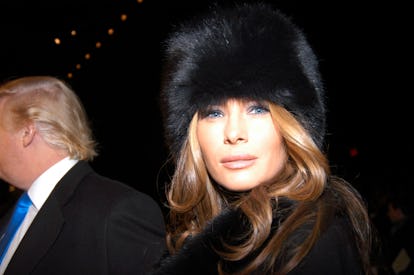 Patrick McMullan/Getty Images
Before she became first lady of the United States, Melania Trump worked in an entirely different field: modeling. It was only natural, then, that shortly after their wedding in 2005, Donald Trump commissioned none other than Arthur Elgort to photograph his new wife. (Elgort, who may now be known in some younger circles as simply the father of actor-DJ Ansel Elgort, is one of fashion's most legendary photographers, and has described himself as "maybe the second" person to ever photograph Kate Moss, as most famously illustrated in his photographs of her casually standing atop a table at a café in Paris and sitting atop an elephant in Nepal.)
Though the images never seem to have been widely circulated, they've recently adopted a renewed significance—first at the start of her husband's term, in January 2017, when Elgort made an appearance in Melania's official White House bio, which originally included a lengthy list of her most high-profile modeling gigs, from the brands and photographers she's worked with to the magazine covers she's appeared on, including the Sports Illustrated Swimsuit Issue. (It still currently leads with a description of how, at 16, she embarked on "what would soon become a highly successful modeling career, appearing in many high profile ad campaigns and working with some of the best photographers in the fashion industry.")
They also turn out to remain fresh in Elgort's memory, as the photographer shared during a 92Y talk with Fern Mallis last week in New York. At first, Elgort only had nice things to say—at least about the first lady, anyway: "She is a very nice woman, very nice. I must say she was so polite and on time. She couldn't have been nicer. But she married this guy named Donald Trump, who is an idiot, I think," he told Mallis.
Elgort definitely has reason to hold a grudge against her husband. According to the photographer, Trump never paid him for the shoot—which isn't exactly a surprise considering that hundreds have shared their own stories of reportedly being stiffed by Trump in recent years.
What is surprising, though, is Elgort's subtle dig that followed: "By the way, it was only a few hundred dollars," he added, thereby suggesting not just how cheap Trump, a self-proclaimed "self-made" billionaire, is, but also how little value even Elgort considered there to be in a few snapshots of Melania in a pool at Mar-a-Lago. It didn't escape his notice, of course, that the Donald seemed to think similarly: "I don't think she knew what she was marrying into," added Elgort, who seems to be in the #FreeMelania camp. "She's not bad, but she married the wrong guy."
Related: Melania Trump Shovels Dirt in Stilettos, Achieves Peak Melania Trump