Apple TV's Reese Witherspoon and Jennifer Aniston Project Will Likely Be Delayed
It's likely that Apple TV's launch date will be pushed back past March 2019.
---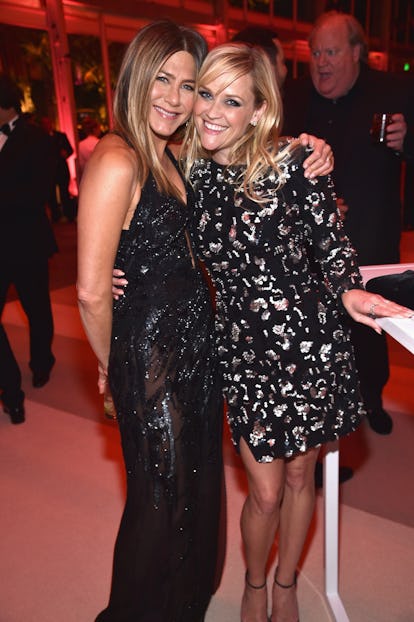 Kevin Mazur/VF17
When it was revealed last fall that Reese Witherspoon and Jennifer Aniston would be co-starring in a TV project, it seemed like the TV gods had answered everyone's prayers. However, viewers might not be seeing the drama, picked up by Apple's forthcoming TV service as one of its first marquee programs, anytime soon.
It seems Apple TV has a very specific vision for its planned streaming service, which is causing difficulties and delays for the Witherspoon-Aniston show and other programming. According to a report in The Wall Street Journal last Friday, Apple has been struggling with finding the right tone for its programming without diving too far into content that falls into the categories of "gratuitous sex, profanity or violence." The article refers to Apple CEO Tim Cook's reaction to Vital Signs, a show based on Dr. Dre's life, revealing how despite Apple picking up the series in 2016, Cook told Apple Music executive Jimmy Iovine that he didn't think Apple could present the show because of its violence and an orgy scene.
Since announcing its streaming service in late 2017, Apple has invested $1 billion toward developing new projects. So far, they've picked up the drama starring Witherspoon and Aniston, a multi-year deal with Oprah, Steven Spielberg's anthology series Amazing Stories, a space series from Battlestar Galactica's Ron Moore, a show based on Isaac Asimov's Foundation series, and more. But the WSJ's story reveals that Apple is looking for family-friendly projects that are light on politics and controversial material. Because of Apple's shifted approach, there have been issues among some programs, like TV auteur Bryan Fuller reportedly leaving the Amazing Stories reboot after having problems with Apple's new strategy.
The WSJ also reported that the Aniston-Witherspoon series experienced staff changes and has been delayed due to scheduling issues with Witherspoon and her increasingly busy schedule. While details about the Aniston-Witherspoon series have been scarce, it's reportedly centered on a morning show and was inspired in part by media reporter Brian Stelter's book Top of the Morning. Apple greenlit two seasons of 10 episodes each last year. The pair will also reportedly receive $1.25 million each per episode (a development that also led to Witherspoon and Nicole Kidman getting $1 million per episode for the second season of Big Little Lies).
While Apple has been set to launch its streaming service in March 2019, sources in the WSJ story are convinced the launch will be pushed back, which means we'll unfortunately still be left waiting for our dream duo to debut their show.
Related: Reese Witherspoon's Love of Reading Is the Secret to Her Success as a Producer