The Big E-Commerce News Out of Apple's Worldwide Developer's Conference: Siri as Personal Shopper
Out of all the gadgets and technology introduced at Apple's annual WWDC confab, the HomePod emerged as the most coveted item of all, a product that could change e-commerce as we know it.
---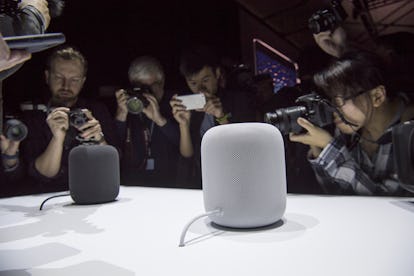 Bloomberg
A developer conference in the heart of Silicon Valley isn't an obvious locale for influencing the way people shop, but the updates rolling out of Apple's annual Worldwide Developer's Conference (WWDC) in San Jose stand to change the way we search, view and pay for products online, and developers are downright giddy.
The big news out of the conference on Monday was the new HomePod, a Siri-enabled wireless speaker that combines the sound quality of a Sonos sound system with the voice activation element of a device like Amazon's Echo or Google Home. While Apple chief executive Tim Cook primarily emphasized the $349 speaker's potential to "re-invent" the home music experience, he also hinted at what could eventually become a way to shop using Siri, in much the same way that Amazon's Alexa allows Prime customers to search for and add items to a cart.
Manish Chandra, who is chief executive of mobile marketplace Poshmark, said that the HomePod is exciting because it puts the power of voice commands in the hands of the shoppers. Eventually, he said, it "could enable [consumers] to get styling packages shipped directly from our 2.5 million seller stylists across the country."
When it comes out in December, the HomePod will perform tasks that are comparable to what Siri currently does, such as send messages, control smart home devices and get weather and news updates. But as Siri becomes smarter and more intuitive—and gets a voice makeover to match!—the virtual assistant will also expand to more outside apps.
"Imagine speaking to Siri like she's your personal shopper," said Liat Zakay, who is co-founder of Donde, a mobile search engine in which shoppers use visual cues rather text search for items. "For example, I could tell her, in any language—Chinese, English, Spanish, French—that I'm looking for a cocktail dress with an open back. Using Donde's computer vision technology, Siri will be able to analyze the styles of dresses from several retailers, determine which I'll like based on an understanding of my past personal style preferences, and present me with options that match exactly what I was envisioning."
On Monday, though, Siri didn't totally steal the show.
Apple introduced a platform for augmented reality apps (called ARKit) that will let users view virtual content on top of real life. "Imagine a world where, in a few seconds, you find the watch, chair, necklace or dress and see how it fits on you or how it looks in your house," Zakay said.
While Google and Facebook have introduced augmented and virtual reality capabilities already, "the mass-enabling of virtual and augmented reality" on hundreds of millions of Apple devices stands to expand the future possibilities, Chandra, of Poshmark, pointed out.
The founders of video-based social shopping app YEAY, where teens find their fills of Yeezy and Supreme, were also eyeing an update that lets iMessage users pay each other using Apple Pay, said chief product officer Ben Mosse.
Founder Melanie Mohr added that Apple Pay is "a must-have. The peer-to-peer solution is new and we need to look into this, but it seams to play nicely into the iMessage app extension. We have fantastic entrepreneurial teens and teen influencers selling on YEAY." (YEAY's iMessage app lets users share product videos in iMessage.)
Mohr was coy about a forthcoming YEAY app for Apple TV, a device that hasn't yet gotten as much love from the e-commerce world.
"I can't disclose yet fully how it works, but you can watch videos from all of the great sellers in all categories and press a buy button to purchase," she offered.
In the meantime, Apple did (finally) open up Apple TV to the Amazon Prime Video app— but that just means Amazon video streaming, not shopping, on Apple TV. Apple's holding out for Siri for that.
The Ultimate Guide to Resort 2018: See the Best Looks of the Season from Louis Vuitton, Gucci, and More
This season, Christian Dior Creative Director Maria Grazia Chiuri brought the French fashion house halfway around the world, to do a resort show in the Calabasas dessert, outside of Los Angeles, California. The setting is the exact opposite when you think about Calabasas, which has become well-known as home to the Kardashian family, and inspiration for Kanye West's Yeezy Season 5, and also conflicts with the preconception of what Dior stands for–but Chiuri is full of surprises. The designer's use of earth tones, fringe, and hand-drawn animal prints felt fresh and surprisingly wearable.

CHRIS DELMAS
Louis Vuitton's Nicolas Ghesquière invited celebrities and It-Girls to the Miho Museum in Kyoto, Japan, for the brand's Resort 2018 fashion show, where models walked the runway in modern jackets, tough dresses, and a wide array of small covetable bags. One of the most-Instagrammed looks what one that recalled the shapes he often used while the creative director of Balenciaga – a striped jacket in white, navy and forest green with rounded shoulders.
Gucci's Alessandro Michele continued his more-is-more aesthetic with the brand's Resort 2018 fashion show, presenting a collection of shoppable separates, including a fabulous t-shirt for day, easy slip dress for an evening out, and even a marvelous embellished wool cape.

Pietro D'Aprano
Prada showed resort for the first time this season, but despite the debut the collection still felt very Prada, with embellishments like feathers and cheekily placed rhinestone blouses. As a bonus, Miuccia Prada proved that your old Prada logo belt is back in style.

Pietro D'Aprano
What would a modern Greek goddess wear? Karl Lagerfeld asked that question this season with Chanel's Resort 2018 collection. The answer? over 80 options of gilded splendor, as in the case of this swirling laurel leaf printed sweatshirt worn over a pair of cropped white denim pants, which felt young and playful, especially when styled with oversized sunnies, a headband, and choker.

Getty Images
Pierpaolo Piccioli took Valentino down the sporty path for Resort 2018, and the tracksuits and other athletic elements were a welcome breath of fresh air. Fear not romantics and girly-girls, there were still plenty of pink, lace, and dreamy gowns in the large collection.

ANGELA WEISS
Michael Kors offered up charming prints every so often, but this punchy and playful yellow and black floral print beckons the wearer to pack up and head somewhere tropical.

Courtesy of Michael Kors.
Though Diane Von Furstenberg's eponymous collection has long been known for its prints (and of course, the wrap dress) new chief creative officer Jonathan Saunders has created modern floral offerings that pop, which are sure to bring the brand a new legion of followers.

Courtesy of Diane Von Furstenberg.
Fresh off a CFDA win, Monse duo Fernando Garcia and Laura Kim presented a fresh take on prints for Resort 2018. A favorite look was a silk scarf-print sleeveless blouse shown over Monse's covetable oversized denim.

Courtesy of Monse.
Joseph Altuzarra's starting point this season was the clash between city and country. The city's working girl uniform was deconstructed and the country girl's crafty and homespun scarves were given a chic update. A favorite look was a dress made to look like it was created from layered scarves, but indeed it was just one piece.
Rosie Assoulin's presentations are often fun affairs, due in part because the models look like they are having fun and happy to be there and because of the interesting and beautiful locations she invites everyone to. And of course, the clothes! The highlight here was a series of dresses featuring a floral print inspired by the plastic wrapping bouquets are often packaged in which bear the words, "Say it with flowers."
Thom Browne has been a busy man of late, opening a store in Milan and now a new women's shop in New York, adjacent to their men's on Hudson Street. For resort, there were numerous tailored pieces in greys and pastels, but a clear editor favorite was the bumble-bee raincoat with fur trim.
This resort season Tomas Maier offered up full monochrome looks as well as an array of pretty floral numbers. A favorite however was an all-white look, a chic skirt with cargo pockets and cropped jacket to match. For a season that many are questioning the meaning of, this season-less look seems like a great purchase.
Stella McCartney invited fashion folk and a few famous friends to the gardens of a seminary in Chelsea, where there were birds a plenty, including plastic flamingoes and live parrots, giving the evening a tropical touch, just like this look, a hibiscus print asymmetrical featuring a lush island scene.
This young brand Khaite offers elevated and refined pieces that still feel youthful and special. The knits are always on point, the colors are always beautiful – this season's saturated tomato red was a favorite – but the denim continues to truly impress. A fitted dark denim jacket and matching jeans, styled with a turtleneck and blouse underneath could easily become the chic girl's go-to look.

Image Curtesy of Designer
Kym Ellery's label has won itself a legion of devoted followers, and the designer does a good job of giving her fan base the Ellery they know and love, with a new twist each season. This season saw Ellery introducing western touches and great patent leather.

Image Curtesy of Designer
There is something nice about knits that feel crafty and artisanal like this striped Missoni look. This number wouldn't look out of place in the city, upstate, or by the sea.

Image Curtesy of Designer
Husband-and-wife duo Kristopher Brock and Laura Vassar honed in on what they do best this resort season – beautiful floral prints, covetable denim, and ruffles and corsets galore. This tiered floral dress is timeless, especially when styled with cheeky floral brogues.

Image Curtesy of Designer
Marc Jacobs traded in fall's earthy hues for Resort 2018's fun and flirty pastels. This collection was all about movement—and the beaded fringe on this look's top and jeans added a playful touch.

Image Curtesy of Designer
Resort season lands in stores just in time for the start of the holidays, and instead of opting for black this season, give bright pink a go, especially a frothy number like this one from Delpozo.

Image Curtesy of Designer
Derek Lam always seems to put his finger on exactly what the modern girl wants to wear (case in point: this beautiful crochet dress, effortlessly styled over pants). Over at his sister line 10 Crosby, he offered up great denim in some of the best washes we've seen in a long, long time.

Image Curtesy of Designer
Shocking pink is having a moment this resort season. After the departure of Riccardo Tisci and before Clare Waight Keller has officially started, the studio team at Givenchy offered another interim collection relying upon the house's codes, like lace. The pink used in this look has the same electric effect as the deep Givenchy red we saw in fall.

Image Curtesy of Designer
Gingham is in! While it girls like Kendall Jenner have been wearing the classic print on Instagram, Nina Ricci offers a lady-like take on the trend that the Insta-girls should try later this year.

Image Curtesy of Designer
On a balmy evening at Ladurée in New York's Soho neighborhood Johanna Ortiz presented her Resort collection, which drew fans of the brand wearing her tiered and ruffled wares. This season there were ruffles and bold red looks that we have come to expect from the designer, but also a few more 'minimal' looks that were also charming, like this white off-the shoulder number styled over a matching pair of pants.

Image Curtesy of Designer
Zimmermann has established itself as the go-to brand for summertime wear. This season their feminine swim embraced the ruffle trend, and on some coast somewhere, a stylish girl could easily have this bikini top double as ready-to-wear for a fun night out.

Image Curtesy of Designer
Designer Rosetta Getty has a keen awareness of how to create stunning, impactful looks for the minimalist girl. Marigold yellow is the color of the moment, and the bag is exactly what we want to take to the beach.

Image Curtesy of Designer
Each season, Erdem Moralioglu gives his girls a beautiful floral print. For resort, she is more relaxed – this easy, off the shoulder red ochre silk dress is perfect for lounging in an exotic local on holiday.

Image Curtesy of Designer
Watch: Model Gigi Hadid Reveals the Secret to Her Signature Runway Walk