Ariana Grande's Manchester Benefit Concert Sold Out in Six Minutes
All 45,000 tickets were snatched up.
---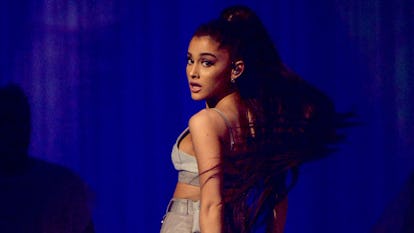 Kevin Mazur/Getty Images
Just six minutes after tickets went on sale on Thursday for Ariana Grande's benefit concert for the victims of the Manchester bombing, the entire stadium was completely sold out, according to the concert's official Twitter account.
Around 45,000 seats at the Emirates Old Trafford stadium in Manchester were snatched up in mere moments after the show's Ticketmaster link went live at 10 a.m. U.K. time Thursday. Tickets cost 40 pounds (about $52) but were free for those who were at Grande's May 22 concert that ended with a suicide bomber detonating an explosive and left 23 dead and dozens more injured.
After the tickets sold out, Ticketmaster posted a statement on its site reading, "Ticketmaster was unsurprisingly met with remarkable demand for One Love Manchester tickets we had on sale this morning — 140,000 fans were on the website and our call centre was buzzing. With over 450,000 searches on our site for One Love Manchester over the last 24 hours, demand was always going to be extremely high. We are happy to report that there are thousands of fans who successfully purchased tickets during the general onsale."
The concert will take place this Sunday, June 4, and the net proceeds — an expected 2 million pounds — will go to the Red Cross' "Manchester Emergency Fund," according to Ticketmaster. So far, Katy Perry, Miley Cyrus, Justin Bieber, One Direction's Niall Horan, and British pop group Take That are slated to perform at the show alongside Grande, as are the Black Eyed Peas, Coldplay, Usher, and Pharrell.
Grande vowed to return to Manchester in a statement released a few days after the attack. "There is nothing I or anyone can do to take away the pain you are feeling or to make this better. However, I extend my hand and heart and everything I possibly can give to you and yours, should you want or need my help in any way," she wrote. "I don't want to go the rest of the year without being able to see and hold and uplift my fans, the same way they continue to uplift me."
She continued, "I'll be returning to the incredibly brave city of Manchester to spend time with my fans and to have a benefit concert in honor of and to raise money for the victims and their families. I want to thank my fellow musicians and friends for reaching out to be a part of our expression of love for Manchester."
Related: Ariana Grande and Her Fans' Reactions to Manchester Tragedy Should Not Be Policed