Ariana Grande and Pete Davidson Are Defending Their Love at All Costs
The soon-to-be-married couple continue their Instagram lovefest on Ariana Grande's 25th birthday.
---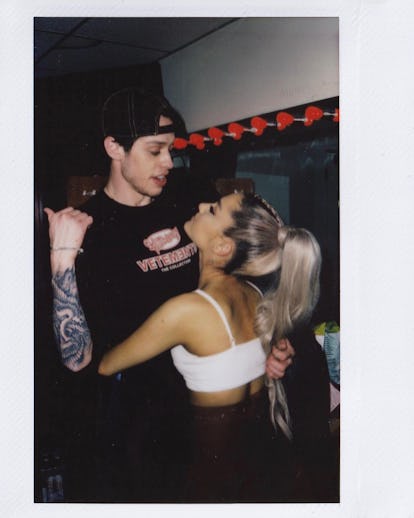 Ariana Grande and Pete Davidson are defending their love at all costs (they're engaged, haven't you heard?), and they don't care who knows it.
After paparazzi shots surfaced of Grande and Davidson giving the finger to the cameras in New York City, fans online mistakenly thought the middle finger was aimed at them. "The PAPS..not YOU……???? ever…??? stop w this s–t. please. forreal. i love y'all too much for this. enough w the ig / twitter war thing. it ends now," Grande wrote in response to her fans, whom she has made a point of praising highly on social media and in various magazine interviews in the past few months.
Grande has been giving her fans everything they want on social media—candid responses to their abundance of questions about her relationship with Davidson, her brand-new, $16 million New York City apartment she lives in with her fiancé, and, of course, her new musical projects. As for her song "The Light Is Coming," a newly released single from her highly anticipated upcoming album, titled Sweetener, fans inquired about lyrics that sample a concerned citizen responding to the Pennsylvania senator Arlen Specter at a meeting with the public. When one fan asked for the meaning behind the words "You wouldn't let anybody speak and instead," Grande replied, "It's about people & their loud ass opinions making them deaf to others & the light," which could be implying that any criticisms of her and her swift engagement to Davidson are null.
The singer kicked off her birthday celebrations Monday night into Tuesday morning with a party that included friends, family, and lots of little cakes with her face and her dogs' faces printed on them, according to her Instagram Stories, but the party has just begun. Davidson is, of course, already fully on the supportive boyfriend kick, commenting on nearly every single Instagram post of Grande's—whether it's a photo of him or not—and on her 25th birthday, the Saturday Night Live comedian shouted out to his fiancée in two Instagram posts, calling Grande "the most precious angel on earth" and "the queen."
Related: Go Inside Ariana Grande and Pete Davidson's New Zaha Hadid–Designed Apartment