Ariana Grande and Pete Davidson Are Living in a $16 Million Apartment Furnished With Lawn Chairs
It's "Ariana's house," and Pete is just living in it.
---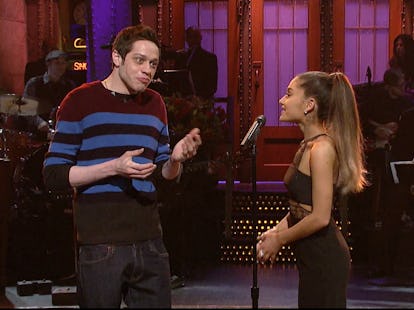 Courtesy of NBC/Getty Images
It has been nearly three months since Ariana Grande and Pete Davidson moved in together. Considering how hastily the couple have progressed in their relationship, one might think that their New York City home would be furnished by now, but, apparently, Grande and Davidson could use a little help from a home decorating service.
In Variety's "Young Hollywood" cover story, Davidson opened up about what it's like to be living at home with his soon-to-be wife. Though Grande purchased the property designed by the late Zaha Hadid in June at an estimated $16 million, Davidson has made his contribution to the home in the form of doing the household chores that the supposed "sprawling" space needs, and in the form of making sure he and his fiancée at least have somewhere to sit. The home was also described in the profile as "dimly lit," so who knows what the lamp situation is like at the moment; hopefully, Davidson will take a trip to the hardware store whenever he gets some free time away from work at Saturday Night Live.
It would appear that the pair might actually benefit from the Kris Jenner school of moving in and unpacking. The Kardashian matriarch once famously announced on Keeping Up With the Kardashians that among her friends she's well known for her moving strategy. "Everything's unpacked. Every picture's on a wall. Every bed is made. So that at the end of the day, there's not one box standing. It's almost like a challenge," Jenner said. But such is not the case of Grande and Davidson's mostly unfurnished home.
"I stock the fridge, clean the tables, do laundry occasionally," Davidson told Variety, amid what was reported to be a sea of sneakers, unpacked boxes, and a handful of lawn chairs, a purchase Davidson made for the 4,000-square-foot apartment located in Manhattan's Chelsea neighborhood "I think I was a lawn chair in a past life," the comedian joked to the magazine. It's "Ariana's house," and he's just living in it.
Related: Go Inside Ariana Grande and Pete Davidson's New Zaha Hadid-Designed Apartment