Ariana Grande Is Not Apologizing for Openly Mourning Mac Miller
And Halsey had the singer's back when a Twitter user accused her of exploitation.
---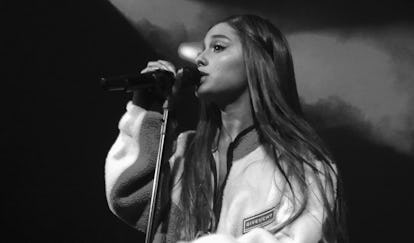 Kevin Mazur, Getty
It's hardly news that people will say dumb, hurtful, ignorant, and cruel things on the Internet, but Ariana Grande has had to deal with worse than most—and has done it with strength and compassion.
On Thanksgiving, the "Thank U, Next" singer posted an image of her ex-boyfriend Mac Miller, who died of an overdose in September, on her Instagram Stories, which a few media outlets picked up. Naturally, people had opinions about it on Twitter, because people always have opinions on Twitter, with users posting that Grande is "milking" Miller's passing and should instead "mourn…behind closed doors." In response, Grande was neither catty nor defensive. Early on Sunday morning, she wrote, "i pray you never have to deal with anything like this ever and i'm sending you peace and love."
Later, Grande tweeted, "some of the shit i read on here makes me sick to my stomach. it scares me the way some people think and i don't like this world a lot of the time. if only we could be more compassionate and gentle with one another. that'd be sick" and "everything i feel is valid and safe. everything i do is genuine and honest. there is no right or wrong during this period."
This latest Twitter flurry only compounds the abuse Grande received on the Internet immediately following Miller's death, when the rapper's fans attacked her, blaming his death on their breakup, rather than his addiction, which predated their relationship. Addiction—and overdoses—will continue to be a problem in this country, and criticizing the way someone mourns is at best unhelpful, and at worst cruel. It will only add to the pain the sufferer's loved ones are surely already feeling.
On Twitter, Halsey had Grande's back, responding, "ari the world could only dream of being as compassionate and gentle as you. and since ur being, as always, so classy and nice, allow me the honor of telling them to shut the fuck up," to which Grande replied, "i love you very much."
See the full tweets below:
Related: Ariana Grande Shares Throwback Photo of Mac Miller and a Note About Missing Him on Thanksgiving