Ashley Benson Is the Latest Star to Cut Her Hair Into a Lob
Daring, but not too daring.
---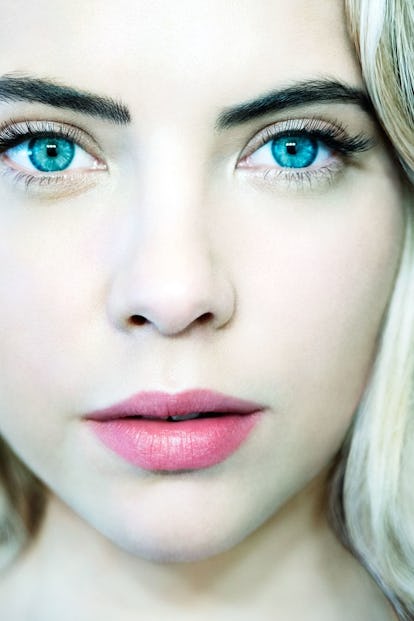 Photographer: Pari Dukovic, Stylist: Patrick Mackie
Chop, chop go the scissors, according to Ashley Benson's latest Instagram. The 28-year-old former Pretty Little Liars star posted a trio of selfies to her feed Thursday and Friday, depicting every angle of her fresh shoulder-length cut. It's a honey-blonde lob, trimmed by New York–based stylist Anthony Campbell.
"I was bored," Benson told Us Weekly of the change in an interview. "I just wanted to embrace something different."
In the first of the three photos the actress posted to her Instagram, director Alex Ross Perry lurks in the background; "Back with my buddy," Benson captioned the image. It was on the set of Perry's upcoming film Her Smell that Benson met model-actress Cara Delevingne, whom Benson is now reportedly dating. (As additional evidence, Benson has taken to wearing a necklace with "C" and "A" charms dangling off it. Delevingne also recently celebrated her 26th birthday with a new look.) In the second, captionless image, Benson looks dead on at the camera, while in the third, appropriately captioned "Chop chop," she cocks her head to one side to show off another angle of the look.
Benson is just the most recent young Hollywood star to make a semi-drastic change; Rihanna debuted a short look about a month ago, and before her it was Jessica Chastain and Emilia Clarke. Margot Robbie is, of course, a noted, longtime proponent of the lob.
"It is a way to make a bold change," stylist Bryce Scarlett, whose clients include Robbie, Gigi Hadid, and Lily Aldridge, told W recently, "and it's not quite as big of a commitment as going above the shoulders." Daring, but not too daring.
Related: 16 Celebrities Who Prove That 2018 Is Officially the Year of the Bob