Everything You Need to Know About Bobs, Lobs, and Other Medium-Length Haircuts, According to Margot Robbie's Stylist Bryce Scarlett
"Face shape plays a role into what type of style is best for you."
---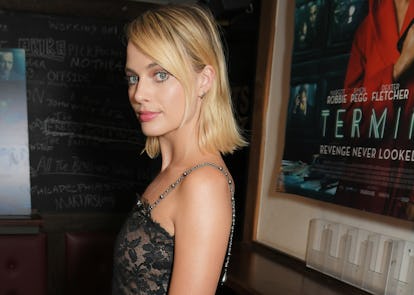 David M. Benett
2018 was no doubt the summer of rom-coms, extreme sports, and Ariana Grande—but, perhaps above all, it was the summer of the lob haircut. This season, we've seen the likes of everyone from Kim Kardashian to Jessica Chastain take the plunge and chop off their long locks into a modern and effortlessly chic chin-grazing 'do. And perhaps no one knows the allure of a lob better than Bryce Scarlett, who has looked after Margot Robbie's own blonde iteration through countless awards seasons. Here, Scarlett, who also administers to stars including Gigi Hadid, Lily Aldridge, and Kristine Froseth, and is Moroccanoil's celebrity stylist, breaks down how to nail the style of the season, no matter what hair type you have.
At the end of the summer, what are best steps to repair damaged hair?
It's so important to make sure you are using a mask high in protein, which helps to strengthen your hair and reduce breakage. For example, Moroccanoil Restorative Hair Mask is a five-to-seven-minute treatment that will revitalize your hair and give you that boost of protein your hair needs. The mask is rich in argan oil, shea butter, and reparative proteins that helps restore elasticity in your hair and rebuild strength to keep it from breakage. I always tell my clients to protect and care for their hair as they do their skin, so using a hair mask every once in a while is a prime example of that!
This summer has been all about the long bob—why is it such a popular style?
I think that it is just a really modern length right now. It is a way to make a bold change but it still feels very feminine and it's not quite as big of a commitment as going above the shoulders. I think as long as the hair is near the collarbone, girls feel like they're not really taking a risk.
How do you get the perfect lob?
I like a very beachy, layered lob that has been cut into. Not layered in a way that is obvious but very much layered internally—cut into to remove weight so that it has a very skinny and a very slept-in air-dried finish, giving kind of a model-off-duty vibe.
What are the best ways to style a medium-length cut?
To style this I would blow dry with Moroccanoil Root Boost on wet hair to lift the roots of the hair. I would then spray in layers of Moroccanoil Dry Texture Spray and Moroccanoil Dry Shampoo together to create a messy, tousled look with a bit of grit.
How should women take their natural texture into consideration when getting a lob?
If you have naturally straight hair, you can do a lob that is blunt and not super layered. Whereas if you have naturally curly textured hair, you'll want some layers so that it has a little bit more movement and doesn't feel super triangular.
What should women know before cutting their hair into this style?
That face shape plays a role into what type of style is best for you, because you want to flatter your face. If you have a square-shaped face, the asymmetrical lob is really flattering because it drags the line down and elongates a rounder or squarer face. If you have a very narrow face, doing a blunt cut is really nice because it actually gives you a lot of width volume.
What products work best with a medium-length haircut?
It depends on the style you're going for, but for a classic and effortless lob look I like to blow-dry hair from soaking wet, focusing on a very sleek finish. I won't necessarily flat iron the ends, but just making them nice and straight with a brush so they don't have that board-straight finish.
Which cuts do you think will be popular as we enter into the fall?
Personally, I would love to see pixie cuts this fall because I think it would be such a refreshing look to see really short hair. Realistically, fall is always a great time to cut bangs because there is no humidity or heat.
Related: 16 Celebrities Who Prove That 2018 Is Officially the Year of the Bob