This Summer's Biggest Fashion Trend Is: Extreme Sports?
Kim Kardashian may not skateboard, but she sure is dressed for it.
---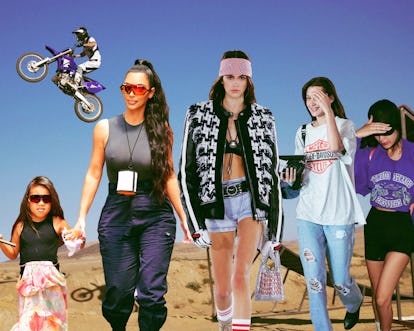 Photographs courtesy of Getty Images.
I don't know about you, but I've never seen Kim Kardashian do an ollie. I've also never seen Bella Hadid shred a half-pipe, or Kaia Gerber ride a Ducati. But that hasn't stopped them from dressing like they're heading to the X Games.
While summer fashion is most commonly associated with floral sundresses and the infinite shades of white, that wasn't the case for fashion's favorite It girls, who took seasonal dressing to the extreme this season, quite literally.
Maybe it can all be traced back to the surprise return of the bike short. The knee-grazing, skin-tight garment was originally designed for serious cyclists with the intent to reduce air resistance, protect skin against friction, and generally reduce the weight of the wearer's clothing. It became relatively in during the '80s, an interesting time in fashion, to say the least, when it was paired with oversize T-shirts and sneakers by tweens and working women alike. Not the chicest look that's come into fashion, and perhaps one best left in the past.
Then, enter Yeezy. Kanye West has already somehow made plastic shoes, baggy sweats, and, if he has his way this fall, shower slides all the rage. Of course, bike shorts were going to get in the mix eventually, and so they did this spring, with his wife and frequent campaign model, Kim Kardashian, galavanting around Calabasas in stretchy shorts. Invariably, it became A Thing. This summer, we've seen her sisters Kourtney Kardashian and Kendall Jenner both adopt the trend as well, the former wearing hers with a belted blazer and heels, and the latter going for a more traditional look with a baggy sweatshirt. Never one to be overshadowed by her older sisters, Kylie Jenner even made a custom pink sparkly pair to wear to her 21st birthday, which, naturally, has already inspired a number of knock-offs available for purchase.
But if cycling isn't enough, never fear: Summer 2018 took all forms of adrenaline searching, sartorially speaking, to new heights. Snowboarding? Check out Kardashian and North West wearing matching reflective eyewear, perhaps best suited for the glare of fresh powder (though I'm sure it works just as well against the paparazzi flashes). Motorsports? No longer just a Migos song! Kaia Gerber led the way in Alexander Wang's spring 2018 show, largely inspired by the two-wheeled vehicle, head bandanas and all, while Bella Hadid donned a T-shirt with the Harley-Davidson logo on a day out. And how about some good, old-fashioned skateboarding? The most popular shoe of the summer was Vans' Old Skool skateboard sneakers, as seen on everyone from Brooklyn Beckham to Stella Maxwell—perhaps an inadvertent nod to the final summer of the Vans Warped Tour, once considered the most extreme sport of all.
So, as we head into the next season, perhaps it's best to proceed with caution—and you never know, maybe helmets will be the It hat for fall.
Related: How Old Skool Vans Became the Most Popular Shoe of the Summer