How Old Skool Vans Became the Most Popular Shoe of the Summer
You aren't imagining it—black-and-white Vans are everywhere this season.
---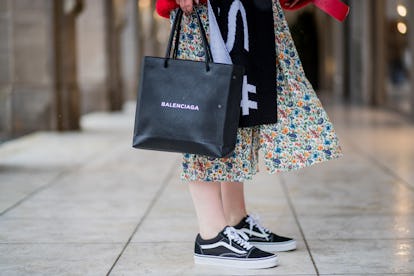 Christian Vierig
You know the feeling when you first learn a new word or obscure piece of information, and suddenly you see that thing—which you've never noticed before—everywhere? That's called the Baader-Meinhof Phenomenon, and recently I had the Baader-Meinhof Phenomenon with a pair of shoes.
Specifically, the Vans Old Skool skate shoe in black-and-white. Everywhere I look in New York, there it is: on a gaggle of high school boys on the E train, a friend from college out at bar in Greenpoint, 20-somethings downplaying their floral sundresses for a casual brunch on the Upper East Side, even in the Condé Nast cafeteria (where, despite what pop culture folklore might suggest, sneakers are often more commonplace than staggering stilettos). So, what gives?
It's simple: The classic style is summer's most democratic shoe. Everyone can wear it—and so, they do. There aren't many other shoes, after all, that both Bella Hadid and your cool uncle can pull off with equal aplomb. The trick, it would seem, is in the sneaker's simple yet instantly recognizable design: a low-top shoe with traditional laces, done in suede and canvas with clean white outsoles. Nothing super flashy, making it the perfect show to thrown on as your run out the house, no matter where your day may take you.
There's also a sense of nostalgia to the shoes—which, in case you hadn't heard, is all the rage in fashion, from the return of going-out tops to the continued love for everything '80s. The Old Skool was first introduced by Vans in 1977, and was the first design to feature the brand's iconic side stripe, which has become a hallmark design characteristic for the brand. Little has been changed about the design over the years, though it is now offered in countless colorways and prints, with an additional option for users to customize their own pair. And yet, the black-and-white style prevails as the most popular design, some 40 years later.
The proof is not only in a casual glance around the streets, or even on your Instagram feed (though, thanks to the likes of Taylor Hill and Jasmine Sanders, among others, it is there as well) but also in the sales. "The growth of the Old Skool has been tremendous, but the popularity goes beyond the last few months as we've seen a steady increase in our Sidestripe silhouettes for years," said Ashley Ahwah, senior director of global product merchandising. "With sneakers being commonplace in day-to-day wardrobes, the black-and-white Old Skool is a strong and classic piece that has become a go-to." She added that today the Old Skool is offered in larger size runs.
That has led to both guys and girls buying into the style equally, which you won't see with many other shoes. It's true: Exes Brooklyn Beckham and Chloe Grace Moretz have both been spotted wearing them, as wells as musician Miguel, street style star Veronika Heilbrunner, and, of course, countless models, from Stella Maxwell to Kendall Jenner.
So, how do you wear them? To cop a quote, "The limit does not exist." (It's perhaps worth noting that while Janis Ian wore Chuck Taylors in the 2004 film, by 2018 she almost certainly would have converted to these very Vans.) If you were to follow the lead of the aforementioned stars, then Vans make a perfect complement to a casual airport look, as the grounding piece to a floral print dress, or even as a red-carpet shoe for the more casually inclined. And perhaps the best part about it all? Given the versatility, this trend will last long past Labor Day, so go ahead and jump on the bandwagon—it's what Avril Lavigne would want.