Avril Lavigne Is Reportedly Dating Billionaire Heir Phillip Sarofim
They've apparently been "quietly" seeing each other for two to three months.
---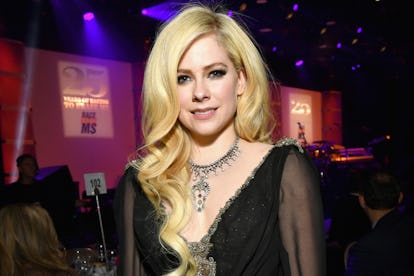 Emma McIntyre/Getty Images
Today in genre-hopping Canadian female musicians who shack up with billionaires and/or the billionaire-adjacent, Avril Lavigne is reportedly dating Phillip Sarofim, the son of Texas billionaire Fayez Sarofim. The news comes courtesy of E! News, which reported Tuesday that the pair have apparently been "quietly" seeing each other for two to three months, according to a source. E! News's source said that the relationship began after the Canadian singer and ex-beau Canadian music producer J.R. Rotem split, following a chance meeting at a friend's dinner party. The couple now reportedly spends their time hanging out at each other's homes.
According to E!, Sarofim's resume includes such job titles as heir to the Sarofim family fortune, fund manager, and part owner of the NFL team Houston Texans. (Phillip's father, Fayez, is the head of a Houston investment fund and and a major investor in oil and gas pipelines, according to Forbes.) Previously, Phillip was married to Lori Krohn (and his father later married Lori's mother, Susan Krohn). Meanwhile, Lavigne, of course, is the artist who blessed the world with such hits as "Sk8er Boi" and "I'm With You" 16 years ago. Previously, she was married to Nickelback's Chad Kroeger and Sum 41's Deryck Whibley.
The news comes just two weeks after Grimes and Elon Musk almost upstaged the entire Met Gala by arriving together on the red carpet, mere hours after Page Six reported that they were now in a relationship because of Twitter. At the time, the pair proudly advertised their new coupledom by putting a gigantic Tesla logo around Grimes's neck.
In kinda-sorta related news, Rihanna is still reportedly dating Saudi billionaire heir Hassan Jameel.