Kim Kardashian West Models Wardrobe.NYC's Latest Offering: "It's Important for Women to Support Other Women Entrepreneurs"
"I think it's important for women to support other women entrepreneurs."
---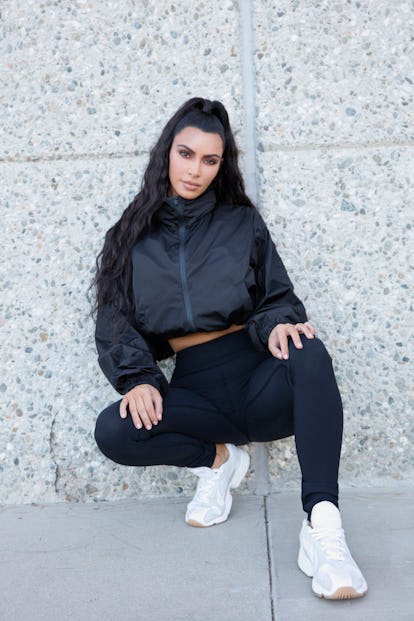 Late last year, the stylist Christine Centenera and the designer Josh Goot came together to launch Wardrobe.NYC, the first true luxury direct-to-consumer label. The concept was simple: Each season, drop a new collection of wardrobe essentials, available only as a full set—truly, a wardrobe. And everything is direct to consumer, i.e., no retail markup. After launching for winter 2018 with a blazer, shirt, T-shirt, skirt, blouse, coat, knit, and legging for women, and a blazer, shirt, T-shirt, trouser, hoodie, coat, knit, and pant for men, the pair are back now with Release 02.
This time around, Centenera and Goot focused on the concept of "sport," consisting of athletic wear as well as a limited edition advance release of the Adidas Yung-1 sneaker in a white–and–light gray colorway with an exclusive gum sole. For women, the brand is offering a 10-piece wardrobe that includes a crop top, tank top, bike short, legging, long-sleeve T-shirt, track top, track pant, windbreaker, gym bag, and the Adidas Originals Yung-1 sneaker, priced at $1,000.
Also included in that price tag? Kim Kardashian West's stamp of approval. Centenera, a friend of Kardashian West's who has worked with Kanye West's Yeezy line, recently tried out the new collection on the multi-hyphenate, who stepped in as the brand's impromptu model for Release 02.
"It feels fresh," Kardashian West told W. "It's an easy way to look and feel great in clothes without having to think about it. All the pieces are considered and coordinated so you don't have to put it together—it just works. I also think it's important for women to support other women entrepreneurs. I trust Christine's taste and the way she puts things together. So when she creates a pack like this, it makes sense to buy in."
In response to the positive feedback on the new collection, Wardrobe.NYC is now offering a five-pack option, which includes the crop top, bike short, legging, long-sleeve T-shirt, and exclusive Yung-1 Adidas sneaker for women; and for men, the T-shirt, long-sleeve T-shirt, running short, legging, and exclusive Yung-1 Adidas sneaker, both for $500. Here, Cetenera explains the latest drop and why bike shorts are everywhere this summer, and shares exclusive images of Kardashian West modeling the collection.
What makes Kim a Wardrobe.NYC woman?
Kim leads an active, busy lifestyle—a mother and a business woman, who loves training and fitness and, at the same time, appreciates design and quality. Seeing Kim in the pieces was inspiring. It reminded me of the relevance and appeal of our concept, and how it resonates with a modern woman, from a cultural icon to anyone who leads a demanding life and appreciates beautifully made, practical clothing.
How did you land on the idea of "Sport" for the second launch?
Part of the Wardrobe.NYC concept and business model is to capture a different urban experience with each release. After our launch with Tailored, a Sport release made sense; it's how we dress every day, and it reflects our lives in the city. Wardrobe.NYC is also about democratic luxury, and we wanted to create a capsule that spoke to a new and younger audience.
Why did you decide to add the option of a five-piece wardrobe?
We decided to add the new five-piece wardrobe as a super-focused capsule for the season. The pieces in the five-piece wardrobe are performance essentials that can be worn all year round, and it includes the exclusive Adidas Originals Yung-1 sneaker that has generated a lot of interest.
How do you modernize wardrobe staples and make them unique to the brand?
We aim to distill each piece down to its purest form.There's no external branding, or obvious, identifiable design choices. Instead, we focus on minimal, practical, and versatile. We elevate the wardrobe essentials by working on the cut, sourcing the best textiles, and employing the highest manufacturing standards. We also think that offering this level of garment direct to consumer modernizes the overall offer and brings true luxury into a new space.
How did the collaboration with Adidas come about? Did you talk to Kanye at all about his own collaboration when making yours?
Kanye was one of the first people we spoke to about the overall brand concept, in 2016. He really appreciated the idea, and instantly recognized what Wardrobe.NYC stood for. We've always admired Adidas as an iconic and innovative brand that's been part of our lives for years. We were fortunate to start discussions in mid-2017 about collaborating on a sneaker for our debut sports release.
What makes athleisure still cool and relevant all these years later?
I think it comes down to the ease and relevance of these pieces in a modern urban life. People are busy, and interested in health and fitness. Meanwhile, performance and ready-to-wear have virtually morphed into one, which I think is a testament to the way we live.
The new collection includes bike shorts, which are one of the summer's biggest trends. How can women incorporate them into their everyday wardrobe?
I've been a fan of bike shorts for a few years now. I suppose they've returned to style as sport influences continue to permeate fashion. Personally, I love the accent and proportion they bring to an outfit. I think women can incorporate them into their wardrobe by working back with an oversize top, or dressed up with a tailored blazer and heel.
Related: Kendall Jenner's Fashion Week Look Is Inspired, in Part, by the Way Kanye West Wears Tracksuits