Kanye West's Latest Surprise Yeezy Campaign Is Very NSFW
It features more shoes than clothes.
---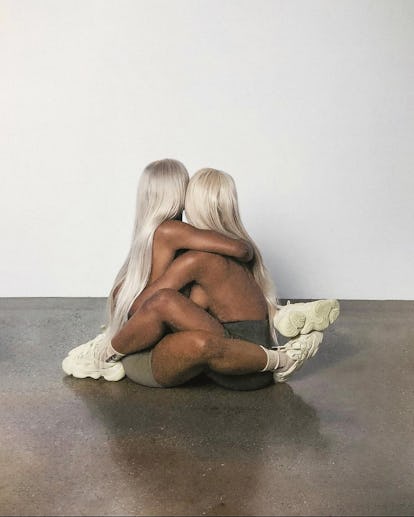 Now that he's officially released his new album — the seven-trackYe — Kanye West is turning his ever-roving attention back onto fashion. The rapper, designer, and provocateur just released his latest Yeezy campaign with no warning, and it sure is something, especially considering it's for just one colorway of a single sneaker. For the Yeezy 500 Supermoon Yellow sneaker, West recruited a handful of influencers and Internet celebrities, including porn stars.
Shot by frequent collaborator Eli Russell Linnetz, the photo features more shoes than actual clothing, which is on brand for a sneaker campaign—and somewhat on trend considering Jacquemus' nude fall 2017 ad and Eckhaus Latta's spring 2017 ads that featured models having real sex. In the Yeezy campaign, there isn't any of that, but there is a lot of embracing—namely between Bad Girls Club alumni turned Instagram stars the Clermont Twins. The sisters shared their contributions to the Supermoon campaign on Twitter, sharing a few topless photos.
The most glaring thing about the Supermoon campaign, though, may be the inclusion of Lela Star, an adult actress who bears a striking resemblance to West's wife Kim Kardashian West, specifically in these photos. (This wouldn't be the first time Kardashian inspired a Yeezy campaign.)
Incidentally, and rather old-fashioned, it's only women who appear fully naked in the campaign, while some men are even fully clothed.
The Supermoon campaign comes on the heels of West's Yeezy 6 press blitz, which was an ode to Kardashian West, with photos of people like Paris Hilton doing their best impression of the reality TV star.
That same campaign also featured the Clermont Twins, who said of the experience, "Everyone was really nice to us! We enjoyed that! The shot with us being naked was completely not planned, it was kind of like the last shot."
Adding fuel to the idea that Yeezy has West's full attention is the fact that just earlier today Kim Kardashian West paraded around Los Angeles in two new Yeezy looks with new blue-black hair to match. While Kardashian West has yet to post either her monochromatic blue look or her neon orange one to Instagram, her hairstylist Chris Appleton shared both with the hashtag #yeezyseason8.
The only thing more interesting than the new Yeezy campaign? Finding out which people will continue to align themselves with it going forward. As Kanye recently tweeted, "For everyone that didn't turn they back. I'm in tears right now."
Related: Paris Hilton Does Kim Kardashian Drag For Yeezy Season 6 Campaign
Kourtney Kardashian and Kate Moss Prove Coachella Isn't the Only Desert Locale Worth Visiting
Chanel Iman in Utah's Amangiri, March 2018.

Photo by @chaneliman.
Kate Moss in Machu Picchu, Peru, March 2018.

Photo by @katemossagency.
Stephanie Shepherd in Petra, Ma`An, Jordan, October 2017.

Photo by @steph_shep.
Oprah Winfrey at San Ysidro Ranch, Santa Barbara, California, April 2018.

Photo by @house301.
Jackie Aina in Amangiri, Utah, February 2018.

Photo by @jackieaina
Snail Mail in Marfa, Texas, April 2018.

Photo by @snailmailtheband.
Antelope Canyon, Arizona, September 2017.

Photo by @steph_shep.
Solange in the desert, March 2017.

Photo by @saintrecords.
Kourtney Kardashian says she "landed in Arizona, ended up in Utah," November 2017.

Photo by @kourtneykardash.
Naomi Campbell in an undisclosed desert location, March 2018.

Photo by @iamnaomicampbell.
Charli XCX pontificates about what songs she would bring to the desert, February 2018.

Photo by @charli_xcx.
Frankie Cosmos in Colorado, March 2018.

Photo by @frankiecombos.
Jasmine Sanders (right) took a trip to Utah in March 2018.

Photo by @golden_barbie.
Stephanie Shepherd at San Ysidro Ranch, September 2017.

Photo by @steph_shep.
Shay Mitchell (left) took in the Utah canyon view, March 2018.

Photo by @shaymitchell.