Meet Kristine Froseth, Netflix's Next Big Romcom Star of Sierra Burgess Is a Loser
The American-Norwegian actress stars in the upcoming Sierra Burgess Is a Loser.
---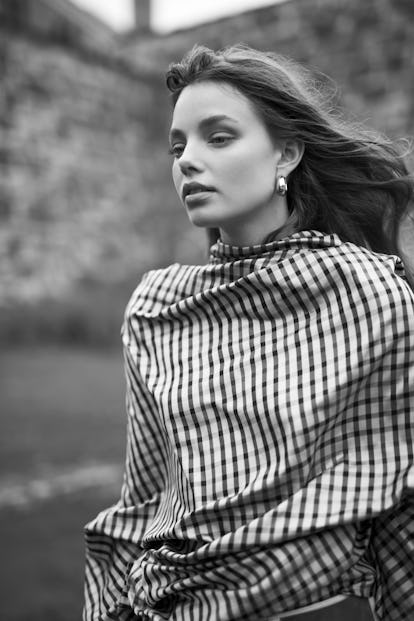 Kristine Froseth photographed by Luke Abby for W Magazine. Froseth wears Anne Karine Thorbjørnsen blouse, Tom Wood earrings. Styling by Yael Quint. Styling Assistant Tine Ridder-Nielsen, Ragnhild Mariie. Hair by Drew Schaefering and makeup by Linda Wickmann. Produced by Yael Quint and Sander Stenbak.
Kristine Froseth knows her childhood was rather unconventional. After all, how many people can say they spent their formative years divided equally between New Jersey and Norway?
"It's such a weird combination," she said on the phone from Oslo, where she was on holiday to visit family before her very busy fall kicks in. "We'd go back and forth because of my dad's job. They were very, very different. As a kid, I didn't really appreciate it, because you have to say goodbye to your friends all the time."
If you haven't heard of Froseth, now 20, chances are that's about to change. In the coming months, the actress will star in three feature films, including next month's hotly anticipated Netflix high-school comedy, Sierra Burgess Is a Loser.
After several years as a successful model (she was originally scouted in New Jersey at a local mall fashion show), Froseth went to audition for a film, and it was then that something clicked. "I've always been a cinephile and loved movies, but I never knew how one gets into the industry without luck and timing," she said. "Right after I did this audition, I realized that this is something I'm obsessed with, and it is such a bizarre thing that you can do this for a living. I'm so fascinated by why humans are the way they are, and this is basically diving into human nature and being a detective. I knew I had to do this."
Her first major feature film came shortly after, in a small role in last year's J.D. Salinger biopic Rebel In the Rye, co-starring Nicholas Hoult and Zoey Deutch. "It was the most incredible first set to be on," she said. "It was so overwhelming, and I was so amazed that this is how movies are made. There is a camera right in front of you and there are 50 people behind it and there is so much going on, but the actors are so focused and disciplined. I have so much respect for that… In modeling, you have to be so aware of your body and the camera, and that was one of my biggest challenges getting into acting because you're not supposed to be aware of the camera. It took me a minute to ignore the camera and lose yourself in it."
Of the actresses she admires most, Froseth cited Marion Cotillard, Isabelle Huppert, and Léa Seydoux—"a lot of the French ones, actually," she said. "They are just so real to me, and it seems so incredibly raw and honest."
She'll get to flex her own acting muscles with a meaty role in Sierra Burgess Is a Loser, a Cyrano de Bergerac retelling for the social media age. "I received the script and fell in love with it," Froseth said. "I laughed and cried, and felt that it did such a good job of telling this story but through a different perspective. And it's more about female friendship than just a girl trying to get the guy. There were so many things within the script that I was obsessed with."
The film co-stars Shannon Purser in the titular role, as well as To All the Boys I've Loved Before breakout star Noah Centineo. "[Shannon Purser] is the best," Froseth said of her co-star. "She is such a sweetheart and just 100 percent goodness. She always had my back, and I'm incredibly grateful to have gotten to work with her."
The high school-set comedy, which was filmed in Los Angeles, transported Froseth back to her own days of lockers and cliques, for better or worse. "It was terrifying going back to high school," she said. "I didn't like high school. But I was doing it from a completely different perspective. The mean girls, they terrified me, and now I had to play one. I had to play the person I disliked the most at school. But it was fun playing a cheerleader, I do have to say that."
Luckily, her next two films are less personally fraught, though, ironically, both are very spooky-looking horror films: Blumhouse's Prey, and Apostle, another Netflix film co-starring Dan Stevens and Lucy Boynton, which will be released in October. "They built this whole village, and we really felt like we went back in time," she said of the latter, which is set in 1905. "I was wearing a corset and everyone was in the right mindset the entire time."
It's a far cry from Froseth's own personal style, which takes cues from her fashion icons Kristen Stewart and the Olsen twins, and is, perhaps inadvertently, inspired by her new home base in Williamsburg, Brooklyn. "I didn't realize until someone mentioned it the other day, but I've been definitely influenced by this whole hipster movement," she said. You can't avoid it. It's all around you."
And while she now lives in New York, that doesn't mean that she's traveling any less—especially if those movie roles continue to come in as frequently as they have been over the past year. "I'm still getting those miles," she said.
Related: Lana Condor Is the Rom-Com Protagonist We Need Right Now In To All the Boys I've Loved Before