How Ashton Kutcher Went From That '70s Show To Fighting the Sexual Exploitation of Children
Surprised? You shouldn't be.
---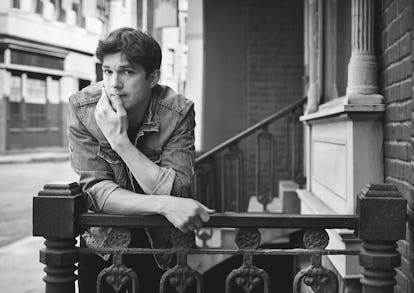 Mark Seliger
These days, only a pop-culture exile would still believe the handsome himbo act on which Ashton Kutcher rode to fame. In the last decade, the Abercrombie & Fitch model and star of That '70s Show and a succession of rom-coms has emerged as a prescient and daring investor—angel to such brands as Skype, Uber, Airbnb, and Warby Parker. He now has a full-fledged part-time career managing people's money through his investment fund, Sound Ventures. And as if that weren't enough, three years ago he cofounded the digital media company A Plus, with the aim of promoting more positive journalism to compete with the dire and divisive culture of news. But nothing on Kutcher's dizzying roster is as pure a passion project as Thorn, the nonprofit he quietly founded eight years ago with his then wife, Demi Moore, to help fight the sexual exploitation of children.
"Once I started to gain some level of fame, I was constantly being asked to lend my name to this or that," Kutcher says on a recent spring afternoon in his trailer on the Warner Bros. lot, where The Ranch—a Netflix show he coproduces and stars in—is being filmed. "And I was wondering, Is there a single cause that I can really get behind?" One night, he and Moore were watching a Dateline special about sex trafficking in Cambodia.
"Those Cambodian kids were 7, 8, 9 years old. I started asking around, and people said to me, 'Oh, no, it's happening right here in Los Angeles.' " Kutcher began to do his own investigating and sought out the expertise of the Clinton Global Initiative. He came to recognize that poverty was invariably a link in the chain that led to exploitation, though poverty itself was too big a problem to try solving. And then he learned that in the U.S., approximately 70 percent of child sex trafficking occurs online. "This was a medium I had a lot of experience with," he explains, "where I knew a lot of folks who could help."
Meet the New Class of Philanthropists, from Ashton Kutcher to Stella McCartney
And so he harnessed years of deepening relationships with the likes of Google, Microsoft, Pinterest, Twitter, and Amazon, creating corporate alliances among what he calls "archenemies." Thorn has managed, essentially, to fight tech with tech, building software and online instruments that help police teams to identify criminals in cyberspace. That you may never have heard of Thorn is largely by design. "There are some black-ops aspects to what we do," Kutcher says. "Revealing our tactics would get in the way of our goals."
Though Kutcher remains the chairman of the board of Thorn, he is the first to point out that his day job is vital to financing the organization. The second season of The Ranch, in which Kutcher plays a faded football hero who returns to work with his family in rural Colorado, premieres on June 16. "What makes this show special is that it's about a conservative family living in the middle of this country, experiencing the real struggles brought by globalization and a digital universe," he says. "We started on this show before Donald Trump ever threw his hat into the ring, but with an understanding that the divide in this country is real. This season we're unpacking some hot-button issues: immigration, abortion, class. But this is a comedy. When you can begin to laugh at some of this stuff, it has a healing effect."
Meanwhile, according to Kutcher, Thorn has identified some 6,000 trafficking victims and 2,000 traffickers. For now it operates domestically, but discussions with international partners are in the works.
"We have some research that suggests that people exposed to images of child sex abuse are more likely to commit a hands-on offense," Kutcher says. "And so our next big initiative is to eliminate all child pornography on the Internet. It's a pretty ambitious goal, but I think we can do it."
Mother, Supermodel and Philanthropist Natalia Vodianova Opens Up: