Ask the Astro Poets: Can a Sagittarius and a Gemini Enjoy an Open Relationship?
What are the benefits and disadvantages of monogamy? Can a Virgo date multiple people at the same time? This month's advice column is all about relationships and love.
---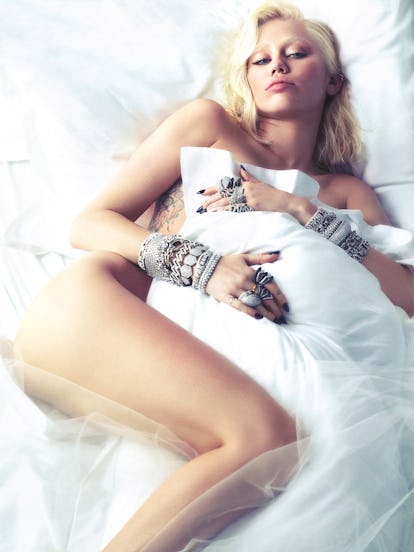 Photographer: Mert Alas and Marcus Piggott Stylist: Edward Enninful
Ask the Astro Poets is the monthly advice column by W's resident astrologers, Alex Dimitrov (Sagittarius) and Dorothea Lasky (Aries). At the halfway point of every month, they take a breather from writing poetry and horoscopes, and take your questions about love, career, even the big existential questions in life. From matchmaking and compatibility, friendship or professional advice, the poets of the stars are here to guide you through any challenge:
Dear Astro Poets, I'm a lonely, Libra librarian looking for love. I mean, of course I am. I'm often trying to articulate a feeling of being trapped in my own head. The idea that my thoughts will always remain unintelligible to others sends me into a crisis. I've been listening to a lot of Aimee Mann and she gets it: "I feel like a ghost who's trying to move your hands over some Ouija board in the hopes I can spell out my name." I think what I long for is the kind of human connection that makes the weight of being alive a little easier. Am I being melodramatic? Maybe. That's ok. I've fallen in love with many nerdy boys but they never reciprocate my affection in the same way. How can I befriend my wistfulness, create a home in my internal world, and believe I can find love with someone who feels like me? Yours, Wistful Libra P.S.—I always appreciate book recommendations, if you have them.
Dear Wistful Libra,
Wow, hold on, I already love you (hopefully you won't hold a few New York Public Library fines against me). So, first of all, some bad news: for many Libras, that feeling of being trapped in your own head will never go away. While longing to make wild gestures in regards to love, in the end, Libras get very intellectual about it. The good news is that though you may feel like you're missing out on romantic opportunities you see happening for others (like Leos for example, they will always be rewarded for their highly flirtatious energy), your very specific "wistful" way of approaching the world is going to draw not only the right friends but the right lovers toward you. It just might take a longer time.
If life was a dinner party, and every sign was throwing one, I would go to the Libra's party. Because I would know that each person there was carefully chosen and had an intellectual or emotional purpose in that Libra's life. You see, Libras are judgmental in the best way. Since they take a long time to understand themselves, and for the most part remain unsatisfied with that understanding—which makes them continue to seek self-knowledge—they attract people who are equally as perceptive and rigorous. At least those are the people who are going to last with Libras, a sign that has never been prone to believing what our culture tries to sell us as that sweeping-grand-all consuming type of love (Scorpios absolutely believe in it).
You are not being melodramatic. You're just alive. Aimee Mann is a wonderful, seductive Virgo for us sad boys. I also used to listen to a lot of Aimee Mann (still do but now it's more Lana Del Rey) and my favorite lines of hers were "Now that I've met you, would you object to, never seeing each other again." I'm a Sagittarius, what can I say. But I do have some recommendations for you. When I first moved to New York and had no friends and no parties to go to and certainly no romantic love, I would obsessively read the Collected Poems of Frank O'Hara because the way he described love, and parties, and possibility (he was an Aries of course) made me really believe that self-proclaimed sad boys everywhere could, in the end, get everything they wanted. My favorite line of his is "everything continues to be possible." I also think you should read Bernadette Mayer's poem "The Way to Keep Going in Antarctica." It has saved my life many times. It's about people like us. Trust me.
Love, Alex
Miley Cyrus Bares All in W Magazine
Hello Astro Poets, I'm a Sagittarius man and my boyfriend is a Gemini. We've been dating for over a year but we've known each other and been really close friends for the past 4 years. There is so much love between us and I feel like we're almost made for each other. The primary issue is that we go to colleges that are very far apart, so we're forced to be long distance. We both live in the same hometown so I see him every break, holiday, and summer. We've made it work so far by frequently visiting each other and talking a lot, but sometimes our communication isn't the best. A big problem involves jealousy. I have encouraged us to be open, because that's the only foreseeable way I could handle being in a long-distance relationship. It was really difficult explaining to him why I thought it was necessary and it took a long time for me to convince him, as he is very jealous, which I understand is uncommon for Geminis. I let him think about it for a while and he actually came back to me enthusiastic and with the mindset that it was best for our relationship. Since then, we've gone back to school and I've been having a blast, but I'm pretty sure he feels hurt and is not telling me. Is being open a good idea considering our signs and his jealousy? Is there something you could suggest to make it easier for him? How can I explain that I want freedom at school but am still committed to him? Aside from those two issues, our relationship is so incredible. We've felt unexplainably drawn toward each other since the day we met and I can honestly say this relationship feels destined. Thank you in advance! Sincerely, A Sagittarius
Dear Sagittarius,
First of all, happy end of Sag season! It's nice to have a conversation with someone who the sun is shining on these days. I hope that you had a good birthday celebration. And just remember it's kind of your birthday all year round. You are a Sagittarius, after all.
Your question is a fascinating one and relates to a theme in astrological compatibility that I hear a lot about. You and your man are Sagittarius/Gemini and are diametrically opposed signs. There are six combinations like you in the zodiac, where the sign opposite the other on the karmic wheel is paired together. All of these matches benefit and suffer from some of the qualities of your relationship that you mention. These pairs can feel destined upon meeting and can get along so well; however, when there are tensions and problems, they can be fundamental ones. This is partly due to the fact that when two signs are opposed in this way, everything one is the other isn't, and so forth. This is so hot, but also tricky. Because when one needs their weaknesses filled, the other is there to fill them, but when one doesn't feel like being challenged—well, then this is a big problem.
To top it all off, you both are mutable signs. Mutable signs tend to go with the flow and like signs who let them do so. But Gemini and Sagittarius both thrive on direction and usually need a leader to keep them going and give them a focus. As a Sagittarius you like to think that's you, but even though you can be a little bossy, you don't actually like to take the lead. The same goes for your Gemini. Even though he likes to feel like he is in control of his life, he doesn't actually like all the work that goes along with being in control of everything. So, again, you both are the same, but absolutely opposite. You complete each other, as they say. Whenever I see a Gemini and Sagittarius in love, I just smile. It's a really fun combination and I am sure that you two have a blast whenever you are together.
The jealousy issue you mention can be traced back to your opposition. Both of you are freedom-loving and do not want to be controlled by the other. So, when you mentioned being open to him, he agreed because: A) As a Gemini, the idea became interesting enough to him as a "project" and B) He was giving you your freedom, as he'd expect the same in return for anything he wanted to do.
You mention that he seems jealous and hurt about it, though, and this could be true. I don't know him, but if I were to bet, I would say it's not so much jealousy that he feels but insecurity. Geminis have to feel like they are the best—they have enormous egos—and they need their egos stroked constantly by their partners. It's not so much that he's jealous like a Scorpio might be about whatever he imagines you doing or feeling without him—it's more so that he's scared of the competition of these other people, that one day you'd love someone better than him, find them more attractive, or smarter. To combat this, I would do everything you can to compliment him, especially as a lover. There's no limit to how much you can tell a Gemini how great they are. It's really this simple with them. And the best part is, complimenting them is almost always just telling the truth, which is a necessity for Sagittarius.
Another related thing you might do is to make sure you are differentiating the importance of your relationship with him versus with other people. The best way to keep you both in tune with each other is to keep up the communication. Both of you can get distracted and don't like clinginess, but make sure you make time with him to talk about things he likes to think about, especially if that means books you're reading, movies you've just seen, or theories you are formulating. For all air signs, but especially Geminis, bouncing ideas around with a partner is the best sex of all. This is a good lesson for Sagittarius, which is why you are probably attracted to him in the first place.
I am sending you both good vibes and wishing the best for both of you in 2018! And to you especially, FIRE SIGN POWER!
Love, Dorothea
Kate Moss, Miley Cyrus, and More Nearly Naked Stars in W
Dear Astro Poets, I cannot keep myself tied down. I'm a Virgo sun with a Sagittarius moon and Gemini rising but my Venus is in Cancer. I think that I subconsciously want to be miserable in love? I have a habit of going for guys who are disinterested in me, changing their minds, and then losing interest in them. I recently left a relationship with a lovely Aries man who I really connected with because I felt like I didn't need to work for his affection anymore. I'm now in love with another Aries who dances around my known interest for him to stay friends with me. Also, I'm starting to like my Cancer friend with benefits who is very boring but also very much doesn't want a relationship with me. Part of me feels like the solution to this problem is to just casually date multiple men all the time, while the other part thinks I'm being too fickle and need to just force myself to settle down even if I lose interest. What do I do? Will I ever be interested in someone once they're interested in me? Save me from myself, A Virgo Only Committed To Drama
Dear Only Committed to Drama Virgo,
I hate to break it to you, but this has a lot to do with your Sagittarius moon and Gemini rising. Your Sagittarius moon will resist anytime you're feeling trapped. It longs for freedom. And your Gemini rising loves to play games. But you're approaching this "problem" in a very Virgo way. You're trying to find a logical pattern when it comes to your feelings and assert control, "force" yourself to settle down.
I don't think you should force yourself to settle down. There is nothing wrong with dating multiple people, now or for the rest of life. As long as all parties know what they're getting themselves into. Honestly, more people should be having conversations about what exactly monogamy means as well, and how it does and doesn't work, before just accepting it as the norm it continues to be. Monogamy doesn't work for a lot of people. And they just continue to do it because they're scared, or because it's easier, or because that's the only model they've known. Or they have affairs and aren't honest with their own desires, which maybe aren't meant for monogamy at all.
What you really should think about is why you lose interest as soon as someone shows interest in you. What makes you interested in unavailable men? I've chased many unavailable men myself, and in the end it's never been about their approval. It's been about approval or love I've needed to give myself but wouldn't. That's hard. That takes a lot of really long conversations with good friends and with yourself (and, in my case, writing poetry). Remember that Virgos are caretakers. In some ways, they will always be more interested in attending to others, and once someone wants to attend to them, they have a hard time adjusting to what that means.
No one really knows how love works. That's the real frightening truth (and one which monogamy pretends to have figured out). Don't be afraid to try out all the ways you think it could work, even the ways we're often discouraged from. But always allow yourself to feel taken care of.
Sending you strength, Alex
Miley Cyrus, Lady Gaga, and Nicki Minaj Truly As You've Never Seen Them Before
David LaChapelle, Do you want love or do you want fame (Lady Gaga), 2009.

© David LaChapelle Studio, courtesy of Taschen
David LaChapelle, Still I Rise (Tupac Shakur), 1996, California.

© David LaChapelle Studio, courtesy of Taschen
David LaChapelle, We Shine so Brightly, 2015.

© David LaChapelle Studio, courtesy of Taschen
David LaChapelle, Fallen friend on the walk of stars (Amy Winehouse), 2007.

© David LaChapelle Studio, courtesy of Taschen
David LaChapelle, Lost + Found. Part 1 cover, I Walk Out of My Prison (Miley Cyrus), 2017.

© David LaChapelle Studio, courtesy of Taschen
David LaChapelle, Superbass (Nicki Minaj), 2011.

© David LaChapelle Studio, courtesy of Taschen
David LaChapelle, We are Blessed, 2017, Hawaii.

© David LaChapelle Studio, courtesy of Taschen
Dear Astro Poets, I decided to go home for Christmas despite always having really emotionally draining fights at home with my family around that time. I'm an Aquarius with a Capricorn moon so I tend to close myself off from past experiences and be alone instead of dealing with relationships. In the past two years, I had a Libra to call and take me away on a romantic date or spontaneous adventure whenever I felt like being at home or being alone was too much. He was my source of fun and support and I love him still. The problem is that we broke up and he rejected me later on in July and I feel like with the festive period I am being drawn to him again. I can't understand that he won't have me when my Pisces Venus and his Scorpio Venus were so passionately connected. I am going to need him and I am going to embarrass myself once again. What should I do? Yours, A Foolish Aquarius
Dear Not-Foolish Aquarius,
I am so sorry that the holidays are so stressful for you! They are a pain to so many of us, because while the world is telling us to feel very purely positive about them and to be excited for all of the presents and joy, they can be extremely mired in sadness. Please know that all of us who feel this way can seek solace in each other and give each other cheer this season.
You are right that your Capricorn moon might make you a bit detached from your feelings and still conflicted, because you don't want to let anyone down at home that you won't be there. It also gives you a sense of duty, which is why you feel the need to go, despite it being hard for you.
It's not wrong to love a Libra and to know that being in this situation at home soon, where he was the person you sought after to help you escape in the past would make the longing for him even more pronounced. We all have associations to certain contexts that make us desire someone, even if in our everyday lives we might find it easier to handle their absence. And doubly, as an Aquarius, a Libra is an ideal match for you—it will be very hard to resist the pull to call him when you are home.
I don't know enough of the backstory to know why this rejection happened. Could it be that he might not see it as a rejection and wants you back as well? Could there be some miscommunication? With two air signs talking so much, that is a definite possibility.
All you say about him is that he was always there for you to take you on a spontaneous romantic adventure at a moment's notice. Uh, sign us all up, please! If he hasn't done anything awful, then I say, go with your gut. True love always needs tons of chances.
I send you love and strength these holidays—and luck!
Love, Dorothea
Related: Ask the Astro Poets: Should a Romantic Cancer Let That Fickle Aquarius Go?