Ava Phillippe Had a Royal Date to the Bal des Debutantes in Paris
Reese Witherspoon's daughter was accompanied by Maharaja Padmanabh Singh of Jaipur.
---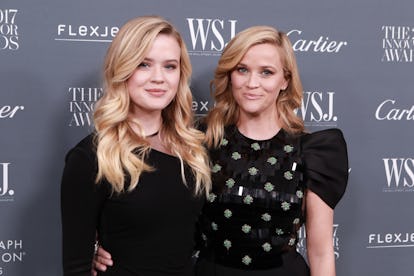 Photo by Gonzalo Marroquin/Patrick McMullan via Getty Images
Reese Witherspoon and Ryan Phillippe's looks-like-her-mom daughter Ava Phillippe got the full princess treatment on Saturday, November 25 at the Bal des Debutantes in Paris (in some places called the Crillon Ball for being held at the Hotel Crillon, though this year it was at the Peninsula Paris), wearing a gold Giambattista Valli haute couture ball gown and dancing with an actual royal, her escort Maharaja Padmanabh Singh of Jaipur. And you thought being nominated for Prom Queen was impressive.
According to People, Singh (nicknamed "Pacho") plays Polo with Prince William and on India's national polo team. In the past few weeks, he'd learned to waltz from friends, a skill that he showed off with Ava as they danced to a song from La La Land. (A fitting choice for a Hollywood girl.) And he's no stranger to the debutante circuit; "His sister, the Princess Gauravi Kumari of Jaipur, also made her debut this season," per People.
Since its inception in 1992, the charitable Le Bal has been something of a cross between a traditional debutante ball and a fashion show, with daughters from notable families around the world attending the event in couture, rather than the traditional white bridal-style gowns. Past debutantes of Le Bal include Lily Collins and Kyra Kennedy. This year, Ava Phillippe was one of six Americans present, including Lori Harvey (in a black Elie Saab dress), daughter of TV host and mogul Steve Harvey.
It's a good time to be in the Phillippe-Witherspoon family. Ava's living a fairytale and Reese, fresh off producing and starring in the Emmy-winning Big Little Lies, has a new show in the works with Jennifer Aniston that's already been given a 2-season order by Apple.
Related: Ava Phillippe, Reese Witherspoon's Lookalike Daughter, Is About to Be a Debutant
The Most Stunning Mother-Daughter Duos, from Madonna and Lourdes to Cindy and Kaia
Actress Reese Witherspoon and daughter Ava Elizabeth Phillippe looked like twins with their tousled blonde waves at the Home Again Los Angeles premiere.

Getty.
At the 2015 InStyle Awards mother and daughter Lisa Bonet and Zoë Kravitz looked radiant with dewy, luminous skin, dark eyeshadow, and long messy hair.

Getty.
Cindy Crawford and Kaia Gerber have been the most dynamic mother-daughter duo at Fashion Week, proving that good genes run the family,

Getty.
At the 2011 Vanity Fair Oscar Party, Madonna and daughter Lourdes Leon wore their hair in sleek, straight styles.

Getty.
Actress Melanie Griffith and daughter Dakota Johnson attended the 87th Annual Academy Awards wearing similar up dos with messy bangs.

Getty.
French actress Vanessa Paradis and daughter Lily-Rose Depp arrived at a Chanel fashion show during Paris Fashion Week with their hair in effortless waves.

Getty.
Andie MacDowell and daughter Rainey Qualley prove that loose curls and luminous skin go hand in hand on the red carpet.

Getty.
Actress Demi Moore and daughters Tallulah, Rumer and Scout Willis all pose in backstage in support of Rumer's broadway debut in Chicago.

Getty.
At the Chanel Collection des Metiers d'Art in Paris, actress Jada Pinkett Smith and daughter Willow Smith both wore a playful pink lip.

Getty.
Actresses Goldie Hawn and Kate Hudson pose together on the red carpet at the 2014 Baby2Baby Gala.

Getty.
Meryl Streep's three daughters, Mamie, Grace and Louisa Gummer, all take after their mother when it comes to red carpet beauty.

Getty.
Actresses Blythe Danner and Gwyneth Paltrow were the ultimate mother-daughter duo at the 25th annual EMA Awards, both sporting radiant, sun-kissed skin.

Getty.