Azealia Banks Ends Elon Musk Feud With an Apology Letter
The rapper posted an apology letter to her Instagram Stories late last week.
---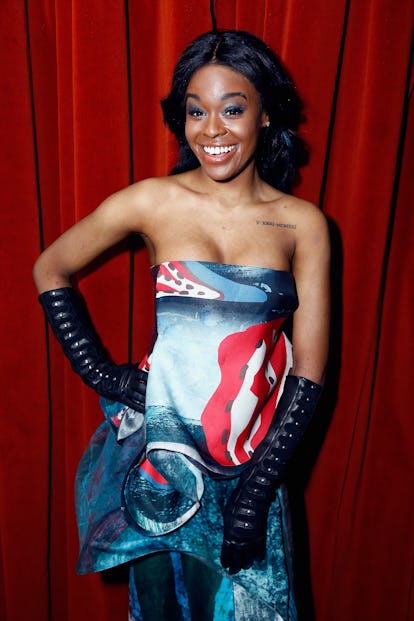 Photo courtesy of Getty Images.
Azealia Banks has finally, sort of, waved a white flag in her ongoing, publicly one-sided feud with Elon Musk and Grimes. She was feuding with them; it's not clear, in hindsight, if they were feuding with her. In a letter dated August 19, 2018, and posted to her Instagram Stories late last week, in which she describes herself and the Tesla CEO as "the co-stars of pop culture's latest fan fiction," complete with a winking emoji, she apologizes for her role in escalating the drama surrounding both her rumored collaboration with Grimes and Musk's own business operations. (Given that a recent New York Times op-ed by Kara Swisher described Musk as the "Id of Tech," and that "Id of Rap" seems a fair description of Banks, perhaps there's something to this fan fic.)
So, with the drama finally drawing to a close—apology accepted?—it seems to be the perfect time to revisit what really went down, all in one place. Here's how it began: Some time around August 13, Banks began posting to her Instagram Stories that she had been waiting at Musk's house "for days" in anticipation of getting in the studio with Grimes, Musk's girlfriend. Many of these posts were only live briefly, captured in screenshots by reporters before they were taken down.
At first, she wrote that she planned to wait one more day before heading back home. But after a day went by, Banks felt she needed to respond to the blog and social media attention heaped on her initial post. (Perhaps she was also motivated by Musk's claim, over Twitter DM to Gizmodo, that he "has never…communicated with her in any way.") A series of follow-up posts to her Instagram Stories outlined all the possible ulterior motives for Banks's invitation to Musk HQ—for a threesome? For the love of drama?—in a stream of text posts and screenshots that are dizzying and basically impossible to keep up with, even if you've been keeping up. (Among Banks's receipts posted over the past two weeks: screen caps of conversations with Grimes over Signal, in which they appear to discuss the Tesla tweet that got Musk in so much trouble; accusations that Musk went "on Twitter while on acid" and that he had been tapping Banks's phone—and then stole her phone; and a litany of pejorative and derogatory descriptions levied against both Musk and Grimes.)
Meanwhile, Musk was grappling with the fallout from the aforementioned tweet, fired off in the back of a car en route to the airport, in which he mentioned that he wanted to take Tesla private. Cue a rumored SEC investigation and a damage-control New York Times interview published August 17 (and then another, in which the whole Azealia Banks thing was called a "Tesla subplot"—whereas for most of us, it was the main plot). Musk then deleted his Instagram on August 20, telling Gizmodo he didn't "like it." (We disagree.) He and Grimes (who, probably smartly, has stayed above the fray and declined to weigh in so far) appeared to unfollow each other on social media the next day. By August 21, Banks was in touch with a lawyer, who told her Musk "loves your note"—presumably the same one she ended up posting a week later—and she began posting said screenshots.
Which brings us to this weekend: In her letter, Banks writes that she hopes she and Musk can collaborate in the future. On a track? On a Tesla? Maybe it was this, rather than a Grimes collaboration, that was the goal all along.