B-Free, the Korean Rapper Who Rolls With Keith Ape and Performs With CL, and His Crew Are Seoul's Answer to the A$AP Mob
Amid a sea of glossy K-pop stars at Seoul Fashion Week, B-Free and the Cohort are trying to keep hip-hop real.
---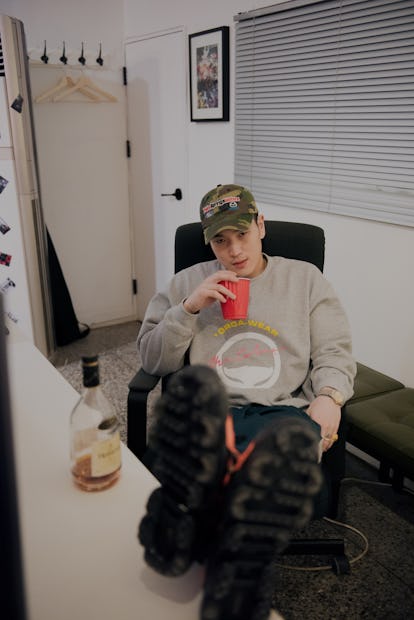 LeeYeongMo
The rapper B-Free writes and records in the basement of a video production studio—his friend's—on a darkened side street just west of the bustling downtown neighborhood Itaewon, in Seoul, South Korea. A soft reddish light emanates from the narrow staircase leading down to his studio; upstairs, a near-depleted bottle of Hennessey sits next to an oversize computer monitor, a clock on the wall reads "Eat," "Sleep," "F–k" around its circumference, and action figurines line the walls. Free—born Shane Choi—keeps a nocturnal schedule here, beginning work around 8 p.m. and continuing through the night, until some time around 7 a.m.
So Choi's day was just beginning when we met on a recent Thursday night at his studio. Earlier in the week, he had played a short set following the 99%IS– fall 2018 show during Seoul Fashion Week, sharing the stage with Korean megastar and Jeremy Scott muse CL, the former frontwoman of the K-pop group 2NE1; now he was back to working on his upcoming record, currently slated for release on June 25. Hew was wearing a sweatshirt emblazoned with the logo for Orca Wear, the streetwear brand recently launched by his crew, the Cohort, a group that also includes rappers Okasian, Brian Cha$e, JayAllDay, and Keith Ape, the artist behind the viral hit "It G Ma." (Ape is still among Korean hip-hop's best-known exports.)
Though Choi had attended the previous season's 99%IS– show, it wasn't until just a couple of weeks ago that the label's designer, Park Jong Woo, who goes by Bajowoo, reached out to Choi about playing the fall 2018 show after he saw a B-Free performance earlier in the year. Though they had never met before, they have "many mutual friends," Bajowoo told W over e-mail, and he thought the rapper's style and the label's look complemented each other well. Choi echoed this sentiment: "It's my kind of party," he observed on arrival at the show. He noted the parallels between their work: Both are the product of experimentation among friends, leveraged into a viable living. "Now it's marketable," he said.
Choi's English bears just the faintest trace of an accent, a legacy of the decade he lived in Hawaii, where he immigrated illegally with his father when he was just 10 years old. "He told me we were going on vacation," Choi recalled, "and then, the next thing I know, we went to Canada and we crossed the border illegally." He arrived in the United States just as the Fugees were releasing their seminal album The Score, and Lauryn Hill's voice crooning "Killing Me Softly" was a radio staple. It was his first exposure to soul music: "I didn't know the words, I didn't know what she was saying, but it was so beautiful, I used to cry," he told me. He started writing down and memorizing the lyrics he heard, but it wasn't until more than a decade later, after he had returned to South Korea and done his mandatory military service, that he began making his own beats. At the recommendation of the Korean rapper Snacky Chan, whom Choi met when he was working at the Nike store in Itaewon at 25, he started rapping over the music he was making and handing out CDs—which is how he met Paloalto, the founder of Korean hip-hop label Hi-Lite records. ("It G Ma" was also released on Hi-Lite originally, before it was remixed with A$AP Ferg, Father, and Wacka Flocka Flame.)
Choi left Hi-Lite two years ago, when it was purchased by the Korean conglomerate CJ Corporation, to start his own label, New Wave Records. He spent much of the beginning of his career writing angry lyrics about his military service ("how I hated it, how it's like a prison system for Korean males; that was my fuel for making music," he explained), but after years of traveling and writing, Choi is finally happy—and writing about it. (Turning 30 also offered him some perspective.) He'll probably write about the army again, but first, he wants to focus on honing his craft: "I want to be a good artist," he said, "and then say it calmly and wisely."
He had been writing furiously since his last live performance, and at the 99%IS– show on Tuesday, he incorporated a few new tracks into his live set. Though they move in some of the same circles, both part of the Korean hip-hop scene, Choi and CL had never met before. Only a few years ago, CL, at the peak of her fame as a member of 2NE1, would have been near unapproachable, but now, Choi said, the notoriously impermeable walls surrounding K-pop stars have begun to come down. In 2013, for example, Choi made an indelicate remark about the boy band BTS's makeup and choreographed routines—he "dissed them for being idol rappers," as one K-pop blog described it in 2016. According to Choi, this was posturing that got out of hand: "It was a harsh joke, like, 'Come on, guys, what are you doing?'" he said. But in the years since, groups that incorporate elements of both hip-hop and pop into their music, like BTS or Block B, another K-pop group whose members are uniquely free to pursue independent projects, have earned a degree of freedom. "Now I think it's the time when everyone is more open about those things, open about reality: 'Yes, we're wearing makeup. Yes, we're wearing lipstick, who cares?' Now they can say that."
As K-pop has slowly been demystified, hip-hop has gained prominence in the music landscape. But Korean rappers have been accused of a measure of cultural appropriation—upon the release of "It G Ma," for example, the Atlanta rapper OG Maco wrote, in a since-deleted tweet, "I'm aware of the Koreans that mocked me and took my sauce," posting in a second tweet, "Black stereotypes. Lame as f–k." The music can, at times, sound like a simulacrum of hip-hop: trap music devoid of a trap.
"It's not as culturally rooted," Choi said, citing this as the biggest difference between the Korean and American hip-hop landscapes. (However, just as in New York, in Seoul, designers often turn to rappers as avatars for their brands.) "It's not culturally real." Yet a younger generation of artists, he observed, are shifting that tide, writing about their own experiences rather than subscribing to the expectations of hip-hop, and Choi is buoyed by all of this. Over the past couple of months, he has focused increasingly on his upcoming record; other members of the Cohort are also planning to release new projects this year—and then they plan to embark on a world tour together. Choi compared them to the Avengers (he's Thor, or the Hulk, he guessed): "We're coming together," he said, "to be like, 'This is Korean hip-hop at its finest.'"
Related: A Rare, Exclusive Interview with Taemin, K-Pop's Justin Bieber
Who's Who: Meet the Beautiful People of Seoul Fashion Week