Balenciaga Models Walked The Runway In Platform Crocs
More comfortable than stilletos?
---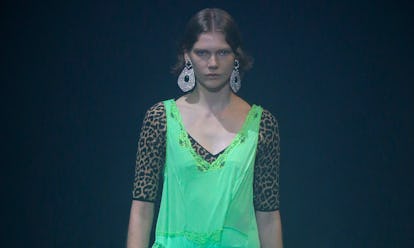 Estrop
Fashion shows often feature outrageous footwear.
Just this week during Paris Fashion Week we saw elf shoes. Who they're for remains to be seen. But when was the last time a collection went in the complete opposite direction, toward a shoe that was impossibly comfortable?
That's what happened on Sunday at the Balenciaga show, where models wore crocs. Yes, Crocs, the candy-colored foam shoes usually worn by gardeners, nurses, Mario Batali, and families vacationing at Disney World who just want one picture with Mickey where everyone's eyes are open to send to Grandma, is that so much to ask, Bailee?
Of course, these weren't normal crocs, they were platform crocs, so they may have been just as difficult to walk in as any strappy sandal or sky-high heel. Crocs are famously breathable, with holes on the top that can be filled in with decorative charms that are usually in the shape of a butterfly or baseball, but in this show were labeled "Balenciaga." Actually, we take that back, there was also a butterfly charm on one shoe. And an avocado. Cute!
According to Dazed, this isn't the first time the oft-derided shoe has graced the runway; that would be the Spring 2017 Christopher Kane show. Kane likes the brand so much he did a collaboration with them last year. But they weren't as high, or as high fashion, as the platformed Balenciagas.
Crocs isn't the only comfortable shoe brand that's been sought after by ready to wear labels. Ugg has moved on from being Paris Hilton's favorite winter boots to striking partnerships with the likes of Jeremy Scott and fashionable personalities like Vic Mensa and Alexa Chung; over the weekend, Phillip Lim launched his own collaboration with the brand at the Crow's Nest out East in Montauk. The eternally cool Kim Gordon and Kyle MacLachlan even star in the latest Ugg campaign.
If you just can't wait for these new crocs to hit stores next year, a women's "Classic Clog" can run you $34.99 before shipping and taxes. And it costs nothing to sneer, "It's fashion" at anyone who doesn't like your new shoes. Because Crocs are now quite literally in fashion.
Paris Fashion Week Street Style Stars Are All About Bold Color, Statement Bags, and a Good Beret
Street style in Paris during Paris Fashion Week SS18. Photographed by Adam Katz Sinding for W Magazine.

2017 Adam Katz Sinding
Street style in Paris during Paris Fashion Week SS18. Photographed by Adam Katz Sinding for W Magazine.

2017 Adam Katz Sinding
Street style in Paris during Paris Fashion Week SS18. Photographed by Adam Katz Sinding for W Magazine.

2017 Adam Katz Sinding
Street style in Paris during Paris Fashion Week SS18. Photographed by Adam Katz Sinding for W Magazine.

2017 Adam Katz Sinding
Street style in Paris during Paris Fashion Week SS18. Photographed by Adam Katz Sinding for W Magazine.

2017 Adam Katz Sinding
Street style in Paris during Paris Fashion Week SS18. Photographed by Adam Katz Sinding for W Magazine.

2017 Adam Katz Sinding
Street style in Paris during Paris Fashion Week SS18. Photographed by Adam Katz Sinding for W Magazine.

2017 Adam Katz Sinding
Street style in Paris during Paris Fashion Week SS18. Photographed by Adam Katz Sinding for W Magazine.

2017 Adam Katz Sinding
Street style in Paris during Paris Fashion Week SS18. Photographed by Adam Katz Sinding for W Magazine.

2017 Adam Katz Sinding
Street style in Paris during Paris Fashion Week SS18. Photographed by Adam Katz Sinding for W Magazine.

2017 Adam Katz Sinding
Street style in Paris during Paris Fashion Week SS18. Photographed by Adam Katz Sinding for W Magazine.

2017 Adam Katz Sinding
Street style in Paris during Paris Fashion Week SS18. Photographed by Adam Katz Sinding for W Magazine.

2017 Adam Katz Sinding
Street style in Paris during Paris Fashion Week SS18. Photographed by Adam Katz Sinding for W Magazine.

2017 Adam Katz Sinding
Street style in Paris during Paris Fashion Week SS18. Photographed by Adam Katz Sinding for W Magazine.

2017 Adam Katz Sinding
Street style in Paris during Paris Fashion Week SS18. Photographed by Adam Katz Sinding for W Magazine.

2017 Adam Katz Sinding
Street style in Paris during Paris Fashion Week SS18. Photographed by Adam Katz Sinding for W Magazine.

2017 Adam Katz Sinding
Street style in Paris during Paris Fashion Week SS18. Photographed by Adam Katz Sinding for W Magazine.

2017 Adam Katz Sinding
Street style in Paris during Paris Fashion Week SS18. Photographed by Adam Katz Sinding for W Magazine.

2017 Adam Katz Sinding
Street style in Paris during Paris Fashion Week SS18. Photographed by Adam Katz Sinding for W Magazine.

2017 Adam Katz Sinding
Street style in Paris during Paris Fashion Week SS18. Photographed by Adam Katz Sinding for W Magazine.

2017 Adam Katz Sinding
Street style in Paris during Paris Fashion Week SS18. Photographed by Adam Katz Sinding for W Magazine.

2017 Adam Katz Sinding
Street style in Paris during Paris Fashion Week SS18. Photographed by Adam Katz Sinding for W Magazine.

2017 Adam Katz Sinding
Street style in Paris during Paris Fashion Week SS18. Photographed by Adam Katz Sinding for W Magazine.

2017 Adam Katz Sinding
Street style in Paris during Paris Fashion Week SS18. Photographed by Adam Katz Sinding for W Magazine.

2017 Adam Katz Sinding
Street style in Paris during Paris Fashion Week SS18. Photographed by Adam Katz Sinding for W Magazine.

2017 Adam Katz Sinding
Street style in Paris during Paris Fashion Week SS18. Photographed by Adam Katz Sinding for W Magazine.

2017 Adam Katz Sinding
Street style in Paris during Paris Fashion Week SS18. Photographed by Adam Katz Sinding for W Magazine.

2017 Adam Katz Sinding
Street style in Paris during Paris Fashion Week SS18. Photographed by Adam Katz Sinding for W Magazine.

2017 Adam Katz Sinding
Street style in Paris during Paris Fashion Week SS18. Photographed by Adam Katz Sinding for W Magazine.

2017 Adam Katz Sinding
Street style in Paris during Paris Fashion Week SS18. Photographed by Adam Katz Sinding for W Magazine.

2017 Adam Katz Sinding