Elf Shoes Are Officially In at Paris Fashion Week
We have Jonathan Anderson, the beloved designer known for his craftsmanship, to thank for this season's most surprising emerging trend.
---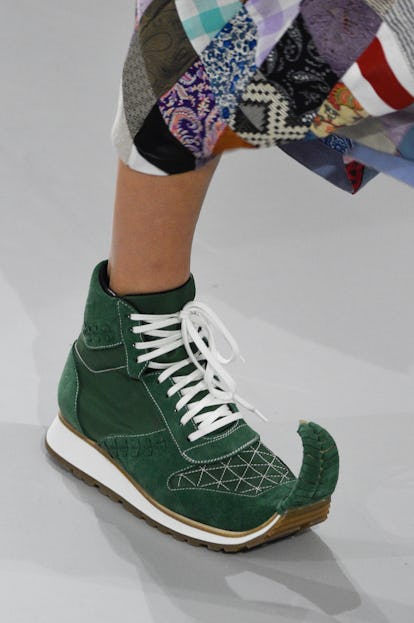 Peter White/Getty Images
Some fall trends, like suits, are straightforward. Others, on the other hand, can only be described as delightfully, mindbogglingly absurd, like the fidget spinners everyone from Tory Burch to Dame Judi Dench have lately turned into accessories. And while Jonathan Anderson is one of the most beloved, prolific, and trend-setting designers out there today, that hasn't stopped his latest creations for Loewe at Paris Fashion Week from falling into the latter camp—to the point that some critics are now asking the highly respected designer, "What the. . . Jonathan?"
As for his crime? Daring to send out pointy shoes on the runway earlier today—as in, really, really, pointy. Like, Will Ferrell-in-Elf pointy. As it turns out, the shoes in question were based on a beloved pair of Moroccan slippers that Anderson had for ages. And while the more leathery, earthy-toned versions may bear more resemblance to a rattlesnake's tail, Anderson did not shy from embracing the only logical conclusion when faced with the green shoes.
"They're like elf shoes!" he told Vogue backstage. "They were humorous. There's no sense to them. But they make you laugh!"
To be clear, the elf shoes weren't the only footwear on Loewe's runway; a few pairs of Stegosaurus-like ridged boots were also in the mix, as well as some largely simple black boots. In any case, the cardinal rule remains that it takes three to make a trend, so the shoes aren't exactly a phenomenon just yet. They are, however, causing something of a sensation on social media, despite the fact that they're coming on the heels of a season in which the "ugly shoe" became must-have footwear, not to mention a year in which fanny packs have come back in full force and Christopher Kane is still making the case for Crocs, most recently lining them with fur.
The shock might be more that Anderson, of all designers, is joining the weirdo camp; after all, it was only yesterday that some of the industry's biggest names—along with Courtney Love and Fergie—obligingly suited up in garbage bags (sorry, ponchos) to take in "Dirt," aka Rick Owens's spring 2018 show, which subjected everyone to spray from the nearby fountains in the courtyard of the Palais de Tokyo, as well as a soundtrack of his partner Michèle Lamy's echoing maniacal laughter. As it turns out, he and Anderson aren't the only weirdos in town: Just over an hour ago, Rio Uribe sent models down the streets of Paris wheeling towering trashcans, an accessory that's out-there even for Gypsy Sport.
It's worth noting, too, that Anderson is not alone in going down the elf route; in fact, he played it quite safe while doing so. Three years ago in Paris, Rei Kawakubo shod the models who walked her Comme des Garçons Homme Plus spring 2015 show with shoes that reached a saber-like 21 inches tall.
Three years is a long time in fashion, but if you count Kawakubo there's enough to make the case that we're getting close to reaching trend levels. But of course, even Kawakubo has predecessors: During the 14th century, Europeans took took to wearing shoes with toes so long, they sometimes tied them to their knees so that they could get on with an everyday task that even elves must face: walking.
Related: It's Time to Embrace the "Ugly Shoe," Summer's Must-Have Footwear
Kanye West Just Wants to Bring Joy to the World Like Will Ferrell in 'Elf':