Balenciaga's Paris Fashion Week Hotline Is Market Research From a Master Troll
Do you prefer round shapes or rectangular ones?
---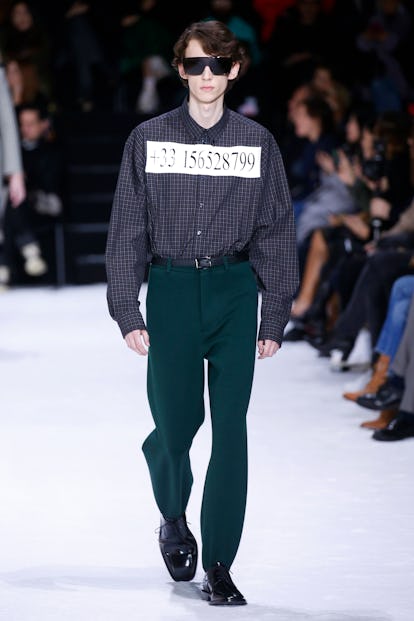 Estrop/Getty Images
Balenciaga was not shy above handing out its phone number at its Paris Fashion Week presentation on Sunday: The local number—+33 1 56 52 87 99—was splashed across the artificial, graffiti-tagged mountain that was constructed as part of the set design and inked on a button-down silhouette that was featured in several of the menswear looks in the joint menswear-womenswear runway. (Elsewhere, graphics on tops included the World Food Program logo, inaugurating Balenciaga's partnership with the United Nations nonprofit.) Still, it might be easy to write off: Designer Demna Gvasalia, the mastermind behind both Vetements and Balenciaga, has a reputation for trolling his audiences. His imitation Ikea Frakta bags, for example, became an instant meme and made him a pioneer in fashion's subsequent obsession with mundane luxury; he showed Crocs one season, and they sold out almost immediately. So there was no guarantee that the phone number, one of several spray-painted phrases (including "2018" and "rue de Sèvres"), would dial anywhere in particular.
But, in fact, it does. When intrepid audience members give Balenciaga a ring via the number, they are connected to an automated hotline that asked 20 "strictly confidential" questions. These range from the quotidian—"What is your gender?" options including "female," "male," "transgender," or "other form of gender identity"—to the oddly specific—"What is your favorite taste?" answers including "bitter," "sour," "salty," "sweet," and "umami"; "What is your favorite shape?" reduced to a binary, "round" or "rectangular." There are some other demographic questions, including shoe and garment sizes, age, height, and favorite colors; it all has the aura of a market research quiz, albeit a slightly bizarre one. (But, hey, it's Balenciaga. Its sense of reality has always been a little warped.)
And then, at the very conclusion, a sudden reversal: "Thank you for taking the time to answer our questions," the automated voice announces. "All data will be erased now." Market research, perhaps, but via a master troll.
Related: Balenciaga Platform Crocs Sold Out Before They Were Even Released
The Best and Most Breathtaking Backstage Moments from Paris Fashion Week
Backstage at the Jacquemus Fall 2018 show during Paris Fashion Week at Petit Palais in Paris, France on February 26th. Photo by Cleo Glover for W Magazine.

CLEO GLOVER
Backstage at the Jacquemus Fall 2018 show during Paris Fashion Week at Petit Palais in Paris, France on February 26th. Photo by Cleo Glover for W Magazine.

CLEO GLOVER
Backstage at the Jacquemus Fall 2018 show during Paris Fashion Week at Petit Palais in Paris, France on February 26th. Photo by Cleo Glover for W Magazine.

CLEO GLOVER
Backstage at the Jacquemus Fall 2018 show during Paris Fashion Week at Petit Palais in Paris, France on February 26th. Photo by Cleo Glover for W Magazine.

CLEO GLOVER
Backstage at the Jacquemus Fall 2018 show during Paris Fashion Week at Petit Palais in Paris, France on February 26th. Photo by Cleo Glover for W Magazine.

CLEO GLOVER
Backstage at the Jacquemus Fall 2018 show during Paris Fashion Week at Petit Palais in Paris, France on February 26th. Photo by Cleo Glover for W Magazine.

CLEO GLOVER
Backstage at the Jacquemus Fall 2018 show during Paris Fashion Week at Petit Palais in Paris, France on February 26th. Photo by Cleo Glover for W Magazine.

CLEO GLOVER
Backstage at the Jacquemus Fall 2018 show during Paris Fashion Week at Petit Palais in Paris, France on February 26th. Photo by Cleo Glover for W Magazine.

CLEO GLOVER
Backstage at the Jacquemus Fall 2018 show during Paris Fashion Week at Petit Palais in Paris, France on February 26th. Photo by Cleo Glover for W Magazine.

CLEO GLOVER
Backstage at the Jacquemus Fall 2018 show during Paris Fashion Week at Petit Palais in Paris, France on February 26th. Photo by Cleo Glover for W Magazine.

CLEO GLOVER
Backstage at the Dior Fall 2018 show during Paris Fashion Week at Musée Rodin in Paris, France on February 27th. Photo by Cleo Glover for W Magazine.

CLEO GLOVER
Backstage at the Dior Fall 2018 show during Paris Fashion Week at Musée Rodin in Paris, France on February 27th. Photo by Cleo Glover for W Magazine.

CLEO GLOVER
Backstage at the Dior Fall 2018 show during Paris Fashion Week at Musée Rodin in Paris, France on February 27th. Photo by Cleo Glover for W Magazine.

CLEO GLOVER
Backstage at the Dior Fall 2018 show during Paris Fashion Week at Musée Rodin in Paris, France on February 27th. Photo by Cleo Glover for W Magazine.

CLEO GLOVER
Backstage at the Dior Fall 2018 show during Paris Fashion Week at Musée Rodin in Paris, France on February 27th. Photo by Cleo Glover for W Magazine.

CLEO GLOVER
Backstage at the Dior Fall 2018 show during Paris Fashion Week at Musée Rodin in Paris, France on February 27th. Photo by Cleo Glover for W Magazine.

CLEO GLOVER
Backstage at the Dior Fall 2018 show during Paris Fashion Week at Musée Rodin in Paris, France on February 27th. Photo by Cleo Glover for W Magazine.

CLEO GLOVER
Backstage at the Dior Fall 2018 show during Paris Fashion Week at Musée Rodin in Paris, France on February 27th. Photo by Cleo Glover for W Magazine.

CLEO GLOVER
Backstage at the Dior Fall 2018 show during Paris Fashion Week at Musée Rodin in Paris, France on February 27th. Photo by Cleo Glover for W Magazine.

CLEO GLOVER
Backstage at the Dior Fall 2018 show during Paris Fashion Week at Musée Rodin in Paris, France on February 27th. Photo by Cleo Glover for W Magazine.

CLEO GLOVER
Backstage at the Dior Fall 2018 show during Paris Fashion Week at Musée Rodin in Paris, France on February 27th. Photo by Cleo Glover for W Magazine.

CLEO GLOVER
On the runway at the YSL Fall 2018 show during Paris Fashion Week at Place De Varsovie in Paris, France on February 27th. Photo by Cleo Glover for W Magazine.

CLEO GLOVER
On the runway at the YSL Fall 2018 show during Paris Fashion Week at Place De Varsovie in Paris, France on February 27th. Photo by Cleo Glover for W Magazine.

CLEO GLOVER
On the runway at the YSL Fall 2018 show during Paris Fashion Week at Place De Varsovie in Paris, France on February 27th. Photo by Cleo Glover for W Magazine.

CLEO GLOVER
On the runway at the YSL Fall 2018 show during Paris Fashion Week at Place De Varsovie in Paris, France on February 27th. Photo by Cleo Glover for W Magazine.

CLEO GLOVER
On the runway at the YSL Fall 2018 show during Paris Fashion Week at Place De Varsovie in Paris, France on February 27th. Photo by Cleo Glover for W Magazine.

CLEO GLOVER
On the runway at the YSL Fall 2018 show during Paris Fashion Week at Place De Varsovie in Paris, France on February 27th. Photo by Cleo Glover for W Magazine.

CLEO GLOVER
On the runway at the YSL Fall 2018 show during Paris Fashion Week at Place De Varsovie in Paris, France on February 27th. Photo by Cleo Glover for W Magazine.

CLEO GLOVER
On the runway at the YSL Fall 2018 show during Paris Fashion Week at Place De Varsovie in Paris, France on February 27th. Photo by Cleo Glover for W Magazine.

CLEO GLOVER
On the runway at the YSL Fall 2018 show during Paris Fashion Week at Place De Varsovie in Paris, France on February 27th. Photo by Cleo Glover for W Magazine.

CLEO GLOVER