Balenciaga Platform Crocs Sold Out Before They Were Even Released
The $850 pairs will be hitting the streets soon.
---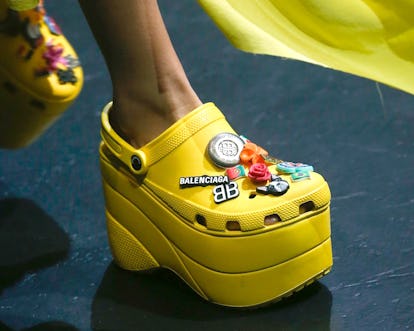 Getty Images
Last October, Balenciaga caused an uproar on social media when models walked the Paris Fashion Week runway wearing yellow and bubblegum pink Crocs. But they weren't just any ordinary Crocs, the likes of which are usually reserved for vacationing families and Mario Batali; they were $850 platform Crocs decorated with butterfly, avocado, and Balenciaga-branded charms. Meaning, they are chic—and fans can't get enough of them, apparently.
At the time of the show, people had a lot of opinions, but Balenciaga has the last laugh: The Crocs completely sold out before they were even officially available.
According to Dazed, the shoes launched on Barneys's website on February 1 in two colors and were snatched up in preorders before the end of the day. For those truly disappointed by the news, there's always the next Croc drop, whenever that might be.
Balenciaga creative director Demna Gvasalia has a habit of trolling the fashion industry with upscaled versions of mundane items. For example, there's the $1,100 calf-skin leather version of the brand's own paper shopping bags, $2,145 leather totes inspired by IKEA's iconic $0.99 Frakta bag, and a high-fashion take on "ugly sneakers" that have been seen on the super-hip crowd, from Hailey Baldwin to Elsa Hosk to Bella Hadid. It's started something of a trend outside of Gvasalia's domains of Balenciaga and Vetements as well, including Tiffany & Co.'s "Everyday Objects" collections (complete with a $1,000 sterling silver "tin" can), Dolce & Gabbana's $110 pasta, and Supreme's paperweight made of $100 bills.
But, hey, if you're really into Crocs, Christopher Kane also has bedazzled and fur-lined options to tide you over until Balenciaga restocks.
Related: The Craziest, Most Fabulous Shoes in 2017, from Elf Sneakers to Platform Crocs