A Guide to the Fashion Items That Really Upset the Internet in 2017
From mud jeans to a $150 Prada paper clip.
---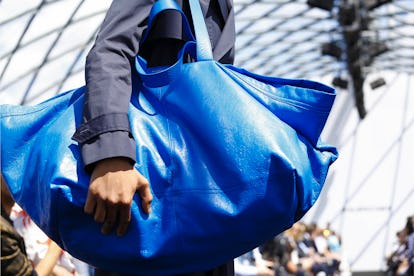 As you may be aware from the proliferation of headlines that end in "…and the internet is very upset about it!" the Internet is constantly very upset about various things. Some of those things provoke quite understandable if not righteous upper. Other times though, the internet just seems bored and looking for something to kick around the ol' Twitter echo chamber.
The world of fashion meanwhile has a long history of provoking, teasing, scandalizing, and, dare we say it, trolling. Actual scandal-worthy fashion moments aside, it is of little surprise then that occasionally otherwise inoffensive fashion items and objects get caught in the Twitter outrage cycle simply for existing. Would fashion really be doing it's job in 2017 if it didn't occasionally provoke such strong reactions online?
This year it seems, with some variations, the Internet seemed absolutely perplexed by some designer's tendency to take relatively mundane objects and elevate them into the world of high fashion. There were $150 silver paperclips, Tiffany's "tin" cans, and $2,000-plus versions of $0.99 IKEA bags. We get why people would be outraged from a certain view, but we also think at least some of these designers are in on the joke. Maybe the only question is what exactly the punchline is. Then again, when you think about it the entire world of high fashion is taking something mundane (clothing; we all have to wear it), and turning it into coveted and cutting-edge luxury items. We have little doubt that that was the point at least some of these designers (we're looking at you Demna) were trying to make. Others maybe were perhaps just playing catch up on what they perceived as a trend.
In any event, here's a look back at some of the items that really exploded the internet's collective head this year.
Nordstrom's Mud Jeans
Mike Rowe, host of Discovery Channel's Dirty Jobs, entered into the world online fashion critic earlier this year when he discovered a pair of $425 jeans on sale at Nordstrom's from the brand PRPS. He positioned them as another volley in "our country's War on Work." He continued, "They're not even fashion. They're a costume for wealthy people who see work as ironic – not iconic." Fair point. Really though we were also a bit offended that DSquared2 already did the whole purposefully muddied jeans a few years ago. In fact, Gwen Stefani was spotted wearing the originals when she first started dating Blake Shelton. See, there are occasional situation in which a high fashion-meets-down home country boy aesthetic really is necessary.
Prada's "Paper Clip"
People were absolutely astounded, at least in between that time that they read the Tweet or headline and when they actually go to the details, that Prada was selling a $150 "paper clip." In reality, of course, it was a sterling silver money clip shaped like a paper clip (and when you really think about it, all clips really do the same thing). $150 is a lot for a paper clip, but it's actually not that eye boggling when you look at other high-end money clips.
Balenciaga's Ikea Bags
Balenciaga designer Demna Gvasalia actually unveiled his lambskin leather version of IKEA's $0.99 FRAKTA bag back in 2016, but they didn't hit stores until 2017. It was the $2,145 price tag that really sent the internet into a tizzy. Listen, Gvasalia knows what he's doing with his fashion trolling for the most part. This was also the year he adapted the Bernie Sanders campaign logo and won the ugly sneakers trend, but it was IKEA who actually made the best of the situation by subtlety clapping back.
Tiffany's "Tin" Cans
Tiffany's "Everyday Objects" collections included a $1,000 sterling silver "tin" can, a $165 paperclip-shaped bookmark, and a $9,000 ball of sterling silver yarn. By this point, you should know how the internet should react.
Thibaut's Thong Jeans
All the other items in this roundup are from established fashion players, and yet not a one of them seemed to catch the ire of the internet in quite the way that young Japanese designer Meiko Ban did. According to WWD, the former choreographer and dancer made her Tokyo Fashion Week debut under her Thibaut label with a collection that riffed on the sort comfortable and grungy clothing a dancer might wear to rehearsal. The item that really went viral however was a pair of vintage jeans that had been cut to a point where little was left except the seems. The effect was, well, "thong jeans." The internet absolutely roasted them. Never mind that the item isn't for sale as of yet, and it's not even clear if it was ever intended to. Never mind that the designer is a young up-and-comer. The internet reacted like they were everything wrong with fashion in 2017. Still, in a certain light, it's kind of impressive that such a young, female, Asian designer was able to provoke such a strong reaction that the big-boys couldn't.
Related: With a $1,100 Shopping Bag, Balenciaga Keeps Trolling and the Internet Keeps Falling For It