Dolce & Gabbana's $110 Pasta Begs the Question: Why Is Fashion So Obsessed with Making the Mundane Luxury Right Now?
Artisanal Italian pasta, but make it Dolce & Gabbana.
---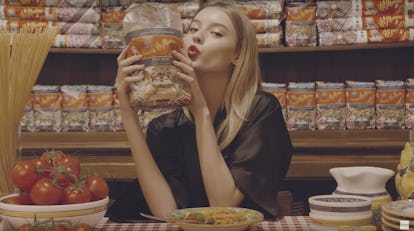 One probably wouldn't dress go to to farmer's market in a floor-length gown paired with a matching set of chandelier earrings, necklace, and diadem, but Dolce & Gabbana apparently aimed to change all that with its Spring 2018 collection. One memorable look, for example, was splashed with a peapod print; the model sailed down the runway, skirt swishing, with a mesh bag filled with parsley. And while the cabbage-shaped earrings and carrot-shaped fascinators might have been among the most notable statements accessorizing the looks, it turns out now even the food in this imaginary scenario will be for sale.
Dolce & Gabbana teamed up with the storied pasta brand Pastificio di Martino to release a limited run of 5,000 boxes of pasta, in tins designed by the Milanese duo. (Business of Fashion was careful to report the that Domenico Dolce and Stefano Gabbana have not touched di Martino's acclaimed recipe, which has what it described as "great chewy, non-sticky texture.") The pasta, which can be yours for just $110, best prepared while wearing the Dolce & Gabbana-designed apron reading "la famiglia, la pasta, l'Italia," as modeled on Gabbana's Instagram by his mother. "Mia Mamma è pronta a cucinare #DGPasta @pastadimartino," Gabbana wrote. True luxury.
Dolce & Gabbana pasta might also be best presented on Tiffany & Co.'s new "sterling silver" "paper" plates, while we're getting in the business of turning mundane objects into statements of wealth. Perhaps some classic Italian red sauce—kept in a Tiffany "aluminum" can—for garnish. Wine pairings optional, but probably served in a bone-china Dixie cup in Tiffany's robin's-egg blue.
This latest stream of "everyday objects," as Tiffany helpfully branded them, continues an apparent trend among designers of repurposing staples as emblems of luxury. In July, Prada released a paper clip-shaped money clip whose retail value was a cool $185, for which you could buy approximately nearly twenty 1,000-packs of jumbo paper clips from your neighborhood Staples, but that would probably be beside the point; before that, Supreme made a brick, Christopher Kane made zip ties, and Balenciaga trolled the entire internet with a new take on Ikea's iconic Frakta bag. (Colette did, too, albeit for a slightly lower price and in direct collaboration with Ikea.) The Guardian, in a story about the Prada paper clip, described them as "gateway pieces, ways of buying into a brand without spending too much, of showing you're in on the joke."
The punchline, however, isn't always clear, nor is its intended audience. Demna Gvasalia's work at Balenciaga is some sort of satirical gesture to consumerism; Dolce & Gabbana's most certainly is not. And fashion brands' tendencies to remake everyday objects certainly predates Balenciaga, though Gvasalia's are definitely the most memeable. (After all, the internet keeps falling for it, so apparently it works.)
But regardless of intent, there's not much distinguishing the two. Both brands—as well as Supreme, and Tiffany, and Chanel and Christopher Kane and all the other brands who imprint their logo on household objects and put them on a shelf with a couture-sized price tag—are nevertheless taking something accessible and profiting off the perceived value of their name alone as a status symbol. Whether it's intended to draw attention to that dynamic, to remark on it or make a statement about it, or just plain trolling, the consequence is the same. (Though the Supreme paperweight made of $100 bills and the paper clip-money clip might be the funniest iterations, in the same way that a piece of paper that denotes an objective value is funny. Hey, capitalism is funny!)
In the end, it's whatever. Enjoy your pasta, branded or not. Your Balenciaga Frakta will probably hold just as much of your wardrobe as the $0.99 original on laundry day, but it will feel impossibly more luxurious en route to the laundromat.
Chris Pine's first audition was for 'Gilmore Girls':