Banksy Says His New Murals in London Are a "Collaboration" with Basqiuat
The street artist described the pieces as an "unofficial collaboration" between the two.
---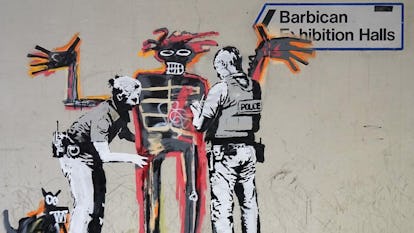 banksy/Instagram
Two new pieces of topical social commentary masquerading as artistic vandalism popped up in London over the weekend, and just as you may have suspected, they are the handiwork of none other than Banksy. The elusive street artist graced the outside of the Barbican with two murals commemorating its new retrospective on the work of the late artist Jean-Michel Basquiat. Both pieces are a mixture of Banksy's signature enfant terrible art and famous Basquiat works: One features two cops, helpfully labeled "police," patting down the figure from Basquiat's Boy and dog in a Johnnypump, and the other shows some Depression-era thrill-seekers purchasing tickets to a Ferris wheel made of Basquiat's crowns.
The artist, who according to the latest theories is widely suspected to be a Massive Attack member, or at least a Massive Attack fan, described the works as an "unofficial collaboration" between the two street art giants, Time Out reports. Basquiat, who died in 1988 at the age of 27, is hailed on the Barbican's website as "the pioneering prodigy of the 1980s downtown New York art scene." The "unprecedented exhibition" runs from September 21 to January 28, and features more than 100 Basquiat works pulled from museums and private collections. Museum goers will be able to catch a glimpse of the late artist's life in addition to his art—the show also has rare films, photography, and archive material on display.
Banksy's M.O. is usually making grand statements on issues pulled straight from the headlines. His last big work, for example, was a massive mural unveiled in the wake of Brexit that showed a man chiseling away one of the 12 stars on the flag of the European Union. The one before that was a "Walled Off Hotel" near Bethlehem's border wall. So these new works are a bit hard to parse out. The Boy and dog in a Johnnypump one is clearly a commentary on police brutality on black lives, but the other? Could it be a meta jab at the Barbican patrons purchasing tickets to see a rotation of Basquiat works? A tongue-in-cheek acknowledgement of Banksy "making bank" off the work of a deceased African-American punk artist? Something something the commodification of art?
Related: So, Banksy's Real Name Is Robert? (Also, How Much Longer Will We Continue to Care About This?)
Chameleons of the Art World: The Humans of Frieze New York: