Banksy's "Girl With Balloon" Painting Self-Destructed After It Was Sold For More Than $1 Million
The elusive artist may have orchestrated the prank himself.
---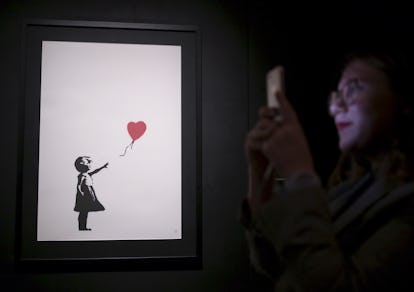 Anton Vaganov
Your average Friday night at Sotheby's in London—that is, a collector shelling out a million quid for a piece of art—quickly turned sour this week when said piece of art apparently self-destructed before the very eyes of auctioneers and collectors alike.
According to The Art Newspaper, the final lot of the night, Banksy's 2006 piece "Girl With Balloon," had just been sold for £1 million (roughly $1.4 million) when an alarm bell began to ring. As the crowd turned toward the piece, they just caught it being tugged free of its frame and down into a paper shredder embedded in the frame, which the artist also made.
Robert Casterline, of the Casterline Goodman Gallery, told Hyperallergic that the scene was "complete confusion." (The gallery posted a series of images of what happened; as the piece started to emerge shredded out of the bottom of the frame, a couple of Sotheby's staff members, fear in their eyes, took it down from the wall for inspection.) And amid the confusion, according to The Art Newspaper, security guards at the auction were "scuffling" with a man "dressed in black sporting sunglasses and a hat"—prompting speculation that the artist himself was present to carry out his plot. (Banksy, who may or may not be Robert Del Naja from the band Massive Attack, posted an image of the shredding on his own Instagram, captioned, "Going, going, gone…")
It's perhaps surprising that no alarm bells began ringing among the observers when the piece sold for the exact same sum as Banksy's previous auction record, set in 2008. The Sotheby's head of contemporary art, Alex Branczik, told The Art Newspaper that he was "not in on the ruse," but ahead of the auction, apparently, a couple of staff members had commented on the hefty weight of the frame surrounding the piece.
Of course, the auction house is already trying to spin this in their favor: "We are busy figuring out what this means in an auction context," Branczik told The Art Newspaper. "The shredding is now part of the integral art work. We have not experienced a situation where a painting has spontaneously shredded, upon achieving a record for the artist."
"You could argue that the work is now more valuable," he continued. "It's certainly the first piece to be spontaneously shredded as an auction ends."