Just In Time for Art Basel Miami 2017, the Bass Museum Is Back and Already an Instagram Hit
The museum reopened after a $12 million this week with a hit exhibition.
---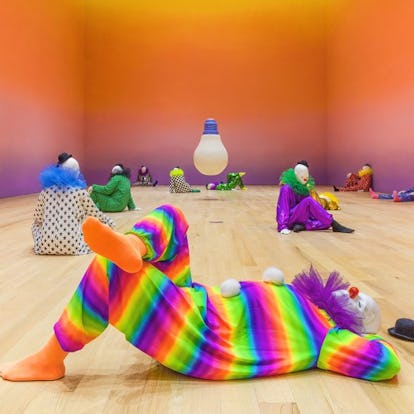 @karynlovegrove
It feels like every museum is getting younger these days, with a facelift to match. The Metropolitan Museum of Art in New York now has a dedicated home for modern and contemporary art with the Met Breuer. The Philadelphia Museum of Art is undergoing a massive Frank Gehry-designed overhaul that will create new galleries to house its contemporary collection. And this week, the Bass Museum reopened its space in a landmark 1930s Art Deco building in Miami Beach after a $12 million renovation that began in 2015. Largely by doing away with a massive ramp that ran through the middle of the museum, it made 50 percent more exhibition space for the Bass, which was built upon the heavily Baroque and Renaissance artworks donated by John and Johanna Bass, to pursue the shiny new toys of the art world with its explicit intention of expanding its contemporary art program.
Of course, that's a crowded market right now in Miami, with boisterous newcomer the Perez Art Museum, MOCA North Miami coming on strong, and the ICA Miami moving into new digs next month (the ICA's curator, Alex Gartenfeld, will likely shine some extra light on the Miami scene when he co-curates the 2018 New Museum Triennial).
But although the Bass opened after Hurricane Irma and a year later than expected (it was meant to be ready in time for Art Basel Miami Beach last December), it opened big, with a surefire hit exhibition in its retrospective of art world and Instagram favorite Ugo Rondinone. The Swiss artist is a joker with a colorful, monumental eye, and his faux-majestic Miami Mountain, a 42-foot tower of Day-Glo stone, has been a draw for Instagrammers since it debuted in Collins Park outside the Bass. Inside is no different. Along with an exhibition of the Belgium-based Cameroonian artist Pascale Marthine Tayou (who greets visitors with a wall of animated LED signs that say "welcome" in over 70 languages), the creepy, neon clown sculptures in Rondinone's exhibit "good evening beautiful blue" seem almost perfectly timed for a post-It Halloween, and his 52 mirrored, color-saturated windows can almost be resented as overly obvious selfie bait. Either way, it's just in time for the hordes of Art Basel Miami soon to descend. Here, a first look at what to expect.
Shanina Shaik Takes Miami
Just Nina Agdal and female art in Miami: