Bella Hadid Captions Instagram Post With Lyric by Maybe-On-Again Ex, The Weeknd
He tossed the photo a like.
---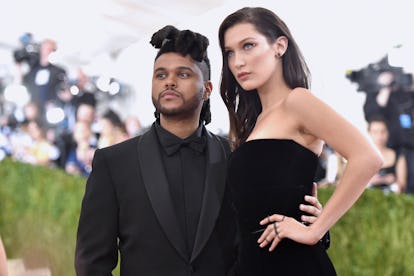 Mike Coppola/Getty Images
Over the course of the past few months, Bella Hadid and The Weeknd have made a habit of seemingly dropping hints that they're back together in some sense, then subsequently debunking any reunion rumors that arise from those hints. The duo's latest entry in this maddening cycle revolves around Hadid's latest Instagram post: a black-and-white outtake from her recent Vogue Mexico cover shoot in which she poses in a swimming pool fully clothed, shot by photographer Chris Colls.
Upon posting it on Tuesday, the supermodel added the location tag for Rome's Leonardo da Vinci-Fiumicino Airport and captioned the photo, "as long as u know that when I land ur mine," a line from The Weeknd's song "Pretty," off his 2013 album Kiss Land. As Elle reports, either the sexy shot of Hadid or the clear homage to one of his early tracks caught the singer's eye (impossible to say which) since he went ahead and liked the post. It's unclear how, exactly, The Weeknd (né Abel Tesfaye) came across Hadid's photo in the first place—does he regularly check on his ex's feed, or does Hadid send him alerts when she posts a good photo of herself and/or uses his lyrics in a caption?—because the exes still have yet to re-follow each other on Instagram since their mutual post-breakup unfollow in the spring of 2017.
Here's the original photo, posted by Colls and, sadly, not liked by Tesfaye:
And here's Hadid's Weeknd-approved version:
Earlier this month, Hadid posted a mirror selfie, captioned with only a series of black heart emojis, in which she wears a tiny red bikini and brushes her hair away from her face with her hand. Tesfaye, once again, liked the post, prompting excited fans of the relationship to write things like "Abel, you're doing amazing sweetie" in the comments, per Cosmopolitan. Despite being spotted spending time together and making out in various cities across the globe several times in recent months, neither Tesfaye nor Hadid has explicitly admitted that they're back on, so, for now at least, these subtle Insta-moves are the only concrete evidence we have of an apparent reunion.
Related: Bella Hadid's Best Off-Duty Looks