Bella Hadid Channels Her Inner Rock Star for New Beauty Campaign
Appearing in the NARS Fall 2017 campaign, Bella Hadid adds yet another credit to her list.
---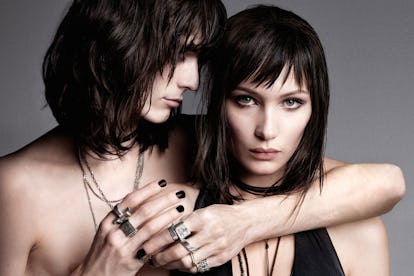 François Nars/Courtesy of NARS
Fashion campaign queen Bella Hadid has just scored yet another major modeling gig for a coveted brand—this time of the beauty variety. Mega makeup brandNARS has tapped the younger Hadid sister to star in its Powermatte and Fall 2017 campaign and gave her an ultra-chic rocker makeover to boot.
According to a press release, the photo shoot was "inspired by the rebellion and self-expression of the Rock and Roll era." The images feature Bella sporting a shag haircut à la Joan Jett, along with a smudged eye look and plunging leather ensemble. The pics are meant to showcase "the idea of effortlessness that's both bold and sultry."
"The model brings the product to life and gives it an identity, so matching the right model with a product is very important. I love Bella. She has a very strong and powerful look that I think is very well suited to a bold product, like Powermatte," said NARS founder and creative director François Nars, who photographed Hadid and model Justin Gossman for the campaign.
The just-launched Powermatte Lip Pigment, described as "liquefied pigment and zero-gravity feel deliver infinite matte color saturation with ultra-flexible long-wear," is available in 20 matte shades.
Hadid told Harper's Bazaar Australia of the campaign, "François Nars has such beautiful energy. He's taken so many iconic photographs, so for me to have the opportunity to work with him was a dream come true. I knew it was going to be an amazing shoot because of how iconic François is, and the level of creativity he puts into the makeup and his photographs. It is incredible!"
See more from Bella Hadid's edgy shoot in the photos and behind-the-scenes video below:
Related: Bella Hadid, a Bubble Bath, and Jenga: What More Could You Want?
Bella Hadid Is the Runway Queen of Fall 2017 Fashion Week
Bella Hadid walks the runway during the Chanel show as part of the Paris Fashion Week.

Dominique Charriau
Bella Hadid walks the runway during the Lanvin Ready to Wear fashion show as part of the Paris Fashion Week.

Victor VIRGILE
Bella Hadid walks the runway during the H&M Studio SS17 show as part of the Paris Fashion Week.

Marc Piasecki
Bella Hadid walks the runway during the H&M Studio SS17 show as part of the Paris Fashion Week.

Marc Piasecki
Bella Hadid walks the runway at the Versace show during Milan Fashion Week.

Estrop/Getty Images
Bella Hadid walks the runway at the Moschino Ready to Wear fashion show during Milan Fashion Week.

Victor Virgile/Getty Images
Bella Hadid walks the runway at the Moschino Ready to Wear fashion show during Milan Fashion Week.

Victor VIRGILE
Bella Hadid walks the runway at the Fendi Ready to Wear fashion show during Milan Fashion Week.

Victor Virgile/Getty Images
Bella Hadid walks the runway at the Alberta Ferretti show during Milan Fashion Week.

Pietro D'aprano
LONDON, ENGLAND – FEBRUARY 18: Model Bella Hadid walks the runway at the VERSUS designed by Donatella Versace show during the London Fashion Week February 2017 collections on February 18, 2017 in London, England. (Photo by Estrop/Getty Images)

Estrop
Bella Hadid walks the runway at the TommyLand Tommy Hilfiger Spring 2017 Fashion Show.

Frazer Harrison/Getty Images
Bella Hadid walks the runway at the TommyLand Tommy Hilfiger Spring 2017 Fashion Show.

Frazer Harrison/Getty Images
Bella Hadid walks the runway at the Zadig & Voltaire fashion show during New York Fashion Week.

Albert Urso/GettyImages
Bella Hadid walks the runway at Alexander Wang show during New York Fashion Week.

Antonio de Moraes Barros Filho/Getty Images
Bella Hadid walks the runway at the Oscar de La Renta fashion show during New York Fashion Week.

Peter White/Getty Images
Bella Hadid walks the runway for the Brandon Maxwell collection during New York Fashion Week.

JP Yim/Getty Images
Bella Hadid walks the runway at the Sies Marjan fashion show during New York Fashion Week.

Victor Virgile/GettyImages
Bella Hadid walks the runway at the Carolina Herrera fashion show during New York Fashion Week Fall.

Victor Virgile/GettyImages
Bella Hadid walks the runway at the Prabal Gurung fashion show during New York Fashion Week.

Victor Virgile/GettyImages
Bella Hadid walks the runway at the Prabal Gurung fashion show during New York Fashion Week.

Victor Virgile/GettyImages
Bella Hadid walks the runway during the Michael Kors Collection Fall 2017 fashion show.

JP Yim/GettyImages
Bella Hadid walks the runway for the Anna Sui collection during New York Fashion Week.

Peter White/GettyImages
Bella Hadid walks the runway for the Anna Sui collection during New York Fashion Week.

Peter White/GettyImages
Bella Hadid walks the runway for Ralph Lauren collection during New York Fashion Week.

Slaven Vlasic/GettyImages