Behind Bella Hadid and Alexa Chung's Favorite Vintage Store
Meet Samantha and Morgan Elias, the 25-year-old twins running New York's hottest vintage shop, called, naturally, The Vintage Twin.
---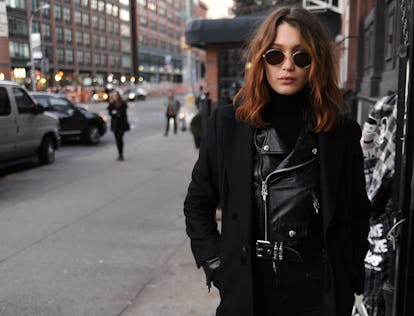 In the summer of 2009, 19-year-old Samantha Elias wore a "grandma skirt" to a party at the Jane Hotel in downtown New York – simple in concept, life changing in its effect. "I pulled up this ugly, printed skirt to make it a dress, paired it with a belt that didn't match, and got a ridiculous amount of attention," Samantha explained. "My [twin sister] Morgan was there as well and couldn't believe it. People were complimenting me the entire night. So we thought, okay, there's something to this – people want one-of-a-kind clothing no one else can get their hands on – and that's vintage."
The sisters ran with their instinct, and set up shop a few weeks later selling vintage t-shirts from the basement of their childhood home in Long Island. They sold out in a day. When Samantha returned to the University of Michigan that fall for her sophomore year, it wasn't long before she was hocking vintage wares from her dorm room and classmates were queuing up for appointments.
By the summer of 2010, the girls had secured a loft space in Manhattan and The Vintage Twin was born, now a wildly successful pop-up store that roves throughout downtown Manhattan.
Their meticulously curated and smart collection includes original and reworked vintage, from floral dresses and perfectly weathered leather trenches to accessories they craft themselves. Denim chokers and bow ties, for example, are hewed from leftover trimmings from vintage jeans they sell at their "JEANius" bar, the focal point of their business.
"Few people leave the store without jeans," Morgan said of their impressive assortment from classic brands like Wrangler, Calvin Klein, Lee, and Levi's. The street style staple is their bread and butter, and they stock over 3,000 pairs at a time, sourcing from warehouses and estate sales around the Midwest.
"We just look at you and put you in a pair of jeans. We don't need your size, and we usually get it the first time," Morgan boasted of their method, which has rung true for customers such as Leandra Medine, Jaime King, and Alexa Chung, who recently left with a pair of light blue slim fit boot cut Levi's.
Other notable devotees include Danielle Bernstein of @weworewhat, who has frequented the shop since 2010, and Bella Hadid, now a close friend, who direct messaged them on Instagram a year ago to score some of their vintage threads.
"We had no idea who she was," said Morgan. "We got a message from her saying 'my sister [Gigi Hadid] and I are dead for your stuff, can we come in?'" Bella left with a pair of 501s with a heart Samantha patched on the butt pocket, as well as a Valentino mink swing coat from the 80s.
The girls, now both 25, split daily responsibilities – Morgan handles all the visual, social media and public relations work, and Sam maneuvers the backend of the business, including shipping and buying. Together, they hand select every piece they sell in-store and on their e-commerce site, and The Twin Vintage goods are starting to be carried in small boutiques worldwide – they send regular shipments to countries including Saudi Arabia, Russia, Venezuela, Kazakhstan, and Egypt.
"What we love about our business is creating new relationships and opportunities," Morgan said. "It's truly a treasure hunt, and we can't wait to continue the hunt around the world."
Photos: Behind Bella Hadid and Alexa Chung's Favorite Vintage Store
The Vintage Twin founders Samantha and Morgan Elias. Photo by Peter Ash Lee.
Bella Hadid at The Vintage Twin pop up shop. Photo by Morgan Elias.
Morgan Elias with Bella Hadid at The Vintage Twin pop up shop. Photo by Morgan Elias.
Bella Hadid at The Vintage Twin pop up shop. Photo by Morgan Elias.
Bella Hadid at The Vintage Twin pop up shop. Photo by Morgan Elias.
Produced by Biel Parklee.
Watch W's most popular videos here: