The Weeknd Invites Bella Hadid To Share his Massive Tribeca Apartment
The Weeknd and Bella Hadid are apparently officially cohabitating.
---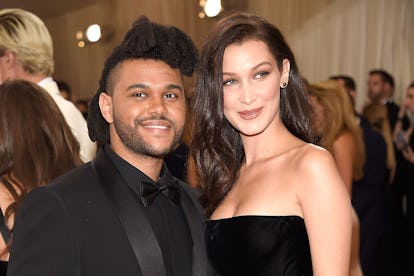 Kevin Mazur/Getty Images
The Weeknd, né Abel Tesfaye, has made Bella Hadid quite an offer—an offer she can't refuse, one might even say. Per TMZ, the singer and on-again, off-again, on-again boyfriend of supermodel Hadid recently asked her to move in with him—into a lavish Tribeca apartment—and she swiftly said yes.
The apartment in question, a triplex on Greenwich Street that was listed for $60,000 per month before it went off the market in early October, is nestled inside a luxury complex that, according to The Observer, bills itself as "paparazzi-proof." The building is also home to the likes of Jake Gyllenhaal, Harry Styles, and Jessica Biel and Justin Timberlake, who are still trying to offload their Soho apartment just to the north of their current home. Blake Lively and Ryan Reynolds, Jennifer Lawrence, and Meg Ryan all also own apartments in the building. It's like real-life High-Rise.
As far as its paparazzi-repellent measures go, here's how it works: The elevator bank, per WWD, is programmed such that neighbors never ride up to their apartments together (sounds inefficient, honestly); it contains a secret garden and 24-hour concierge and doorman services; and it offers valet services in a private garage.
But back to the apartment. (The elevator opens directly into it.) It encompasses a reported 5,004 square feet, four bedrooms and four bathrooms, and a private, 1,000-square-foot roof terrace with extraordinary panoramic views of lower Manhattan; since moving in, per The Weeknd's Instagram Stories, he's littered the living room coffee table with the myriad magazines Hadid has covered recently. As a bonus, it has a 70-bottle-capacity wine fridge.
Hadid and The Weeknd split in 2016, but they reunited earlier this year and have been active presences on each other's Instagrams ever since. "Home," Hadid captioned a recent photo of the two. Given that they celebrated her birthday just more than two weeks ago, an apartment seems like a pretty lavish gift. With the Victoria's Secret Fashion Show coming up, its proximity to the Dogpound is an added bonus (though Hadid has been known to favor trainer Joe Holder).
Related: Why Bella Hadid Felt Like She Had to Respond to a Bully on Instagram
Bella Hadid's Dramatic Cat Eye, Cardi B's Violet Locks and More of This Week's Best Beauty Moments on Instagram
Bella Hadid wears a dramatic cat eye. Photo courtesy of Instagram.
Alexa Chung sports a natural look. Photo courtesy of Instagram.
Duckie Thot wears metallic eyeshadow. Photo courtesy of Instagram.
Taylor Hill wears a high half pony. Photo courtesy of Instagram.
Lady Gaga wears silver shadow and a red lip. Photo courtesy of Instagram.
Joan Smalls sports gold rhinestones. Photo courtesy of Instagram.
Millie Bobby Brown wears space buns. Photo courtesy of Instagram.
Rosie Huntington Whiteley wears a highlighted cheek. Photo courtesy of Instagram.
Cardi B wears head to toe purple. Photo courtesy of Instagram.
Emily Ratajkowski wears glowing skin. Photo courtesy of Instagram.