Bella Hadid and the Weeknd Are Really, Truly Together Again
The latest development: a shared private jet to Lollapalooza.
---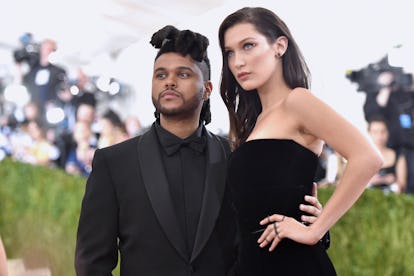 Mike Coppola/Getty Images
On Saturday, Bella Hadid and the Weeknd, tumultuous, now-back-on fashion couple, shared a private jet to Chicago, where the musician was slated to play the Lollapalooza festival. Both posted to their Instagram stories with the reckless abandon of a couple that is, once again, for real—the Weeknd uploading a video of a plane taking off while Hadid watched, and Hadid posting a photo of the musician on his way to the Lollapalooza stage (captioned with the black heart and crown emojis), and then adding two videos taken backstage during his set. (And you don't let just anyone hang out in the wings during a festival performance.)
It means a lot that Hadid gave the Weeknd valuable Instagram real estate next to her posts of a takeout box from Chicago deep-dish mainstay Giordano's, because we know how much Hadid loves a slice. But then again, the two have been getting increasingly serious over the past two months, ever since the first signs emerged that they had gotten back together. To catch you up: The couple split in late 2016, and the Weeknd connected with Selena Gomez for a short-lived but very high-profile romance shortly after; but in May, the model and the musician were rumored to be seeing each other again, based on sightings at the Cannes Film Festival and Coachella music festival. (Hadid, however, denied that the mystery woman the Weeknd was spotted kissing in the south of France was her.)
Hadid made it sort of Instagram official toward the middle of last month, posting a simple black and white fashion editorial image of herself lounging in a pool, captioned "as long as u know that when I land ur mine…"—a line that's borrowed from the Weeknd's song "Pretty." Shortly after, they went to Japan together; then, they went to Yolanda Hadid's farm in Pennsylvania. The elder Hadid also posted some shots of the musician to her own Instagram stories; nothing says serious like hanging out with your ex-girlfriend's mom. Moms hold a grudge.
Check out a few highlights from their respective Chicago Instagrams, below.